ATI RS400/RS480
After the initial outpouring of love from the press, the RS480 chipset from ATI for AMD Socket 939 has gone almost silent. ATI tells us that enthusiast boards based on this chipset are still coming, and as proof they had a test rig set-up running 24/7 at DDR630 - a CPU frequency of 315.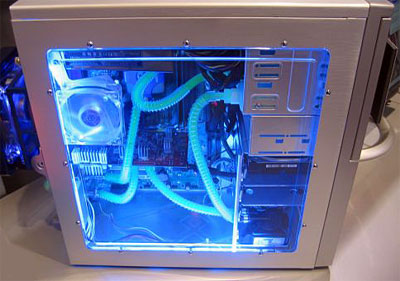 The ATI demo system was water-cooled and ATI tells us that they have actually pushed their new chipset even further, but the system runs day and night, rock-solid, at a Clock Speed of 315. Where are those Radeon Express 200 motherboards?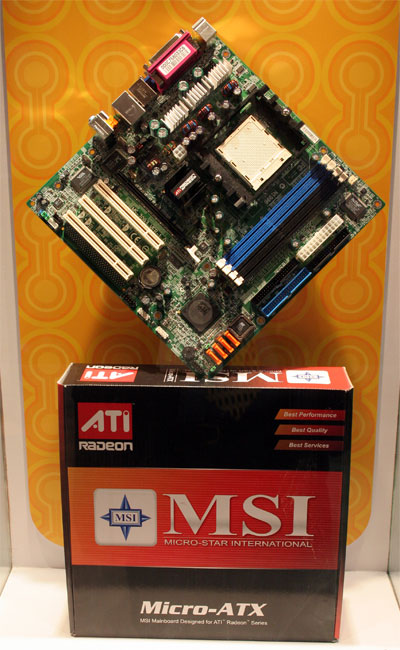 MSI was showing a micro-ATX board based on RS480 and so was Asus. These boards bring great DX9 integrated graphics to the micro market, but they are not the enthusiast boards for which we have all been waiting. This is not to take anything away from the Athlon 64 integrated graphics versions, since RS480 is one of the few decent integrated graphics solutions for Athlon 64.
RS400 for Intel
We also saw the upcoming Intel version of the new ATI chipset at Asus and MSI.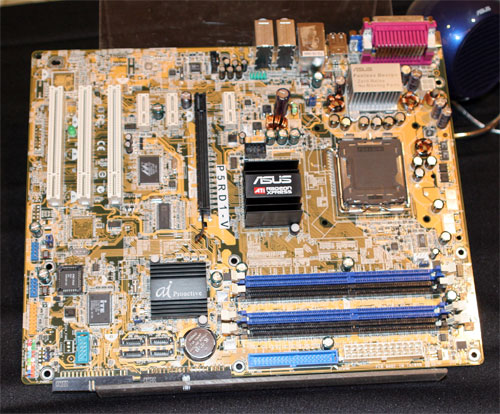 Asus was showing an enthusiast version of the ATI chipset for Intel, but had no plans to do an enthusiast RX480. Apparently, they put so much work into the outstanding (but very late) Asus RS350 that they decided to recycle their work in an RS400 reincarnation. We will take a closer look at what Asus has delivered in the near future.
ATI has pooled a lot of help from ULI with the newest SB400 southbridge alternative, and a lot of help from unnamed partners to get their memory controller up to snuff. Hands down, ATI has the best IGP solution out there, but will the new RS400 chipset be enough for the enthusiast market as well?