GIGABYTE B550 Aorus Master
With similar sized product stacks to the other major motherboard vendors, GIGABYTE has more than ten B550 models ready for. Some of these cater to B550's budget which is the chipsets core target market, but some do push the boat out in terms of features and quality. GIGABYTE's premier B550 model is the B550 Aorus Master, and it has a very premium controller set for what is considered a 'budget' platform. Some of the B550 Aorus Master's standout features include three PCIe 4.0 x4 M.2 slots, a Realtek 2.5 G Ethernet controller, an Intel Wi-Fi 6 interface, and support for up to DDR4-5200 memory.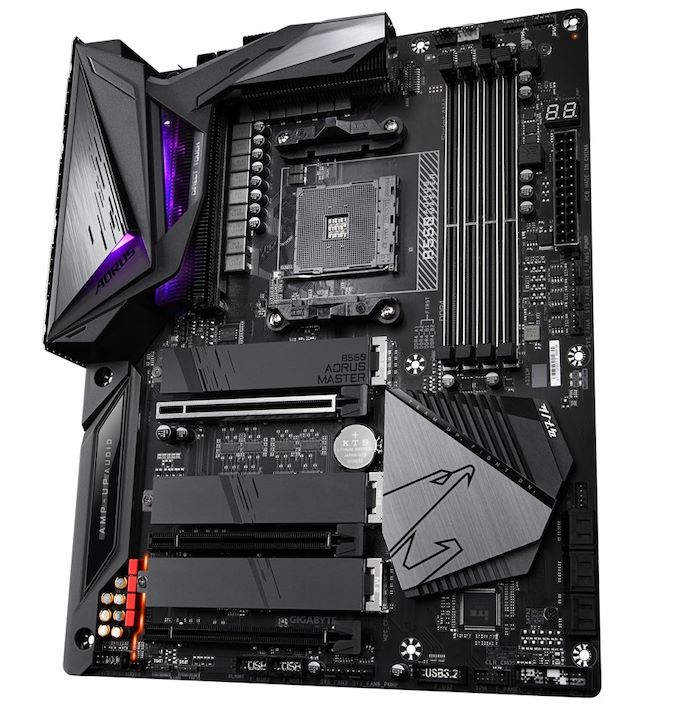 The GIGABYTE B550 Aorus Master follows a similar design to previous iterations of its Master series with a black cut black and silver aesthetic, with integrated RGB LED lighting within the rear panel cover. The chipset heatsink includes the Aorus Falcon logo, while the boards power delivery heatsink looks large, which is designed to keep the boards 16-phase configuration cool during operation. The B550 Aorus Master uses fourteen Infineon TDA21472 70 A power stages for the CPU section, with two TDA21472 70 A power stages for the SoC, with an Infineon XDPE132G5C PWM controller.
The Master includes three full-length PCIe slots, with the top slot operating at PCIe 4.0 x16, and two full-length PCIe 3.0 x4 slots which is a very interesting design choice. There is also three PCIe 4.0 x4 M.2 slots which include their own individual M.2 heatsink, and six SATA ports with support for RAID 0, 1, and 10 arrays. The board has four memory slots which support up to DDR4-5200 which is higher than any X570 board prior to launch, with a maximum supported capacity of up to 128 GB.

On the rear panel is a single USB 3.2 G2 Type-C, five USB 3.2 G2 Type-A, and six USB 2.0 ports which is stacked for B series model. Included is a single Realtek RTL8125BG 2.5 G Ethernet controller, with and two antenna adaptors for the Intel AX200 Wi-Fi 6 interface which also supports BT 5.0 devices. The board includes a Q-Flash Plus button which allows users to flash the firmware at the click of a button, a single HDMI 2.1 video output, and 3.5 mm audio jacks and S/PDIF optical output powered by a Realtek ALC1220-VB HD audio codec.
Aside from the PCIe slot layout, looking at the GIGABYTE B550 Aorus Master on paper, it could easily be forgotten that this is a model on what is considered a budget-friendly chipset, or is supposed to be. The B550 Aorus Master is as premium as a motherboard comes with support for three PCIe 4.0 x4 M.2 drives, support for up to 128 GB of DDR4-5200, and a premium networking controller pairing that is seen only on mid-range X570 models. With all this comes a large price tag with an MSRP of $280, which is encroaching on mid-range X570 territory.