Biostar Racing B550GTA
For the launch of AMD's B550 chipset, Biostar has a pair ready to go with an ATX sized model and micro-ATX sized option. Both under its Racing moniker with flashy looks and controller sets catering more towards entry-level models, and it's possible we could see Biostar release the B550GTN mini-ITX mode at a later date, although Biostar hasn't unveiled any details of this at present.
Starting with the larger and more premium of the pairing, the Biostar Racing B550GTA an ATX model which looks very intriguing on paper. The most contrasting features of this model include a Realtek 2.5 G Ethernet controller while opting for an old school Realtek ALC1150 HD audio codec. Also present are two M.2 slots, a pair of USB 3.2 G2 ports on the rear panel, and support for DDR4-4400 memory.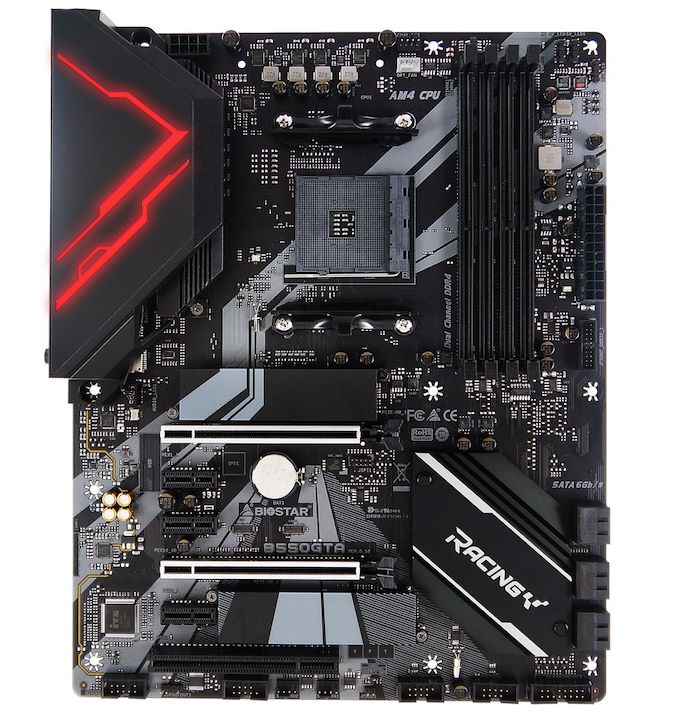 Focusing on the design, the Biostar Racing B550GTA has a black and light grey patterned PCB which resembles sun rays, similar to that on the Japan national flag. It includes a black power delivery heatsink which doubles up as a rear panel cover, while the chipset heatsink includes a Racing logo and has white contrasting lines. The board includes two full-length PCIe slots with the top slot operating at PCIe 4.0 x16 slot and the second slot locked to PCIe 3.0 x4. There are also three PCIe 3.0 x1 slots with a legacy PCI slot and is the only B550 model at present to feature this. For storage, Biostar is advertising two PCIe 4.0 x4 M.2 slots, but this is likely an error in the specifications and one slot will operate at PCIe 4.0 x4 and one at PCIe 3.0 x4. It also includes six SATA ports with support for RAID 0, 1, and 10 arrays. The B550GTA includes four memory slots with speeds of up to DDR4-4400, and up to a maximum capacity of 128 GB.

Over on the rear panel of the B550GTA is a pair of USB 3.2 G2 ports including a Type-A and Type-C, with four USB 3.2 G1 Type-A and two USB 2.0 ports. Biostar includes a pair of video outputs including an HDMI and DisplayPort output, a PS/2 keyboard and mouse combo port, as well as a Realtek RTL8125 2.5 GbE Ethernet port. Finishing off the rear panel is a Realtek ALC1150 HD audio controller which adds three 3.5 mm audio jacks.
The Biostar Racing B550GTA is a little bit of a mixed bag with some core features attributed to the B550 chipset including USB 3.2 G2 connectivity and official support for PCIe 4.0. The decision to combine a premium Realtek RTL8125 2.5 G Ethernet controller with an older ALC1150 HD audio codec. Biostar also isn't clear in its official specifications about the validity of its M.2 slots, as it advertises two PCIe 4.0 x4 M.2 slots, but this is really unlikely to be the case. At present, Biostar hasn't unveiled any information in regards to pricing.