AMD Ryzen 5 3600 Conclusion
One of the major factors going into this review was the fact that the AMD Ryzen 5 3600 sits on top of the Amazon Best Sellers list in the US. Just to give you a sense of scale, here are the top 10 lists for each of the major Amazon regions:
Amazon CPU Best Sellers
AnandTech
US
.com
UK
.co.uk
EU
.de
AU
.com.au
#1
Ryzen 5 3600
Ryzen 5 3600
Ryzen 5 3600
Ryzen 7 3700X
#2
Ryzen 7 3700X
Ryzen 5 2600
Ryzen 7 3700X
Ryzen 9 3900X
#3
Ryzen 5 3600X
Ryzen 7 3700X
Ryzen 5 2600
Ryzen 5 3600
#4
Ryzen 9 3900X
Ryzen 5 3600X
Ryzen 9 3900X
Ryzen 3 3200G
#5
Ryzen 3 3200G
Ryzen 9 3900X
Core i7-9700K
USB-C Hub
#6
Ryzen 5 2600
Ryzen 7 3800X
Core i5-9600K
Pentium G4560
#7
Core i7-9700K
Core i7-9700K
Ryzen 7 3800X
Pentium G5400
#8
Core i5-9600K
Ryzen 3 3200G
CPU Cooler
Ryzen 5 2600
#9
Ryzen 7 3800X
Ryzen 7 2700X
Ryzen 5 3600X
Ryzen 7 2700X
#10
Core i9-9900K
Core i5-9600K
Core i3-9100F
Ryzen 3 1200
As we can see, the AMD Ryzen 5 3600 comes #1 in the US, the UK, in Germany/EU, and third in Australia. In Australia the 3700X takes the top spot, and a USB-C hub takes the fifth spot. The highest spot on these charts for Intel is 5th in the European chart, and on three of the charts the top selling Intel processor is the i7-9700K.
It is worth noting here that these best seller charts don't always tell the whole story. Sometimes some third party sellers post their hardware as completely new listings, which screws up the system, and it doesn't take into account any pre-built machines or sales outside of Amazon. Where AMD's Ryzen 5 3600 is the choice for system builders at home, businesses requiring pre-built systems is obviously a separate story.
We had earmarked the Core i5-9400F as the main competitor to the Ryzen 5 3600 due to the price banding, but none of the i5-9400F-like processors are even shown in the top 10, indicating just how popular the Ryzen 5 3600 is. Of course, with the Core i5-10500 on its way to be the main competition here, it will be interesting to see if it lands on this chart at all – not only for it to be competitive but for Intel to put enough stock into the market.
Having another flick through our benchmarks, it is clear why the Ryzen 5 3600 is a popular choice. It's a great all-round chip that hits high marks in practically every benchmark, and can keep up with games at either low resolutions or high resolutions. Against some of the quad-core AMD parts it might be lacking a bit in single threaded performance, but that is part of the trade-off: having 6 cores and 12 threads helps everywhere where there is a threaded workload, such as transcoding or complex workflow. Compared to the similarly priced Intel chips, it's not much of a contest.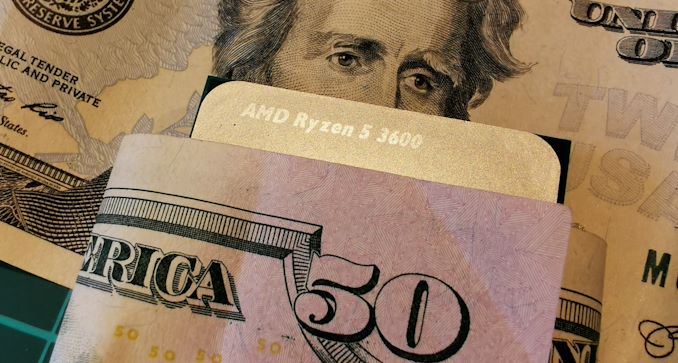 The only critical element right now surrounding the Ryzen 5 3600 is the motherboard situation, and how users want to perceive their upgrade strategy. If the goal is to move up to a Ryzen 4000 CPU sometime next year, then users will either have to buy an expensive X570 motherboard or wait until the B550 motherboards come to market at some point in the future (date for on-shelf retail still not announced).
If users want a system today, then the B450 and X470 options are still available, and there is an upgrade path to the Ryzen 9 3950X. Moving from 6 cores to 16 cores isn't anything to be sniffed at. Either that, or sell the motherboard and CPU as a combination when it is time to upgrade to Ryzen 4000.
There is no official word on Ryzen 4000 / Zen 3 launch yet. AMD has only said 'Zen 3 by the end of the year', which could be interpreted in a lot of ways. This means any Ryzen 5 3600 system built today is going to last for a long while to come.