Installation
Installing CVSNT is a breeze - we'll cover a basic install and some of the configuration screens that you should take a look at after installation. First off, let's download a copy of CVSNT by going to this
link
and selecting the version for Windows. Once the download is complete, open the downloaded file and install the software, and just leave all the defaults selected throughout the install.
Once the install has completed, open the Service Control Panel from the CVSNT program group in your start menu.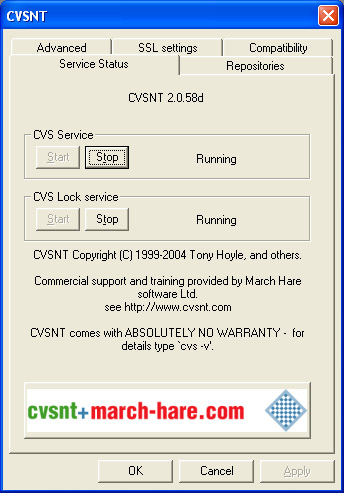 If your install went well, the CVS service and CVS lock service will both be running.
Creating your repository
A repository is simply a location in which to store your files. The repository will contain all of your modules, which we'll explain later on. In the Service Control Panel, click on the Repositories tab. Next, click the Add button and we'll create your repository. After clicking the add button, you will be asked to specify a location and name for your repository. The name is simply a descriptive label for the repository, and the location is where all of your files will be stored. After selecting the location and name, click "OK". You will be alerted that the location you chose is not a valid CVS repository. Just click "yes" and CVSNT will initialize the directory that you chose. After the repository has been created and initialized, click "OK" to close the Service Control Panel.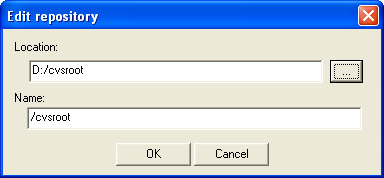 In our example, we created a directory called "cvsroot" on our d: drive and used that as our repository.
Customizing CVSNT Settings
The "Advanced" tab in the Service Control Panel allows you to customize the various settings that CVSNT offers. The defaults work quite well, but there is one particular setting that you may want to adjust. CVSNT, by default, runs on port 2401. If you want, you can change this to a different port. If you want to be able to manage your files remotely, you'll want to open a port on your firewall for the port that you select.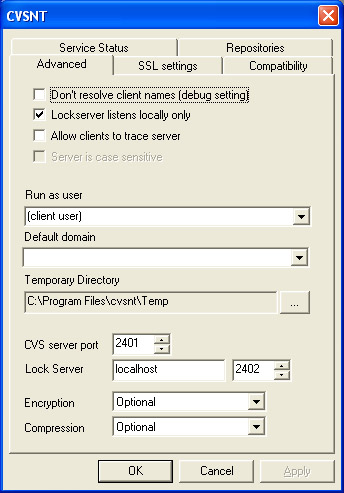 CVSNT Security
Security for the files that CVSNT manages is controlled by Windows. If you are installing CVSNT on a remote server that all your windows clients will use, we recommend that you use a NTFS partition for security and file integrity. The recommended protocol for Windows clients to connect to CVSNT is SSPI. There are other options for non-windows clients, which are covered in the
CVSNT documentation
.
Depending on your network configuration, you'll need to assign the users/groups that you want to access the repository folder for which you created. When your users connect to CVSNT to manage their files, they will be challenged based on their Windows credentials if you use the SSPI protocol.