NMediaPC HTPC 100
NMediaPC is a new company (opened 2004) that provides complete HTPC solutions in one fell swoop. Their products include Home Theater PC Suites, Plasma TV's, and HTPC barebones kits. NMediaPC sent us their HTPC 100 barebones kit, which includes a Foxconn uATX Intel motherboard, a Zalman CNPS 7000 Aluminum Copper heatsink fan, a 270W power supply, and of course, the HTPC 100 chassis.
This roundup is, however, based solely on the performance of the HTPC/desktop chassis, so we swapped out their hardware with our test bed to compare it to the rest of the pack.
External Design
The bezel of the HTPC 100 looks very similar to a set top DVD player. The middle section of the bezel is composed of an optical drive door at the top, which features the "DVD" logo printed at the center. This will work in conjunction with the optical drive's own bezel, so there is no need to replace it. Underneath the tray door at the right is the optical drive's eject button, which is labeled "Open/Close".
The bottom half of the middle section of the bezel is composed of a backlit LCD temperature display instead of the VFD's featured on the LC10/M and D.Vine 4/5. To the left of the display is the IrDA receiver and to the left, the power and HDD activity LEDs. The silver power button is placed at the right of that section and features the power logo molded onto it.
Under the LCD temperature display is a fan control knob as well as controls for the display; Reset, Set, and CF.
The sides of the bezel feature sliding doors. The left door covers the auxiliary ports, which include two USB, audio in/out, and a FireWire port. The right side door hides a 7-in-1 flash card reader (which was included) that accepts CompactFlash I/II, SmartMedia, SD/MMC, and memory stick/memory stick pro flash media. We are beginning to see many components, including television sets, that feature memory card readers and this is a nice touch to an HTPC.
| | |
| --- | --- |
| Click to enlarge. | Click to enlarge. |
There are a number of vents on the HTPC 100's body. On the left side, there is a ventilated area that will aid in providing air to or pushing warm air from the expansion cards such as graphics adapters.
There are also a couple of vents at the top of the case, again, above the expansion card area, as well as above the CPU area like we saw on the Cavalier 2.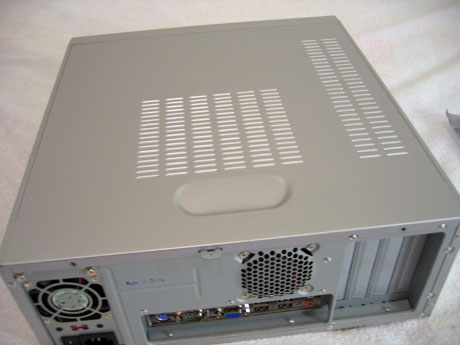 Looking at the backside of the HTPC 100 case, we notice that it will only accept uATX boards, since there are only 4 expansion slots. We also notice that there is only one area to mount a fan, so we may see some poor thermal performance in our benchmarks.