1066FSB Performance: OCZ PC2-4200EB
OCZ is a well-known supplier of Enthusiast DDR memory. However, OCZ has not until now delivered the kind of "killer" product in DDR2 that is their trademark in DDR memory. OCZ tells us that this product, their PC2-4200EB, is the product that stands above the crowd.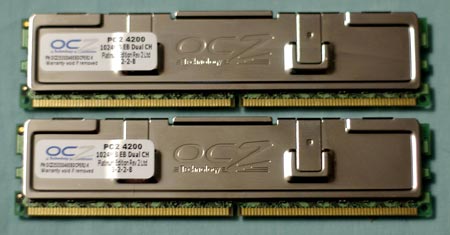 Test DIMMs were a matched pair of double-sided 1024MB DDR2 DIMMs with platinum-colored heatspreaders. We would be surprised, but not astounded, by 512MB DDR2 DIMMs rated at 3-2-2-8, when the rest of the competition is at 3-3-3 or slower timings. However, these are 1GB DIMMs rated at 3-2-2-8, which is an incredible achievement. All performance tests were run with 2X1GB DIMMs.
OCZ also markets these same PC2-4200EB modules in a 1GB kit with 2x512MB single-sided DIMMs. Other testers have claimed that the single-sided 512MB DIMMs are even faster than the DS 1GB versions, but we did not find that in our tests. While we did test both SS and DS DIMMs, we did not find the single-sided to perform much differently than the double-sided modules. This makes the 1GB OCZ DDR2 DIMMs the first 1GB memory that we have tested - DDR or DDR2 - where the 1GB performance is as good as, or better than, any available 512MB module.
OCZ did not share the maker of the memory chips on the PC2-4200EB. They said that they were made for them by a major chip-maker, but the information was proprietary. The memory chips are BGA, so we weren't comfortable trying to remove the heatspreaders to check. We recently destroyed some BGA memory when we removed a heatspreader and these DDR2 chips were just too good to risk destroying them in order to report the memory chip maker. They behave like Micron chips in some benchmarking, but we cannot be certain of their origin. We will report more when we find out the memory chip maker.
Test Results: OCZ PC2-4200EB
The full suite of benchmark tests were run at all six benchmark speeds. This includes Quake3, Super PI, Sandra 2004 SP2 Memory Tests, and Return to Castle Wolfenstein-Enemy Territory. We also ran UT2003, Aquamark 3, and Comanche 4 at every memory speed to verify stability of the reported memory timings. All benchmarks and additional tests had to complete without incident for the memory settings to be considered stable.
OCZ PC2-4200EB (DDR2 533) - 2x1024Mb Double-Bank
Speed
Memory Timings
& Voltage
Quake3
fps
Sandra UNBuffered
Sandra Standard
Buffered
RCW-ET
Radar
Super PI 2M places
(time in sec)
533DDR2
200x12 - 2.4GHz
800FSB
3-2-2-8
1.80V
402.4
INT 2738
FLT 2812
INT 4754
FLT 4749
78.7
126
600DDR2
200x12 - 2.4GHz
800FSB
3-2-2-8
1.85V
404.4
INT 2922
FLT 3007
INT 4917
FLT 4915
79.2
124
711DDR2
237x12 - 2.84G
948FSB
4-2-2-8
2.05V
480.0
INT 3412
FLT 3529
INT 5742
FLT 5743
93.6
106
533DDR2
266x12 - 3.2GHz
1066FSB
3-2-2-8
1.80V
522.5
INT 3015
FLT 3092
INT 5759
FLT 5755
102.3
98
711DDR2
266x12 - 3.2GHz
1066FSB
4-2-2-8
2.05V
529.6
INT 3473
FLT 3604
INT 6129
FLT 6122
103.9
96
821DDR2
308x12 - 3.7GHz
1232FSB
4-2-3-8
2.1V
608.4
INT 4013
FLT 4057
INT 7055
FLT 7048
119.8
84
What can you say about a memory that is rated at DDR2-533 and reaches a stable overclock of DDR2-821? That's an overclock of 54% - an unbelievable performance. To put this in perspective, we have been overwhelmed at the ability of some DDR400 rated Samsung TTCD to reach DDR580. That is an overclock of 180FSB and 45%. Perhaps that puts in perspective how remarkable this overclock of 288FSB and 54% really is!