ASRock Z490 Steel Legend & Z490 Extreme4
Another uniquely styled and ATX sized model from ASRock is the Z490 Steel Legend. Aimed towards the lower part end of its mid-range product stack, the ASRock Z490 Steel Legend still has plenty of impressive features to for users to sink their teeth into. It also shares the same PCB design and componentry, and consequently, the same feature set as the ASRock Z490 Extreme4 model. The only difference between the two comes is in the aesthetics. Both models include a PCIe 4.0 clock generator giving PCIe 4.0 support when Intel releases its Rocket Lake processors, something which not a lot of vendors have done so far on Z490. Also present is two full-length PCIe 3.0 slots, dual PCIe 3.0 x4 M.2 slots, and a Realtek 2.5 G Ethernet controller.

ASRock Z490 Steel Legend
Following its previous iterations of its Steel Legend models, ASRock has gone with a grey and silver-coloured theme on its heatsinks, with a silver and black RGB enabled rear panel cover. The PCB is black with an urban camouflage patterning and has three areas of customizable integrated RGB LED lighting; the rear panel cover, within the chipset heatsink, and the underside of the board along the right-hand side.
The ASRock Z490 Extreme4 has a more subtle styling grey and black styling, with a primarily black PCB with some grey patterning. It has grey and black heatsinks, with the same three customizable RGB LED lighting zones as the Steel Legend, with the rear panel cover, the chipset heatsink, and on the right-hand side of the board at the back.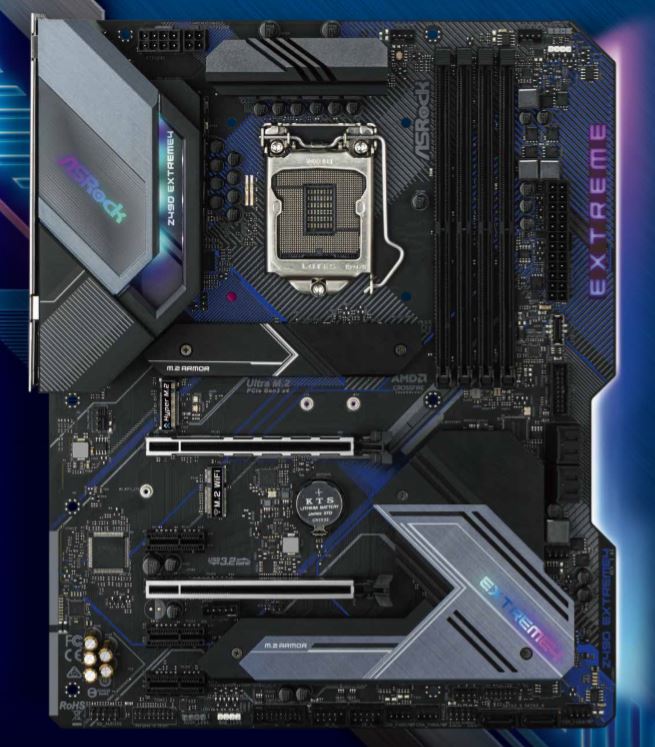 ASRock Z490 Extreme4
As both the ASRock Z490 Steel Legend and Z490 Extreme4 are both ATX-sized, they have two full-length PCIe 3.0 slots which operate at x16+4 and has three PCIe 3.0 x1 slots. For storage, it includes two PCIe 3.0 x4 M.2 slots, each with its own individual heatsink, and six SATA ports with RAID 0, 1, 5, and 10 array support. It includes four memory slots with support for up to 128 GB of DDR4-4266 memory, which is a considerable gap when compared with other ASRock Z490 models that support up to DDR4-4666. While it doesn't come equipped with any wireless interface, it does have an M.2 Key-E slot for users to install their own, with antenna holes on the rear panel IO shield.
On both rear panels is minimal amounts of USB support including one USB 3.2 G2 10 Gbps Type-C, one USB 3.2 G2 10 Gbps Type-A, two USB 3.2 G1 Type-A, and two USB 2.0 ports. There is also a single Realtek RTL8125BG 2.5 G Ethernet port, with five 3.5 mm audio jacks and S/PDIF optical output controlled by a Realtek ALC1200 HD audio codec. Also present is an HDMI and DisplayPort 1.4 pairing of video outputs, as well as a PS/2 combo port, and two holes designed for users looking to install their own wireless interface into the provided Key-E M.2 slot.
The ASRock Z490 Steel Legend and ASRock Z490 Extreme4 and are designed to offer users two different aesthetical takes on ASRock's latest Z490 entry-level design. Both benefit from uprated 2.5 G Ethernet controllers when compared to the previous Z390 namesakes which had Gigabit controllers. Both also feature a PCIe 4.0 clock generator for support with Intel Rocket Lake processors when Intel drops these chips sometime in 2020. At this time, ASRock hasn't unveiled pricing, but we will update this as soon as we receive the official information.