Supermicro is a name synonymous with high-grade professional workstation motherboards. Although they tend to release just a small handful of models for the desktop market, it has some models ready for Z490. We've seen quite a few Supermicro motherboards over the years, with the most recent desktop offering via the Supermicro C9Z390-PGW which included a PLX chip and 10 G Ethernet. At present, Supermicro has two ATX sized models ready in preparation for Intel's Comet Lake 10th gen desktop processors, one with Wi-Fi 6 capability and one without.
Supermicro C9Z490-PGW & C9Z490-PG
Both the Supermicro C9Z490-PGW and Supermicro C9Z490-PG share the same core feature set, with the only difference being that the C9Z490-PGW includes an Intel Wi-Fi 6 wireless interface, while the PG does not. Both include a premium controller and feature set with the most notable coming from Broadcom PEX8747 PLX chip for superior multi-graphics card support and PCIe bifurcation. Other exciting features include two PCIe 3.0 x4 M.2 slots, an Aquantia 10 G Ethernet controller, and support for up to 128 GB of DDR4-4000 memory.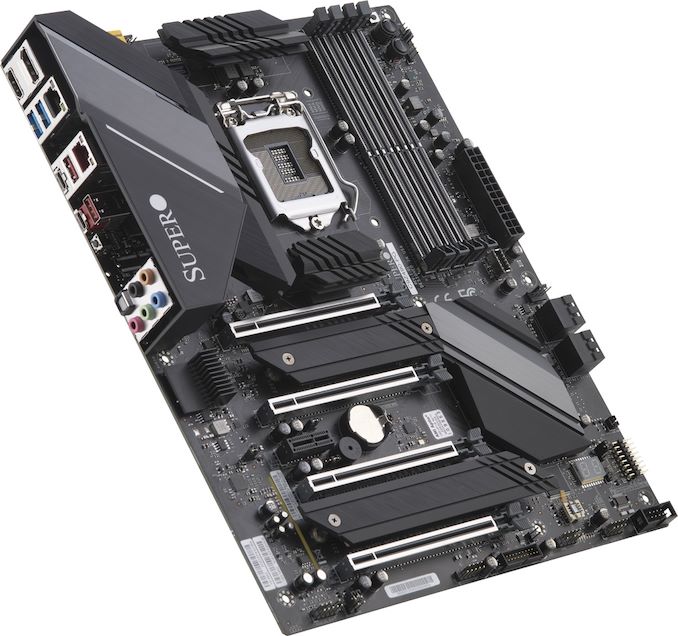 The Supermicro C9Z490-PG Motherboard
Dominating the lower portion of the C9Z490-PGW and C9Z490-PG are four full-length PCIe 3.0 slots which operate at x16/x0/x16/x0 and x8/x8/x8/x8 which is made possible via a Broadcom PEX8747 PLX chip. At present this is the only Z490 motherboard that includes a PLX chip, which makes it unique for users looking to run 4-way NVIDIA SLI, or leverage the extra PCIe lanes for high-bandwidth PCIe 3.0 devices. There is also a single PCIe 3.0 x1 slot. Across its four memory slots, both models support up to DDR4-4000 with a total capacity of 128 GB. Focusing on storage, there is a pair of PCIe 3.0 x4 M.2 slots which each come with a heatsink, and four SATA ports with support for RAID 0, 1, 5, and 10 arrays. Both models are using a 6+2 power delivery with an XDPE122284C PWM controller, and TDA21490 power stages for the CPU element.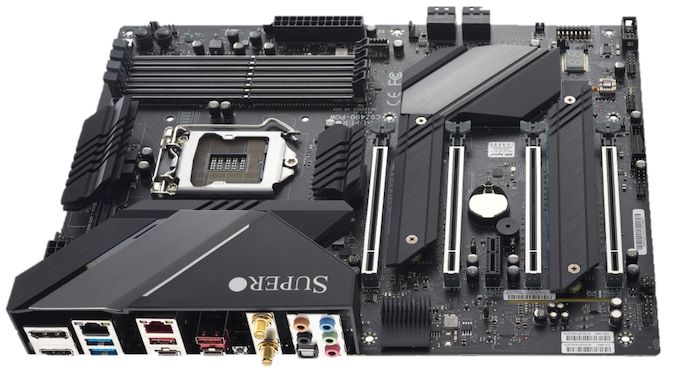 The Supermicro C9Z490-PGW Motherboard with Wi-Fi 6
On the rear panel is one USB 3.2 G2 20 Gbps Type-C, one USB 3.2 G2 10 Gbps Type-C, two USB 3.2 G2 10 Gbps Type-A, and two USB 3.2 G1 Type-A ports. Controlling the five 3.5 mm audio jacks and S/PDIF optical output is a Realtek ALC1220 HD audio codec. At the same time, one Ethernet port is powered by an Aquantia AQC107 10 G controller, while an Intel-based Gigabit controller controls the other. A small clear CMOS button is present with an HDMI 2.0a and DisplayPort 1.2 video output pairing. Last but not least on the C9Z490-PGW is an Intel Wi-Fi 6 wireless interface, likely the AX200 with BT 5.0 support.
Both the Supermicro C9Z490-PGW and C9Z490-PG are currently unique to the Z490 product stack with the inclusion of a Broadcom PEX8747 PLX controller, which allows for more PCIe bandwidth in slots which has a variety of use cases. It adds some flexibility to the Z490 chipset, something all other models at launch isn't offering. The Aquantia 10 G Ethernet controller is a common find on Supermicro's premium desktop motherboards, and its styling is very sleek and uniformed with its black and grey theme. The only pitfall is in the memory support, with the official backing for up to DDR4-4000 which is the lowest of any Z490 model we've overviewed for launch. The Supermicro C9Z490-PGW has an MSRP of $395, while the C9Z490-PG without Wi-Fi costs $375.