GIGABYTE Z490 Gaming X
Looking at the non-Aorus models from GIGABYTE's Z490 launch day selection, the GIGABYTE Z490 Gaming X is designed to offer an entry-level point for gamers, with a decent feature set. Included in the specifications are three PCIe 3.0 x4 M.2 slots, six SATA ports, and an Intel Gigabit Ethernet port.
Looking at the overall design of the Z490 Gaming X, GIGABYTE has opted to go with a basic black and grey theme, with black and grey accent heatsinks, with a black and grey patterned printed PCB. The board is using two full-length PCIe 3.0 slots which run at x16/+4, with three PCIe 3.0 x1 slots, and three PCIe 3.0 M.2 slots. It has four memory slots with support for DDR4-4600 with a total capacity of up to 128 GB, with a decent looking 12-phase power delivery. For SATA devices, the GIGABYTE Z490 Gaming X has six SATA ports with support for RAID 0, 1, 5, and 10 arrays.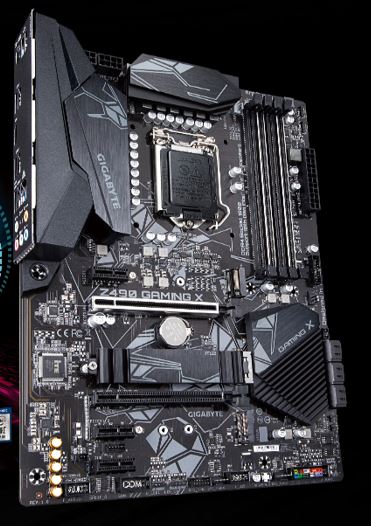 The rear panel doesn't include any USB Type-C connectivity and instead opts for two USB 3.2 G2 Type-A, four USB 3.2 G1 Type-A, and two USB 2.0 ports. A PS/2 combo port allows legacy keyboard and mice to be used, while the five 3.5 mm audio jacks and S/PDIF optical output are powered by a Realtek ALC1200 HD audio codec. The single Ethernet port is powered by an Intel Gigabit controller, while users looking to leverage Intel's integrated graphics can use the single HDMI video output.
Users looking for an entry-level model without premium controllers and standard Gigabit networking will find the Z490 Gaming X more to its liking. Likely aimed more at budget-conscious users than the Aorus counterparts, the GIGABYTE Z490 Gaming X hasn't got a price as of yet, but it's not likely to be above $200. which would put it as one of the cheapest models on the Z490 chipset when it eventually launches.
This page will be updated when more information becomes available to us.