One interesting point to note about GIGABYTE's Z490 product stack is that it includes PCIe 4.0 support from compatible processors, with Intel's future release of Rocket Lake seemingly equipped with PCIe 4.0 lanes. Some models include PCIe 4.0 slot support with a PCIe 4.0 clock generator, PCIe 4.0 switches, and PCIe 4.0 re-drivers. All of GIGABYTE's Z490 models natively support PCIe 3.0, with Intel's Z490 chipset operating with PCIe 3.0; future PCIe 4.0 support on Z490 will come directly from the CPU and not the chipset. GIGABYTE is also the first vendor to utilize Intel's 2.5 G Ethernet controller, the I225-V. Other vendors have opted for Realtek 2.5 G controllers for point of reference.
GIGABYTE Z490 Aorus Xtreme & Xtreme WaterForce
We've seen some Aorus Xtreme branded models such as the AMD based GIGBYTE X570 Aorus Xtreme which was impressive in our testing, to say the least. Something of note to consider is that GIGABYTE didn't launch an Xtreme WaterForce model for X570, but it makes a reappearance for Z490. Both the GIGABYTE Z490 Aorus Xtreme and Z490 Aorus Xtreme WaterForce models share the same high-end feature set which includes an Intel Thunderbolt 3 controller, a solid 16-phase power delivery, support for 128 GB of up to DDR4-4800, and an Aquantia 10 G and an Intel 2.5 G Ethernet controller pairing.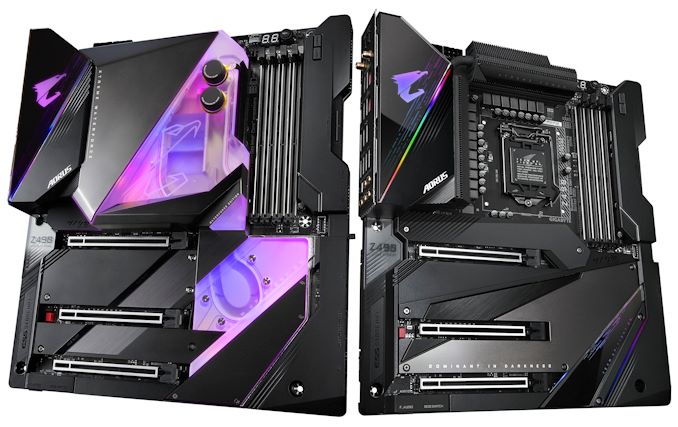 GIGABYTE Z490 Aorus Xtreme WaterForce (left) and Z490 Aorus Xtreme (right)
The only difference between the GIGABYTE Z490 Aorus Xtreme and the Z490 Aorus Xtreme WaterForce is the latter comes with a custom-designed water block. This allows users to create a custom water-cooled system which is something enthusiasts looking to push Intel's 10th generation Comet Lake processors further than can be done on conventional air cooling. The water block not only cools the CPU but the Z490 chipset and the power delivery too, making this the go-to board for enthusiasts looking to create a fully water-cooled based system.
Some of the new design features across both models is memory shielding and improved memory routing designed to help improve memory performance, with high-end 90 A power stages for the power delivery, and Tantalum Capacitors. Cooling the large 16-phase power delivery is a large heatsink using a nanocarbon fin array. Power delivery cooling is something GIGABYTE has been taking seriously over the last year or so. On the board's core design, it has a right-angled 24-pin 12 V ATX motherboard power input, as well as right-angled SATA ports and board headers which blends into the boards sleek full cover design.
Both models include three full-length PCIe 3.0 slots which operate at x16, x8/x8, and x8/x8/+4, with three integrated PCIe 3.0 x4 M.2 slots, each with its own individual Thermal Guard 2 heat sink. In addition to the Realtek ALC1220-VB HD audio codec and ESS ES9018K2M Sabre DAC for the rear panel audio, GIGABYTE has equipped both models with an ES9218 Sabre DAC for the front panel audio.
A total of four memory slots include support for up to DDR4-4800, with a maximum capacity of up to 128 GB, with official support for 32 GB UDIMMs being pushed as a primary feature by GIGABYTE. This is something all major vendors is doing on its Z490 models.

On both the Z490 Xtreme WaterForce and Z490 Xtreme rear panels are two Thunderbolt 3.0 Type-C ports, four USB 3.2 G2 10 Gbps Type-A, and two USB 3.2 G1 Type-A ports. It includes two Ethernet ports with one controlled by an Aquantia AQC107 10 G controller, with the other by an Intel I225-V 2.5 G controller. For users looking for wireless connectivity, the rear panel has two antenna ports for Intel's AX201 Wi-Fi 6 wireless interface with BT 5.1 support, with the five 3.5 mm audio jacks and S/PDIF optical output powered by a Realtek ALC1220 HD audio codec, with a supporting ESS Sabre DAC for USB audio devices. Allowing leveraging of Intel's integrated graphics, there's also a single HDMI video output, with a clear CMOS button and BIOS Flashback button.
Over the last couple of years vendors flagship models have been consistently raising the bar in terms of quality, feature, and unfortunately, price. The GIGABYTE Z490 Aorus Xtreme has an MSRP of $799 which is typical flagship pricing in today's current market.
The GIGABYTE Z490 Aorus Xtreme WaterForce completely flips the script with an MSRP of $1299, which means the custom waterblock comes at a premium of $500. GIGABYTE has gone all out with both Z490 Xtreme models with 10 G and 2.5 G Ethernet controllers, triple M.2, and dual Thunderbolt 3 Type-C ports on the rear panel, but the GIGABYTE Z490 Aorus Xtreme WaterForce will either whet the appetite or have enthusiasts crying into their wallets.