Basic Features: Winfast 755FXK8AA
Winfast 755FXK8AA Specifications
CPU Interface
Socket 939 Athlon 64
Chipset
SiS 755FX Northbridge - SiS 964 Southbridge
BUS Speeds
200MHz to 350MHz in 1MHz Increments
PCI/AGP
Fixed at 33/66
Core Voltage
Default, -0.1V, -.075V, -.05V, -.025V, -0.1V, +.025V, +.05V
CPU Clock Multiplier
Default, 4x-25x in 1X increments
HyperTransport Frequency
1000MHz (1GHz)
HyperTransport Multiplier
1X, 2X, 3X, 4X, 5X
DRAM Voltage
NO Adjustments
HyperTransport Voltage
NO Adjustments
Memory Slots
Four 184-pin DDR DIMM Slots
Dual-Channel Configuration
Regular Unbuffered Memory to 4GB Total
Expansion Slots
1 AGP 8X
5 PCI Slots
Onboard SATA/SATA RAID
2 SATA Drives by SiS964 (RAID 0, 1, JBOD)
PLUS 2 SATA by Sil3112A (RAID 0, 1)
Onboard IDE/IDE RAID
Two Standard ATA133/100/66 (4 drives)
Onboard USB 2.0/IEEE-1394
8 USB 2.0 ports supported by SiS964
2 Firewire 1394a by Agere
Onboard LAN
Gigabit PCI LAN by Realtek 8110S-32
Onboard Audio
AC '97 2.3 8-Channel by Realtek ALC850
BIOS Revision
Award 11/20/2004
The Foxconn BIOS provides a wide range of BIOS control options, particularly considering Foxconn's history of very limited overclocking controls. The only notable omission is the lack of any memory voltage adjustments at all. Foxconn tells us that future board designs will provide for memory voltage control, but memory voltage is not adjustable on the 755FXK8AA.
It is nice to see Gigabit LAN, the 8-channel Realtek LAC850 audio, CPU ratios, HT ratios, and even Firewire on a board designed to sell for such a low price. If Foxconn could just do a bit more to satisfy the enthusiast, this would likely be a top-selling Socket 939 motherboard.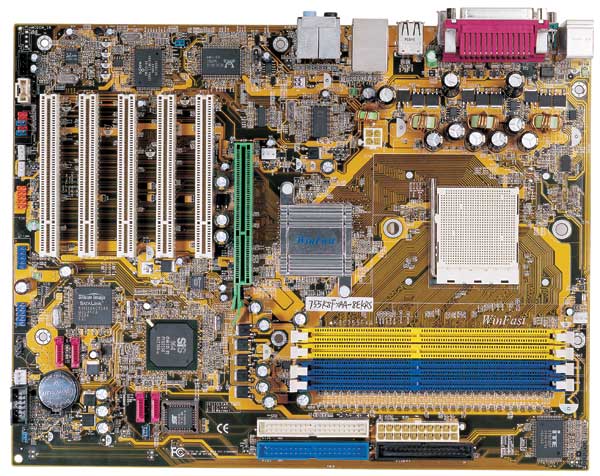 Boards designed for value often take short cuts in board design to minimize costs. However, no one will accuse Foxconn of that in the 755FXK8AA. The layout is generally excellent - much better than boards costing much more than the value priced Winfast. The 20-pin ATX is ideally located, and while the 4-pin 12V is between the CPU and rear IO, it is well clear of the CPU socket and HSF. IDE and floppy connectors are in our preferred upper right edge location, and IO headers are grouped along the bottom of the board where they will not interfere with slots.
The 4 memory slots are also well clear of the AGP 8X slot, so changing memory doesn't require removing a large AGP video card. The board is also a 3-phase design, instead of the 2-phase that we often see on boards designed to a price point. Frankly, if we had to guess the price of the Foxconn based on features, quality, and layout, we have guessed a higher price than this board actually sells for. This means that Foxconn/Winfast did a great job of providing more than you might expect in a board selling for less than $100.

The rear ports include 5 audio jacks, 4 USB, Firewire, SPDIF coaxial connector, parallel port. Gigabit LAN, serial port, and PS2 mouse/keyboard ports.