Albatron
Albatron has a great design with their Trinity board. The top overclocker in our tests, with a 590 MHz core clock speed, the Albatron was also able to maintain the second lowest load temperature even at the highest clock speed that we ran.
The fatal flaw with this card is the same problem that we had mentioned on the first page. The rectangular HSF is only attached to the board at two diagonals with the GPU somewhere underneath. This can and will cause contact problems if the heatsink is nudged or bumped too hard.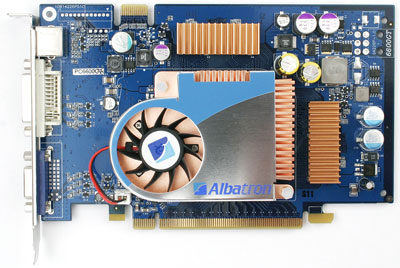 This really is a nice, solid board. It's equipped with a powerful (if not loud) HSF that keeps it cool even under the most averse conditions. GDDR3 doesn't usually get that hot, so ramsinks are just a little icing on the cake. And they might help out a little for the occasional overclock.