Overclocking Comparison
With overclocking, every GPU is different, so a side effect of looking at this is that we get a good idea of how the 6600GT will overclock in a general sense. We can't really say that all Albatron cards will overclock by 90MHz. Believe us when we say that if they all would run at that speed, they would all be running at that speed and out-selling the competition. There are a lot of factors that go into it. That's why we base most of our recommendation and ranking decisions on cooling and noise levels rather than overclocking. It is still a factor though.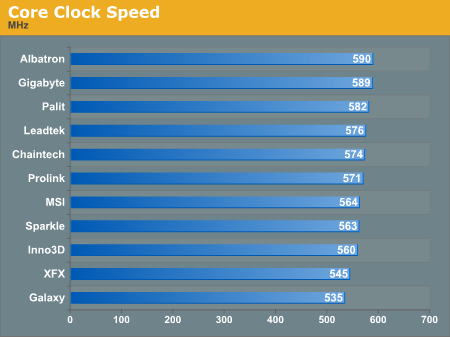 Those with a calculator handy will notice that the mean median and standard deviation are:
Mean: 568.10
Median: 571
Std. Dev.: 17.1840
Knowing NVIDIA, QA is going to assure that chips leaving labs will run at a little higher than stock clock speeds. This translates to a little bit of breathing room. What we pull away from this testing is that we expect Geforce 6600GT's to achieve a minium 7% overclock. A 9% to 12% overclock should be possible to most people who decide to own this card. Beyond that is icing on the cake. Of course, we are working with a very small sample size and we don't know much about the population as a whole either. We would have been more comfortable making predictions had this data looked more like a bell curve, but what we see is a little too flat for us to say anything with any statistical confidence.
Our memory clock speed graph shows Sparkle on top, but that's 2ns RAM on a 110MHz overclock. The XFX RAM is running 1.6ns RAM at a 10MHz overclock. This could be really lucky for Sparkle, but it isn't likely to happen on most boards. A 22% memory overclock, even with the added features of GDDR3, is still tough to pull off, especially when the 1.6ns memory only matched its performance. Inno3D also uses 1.6ns memory, but our final overclock ended up lower than the 600MHz that should have been possible with this part.
All the other solutions are 2ns memories which overclock between 50 and 100MHz. All the memories we looked at on 6600 GT boards are Samsung GDDR3 solutions.