ATI Radeon X800 XL
This is probably the most interesting and oddly priced part we've taken a look at today. At a $350 MSRP, we need to compare it to $399 and $299 parts. Since it's a 16 pipeline part with 256MB of RAM and a 1GHz memory data rate, we can expect some very good numbers on this card, even at lower core clock speeds. The width of the architecture really helps when scaling down.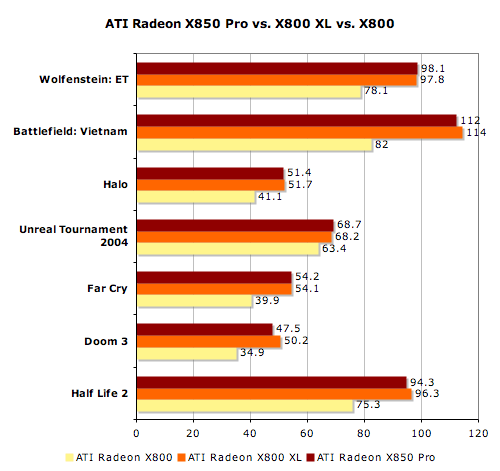 Performing as good or better than a part that's $50 more expensive in every test we run is quite an acheivement. Yes, the the X850 Pro has a 30% higher core clock speed, but the 30% increase in pixel pipelines from 12 to 16 negates that. Eventhough the X850 Pro has a little more memory bandwidth, the fact that the X800 XL is wider give is the advantage in parallelism. The X800 XL is just a better card than the X850 Pro, especially at the $349 price point ATI is shooting for.
Clearly the X800 XL is worth the added $100 investment over the vanilla X800 if it's in the budget. In every game we tested but UT2K4 the difference was larger than 24%, and could even mean playability under Doom 3 or Farcry under high stress conditions.
At a $350 price point, the X800 XL stacks up to be a very nice part. Unfortunately for ATI, it also elimiates their own current $400 incarnation of the X850 Pro as a viable entity. We find it very hard to believe that ATI would release a $350 card that would outperform a $400 card they just released a few weeks earlier so either, the clock speeds of the X800 XL and/or X850 Pro will dramatically change between now and when they are actually available, or the X800 XL and X850 Pro will be priced differently than what we've been told.
There's a quick evaluation of ATI's new lineup, but if you want to see all cards compared side by side, here you go...