ATI Radeon X800
The Radeon X800 is sort of the inverse of the X850 Pro: its basically an underclocked version of the X800 Pro. With a 400MHz core clock and moderately paced 700MHz (effective) memory, this cheap, 12 pixel pipeline, 128mb card is ATI's answer to NV41 (GeForce 6800 non-Ultra). Of course, it's a lot easier to win that battle on the PCI Express side when NV41 is still only really stuck on AGP cards. It will be very interesting to look back and see whose strategy ended up working out better through this transition period. ATI has really made an agressive leap into the arms of PCI Express.
Compared to NVIDIA's GeForce 6600GT:
Showing a 1 - 19% performance lead over the 6600 GT in just every game but Doom 3, the X800 definitely proves its worth here. The 22% lead the 6600 GT holds in Doom 3 does help a little, but the X800 posts 3 big wins and only the one loss.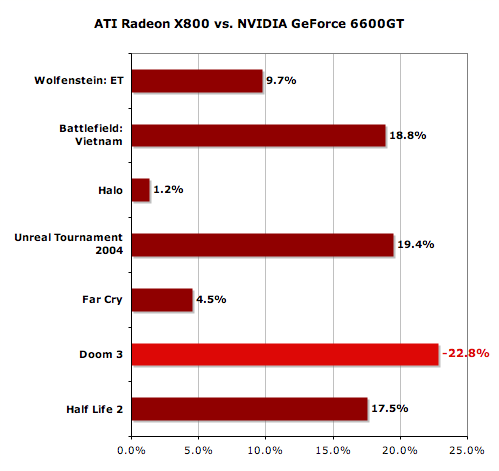 We weren't able to test the X700 XT for this review, but does ATI even need to bring out a X700 XT now? Looks like they've gotten off the hook again, first the XT PE now the X700 XT. Who would buy a X700 XT at $250 when you can get a Radeon X800 for that price? The introduction of both products makes less sense the X850 Pro.
The X800 isn't a bad part, especially in terms of its price point. Competition with the 6600 GT and the 6800 non-ultra (when it comes to PCI Express) will be strenghtened. With the X700 Pro on the market and the Radeon X800 holding up the $250 price segment, ATI will do just fine in the midrange. Now they just need to get some of the products out on AGP platforms.