Power Consumption and Thermal Performance
The power consumption at the wall was measured with a 4K display being driven through the HDMI port. In the graphs below, we compare the idle and load power of the Intel NUC10i7FNH (Frost Canyon) with other low power PCs evaluated before. For load power consumption, we ran the AIDA64 System Stability Test with various stress components, and noted the maximum sustained power consumption at the wall.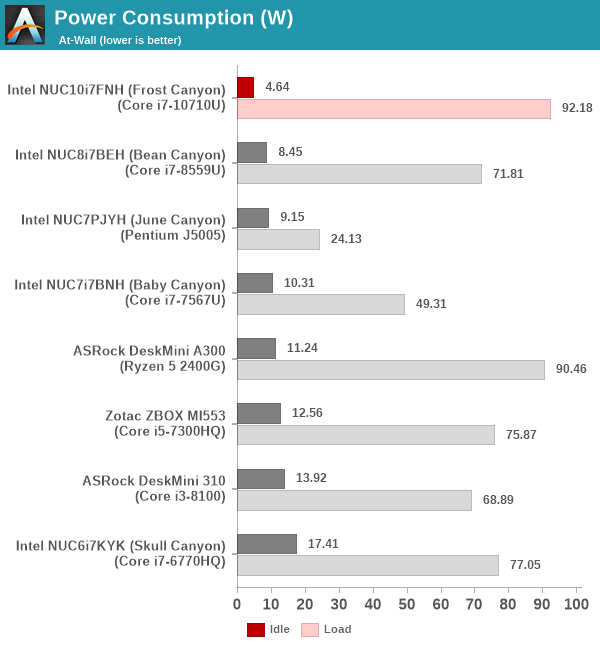 The usage of a PCIe 3.0 x2 NVMe SSD along with a low TDP processor (25W, compared to the 28W+ processors in the other systems, other than the June Canyon NUC) manufactured in a highly-optimized and power-efficient 14nm process result in the Frost Canyon NUC having a sub-5W idle power consumption even while driving a 4K display. The system is able to sustain 90W+ at the wall for a very brief duration only, with the power falling slightly south of 60W for sustained workloads.
Our thermal stress routine starts with the system at idle, followed by four stages of different system loading profiles using the AIDA64 System Stability Test (each of 30 minutes duration). In the first stage, we stress the CPU, caches and RAM. In the second stage, we add the GPU to the above list. In the third stage, we stress the GPU standalone. In the final stage, we stress all the system components (including the disks). Beyond this, we leave the unit idle in order to determine how quickly the various temperatures in the system can come back to normal idling range. The various clocks, temperatures and power consumption numbers for the system during the above routine are presented in the graphs below.
Intel NUC10i7FNH (Frost Canyon) System Loading with the AIDA64 System Stability Test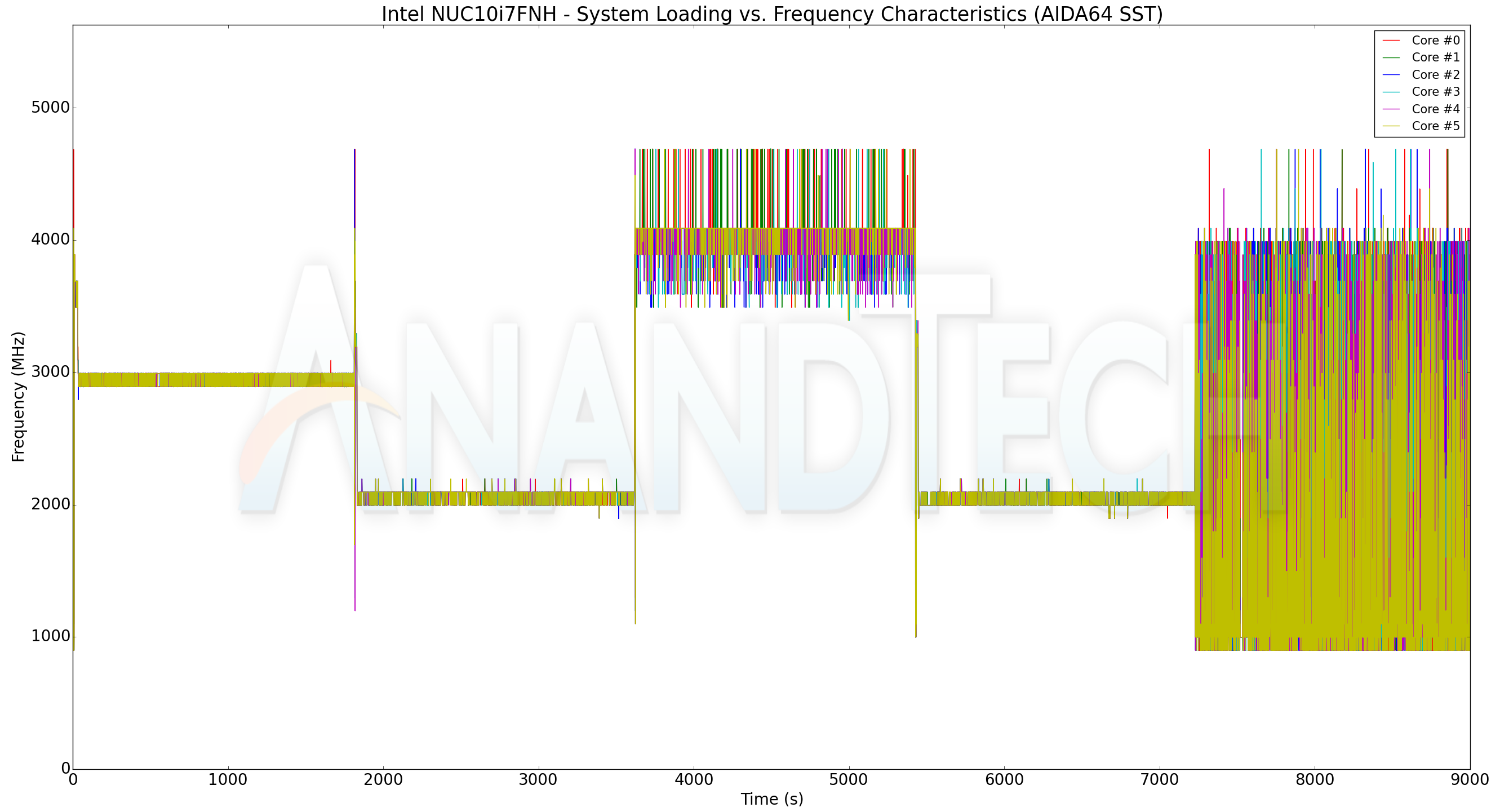 The frequencies adjust to ensure that the 30W PL1 is maintained. With just the CPU loaded, the cores can maintain around 3 GHz sustained. Adding the GPU brings the CPU cores down to 2 GHz. With only the GPU stressed, the CPU cores can stay close to their boost clocks without consuming much power. The thermal design is quite good, with the package temperature never above 90C for extended durations.
Intel NUC10i7FNH (Frost Canyon) System Loading with Prime95 and Furmark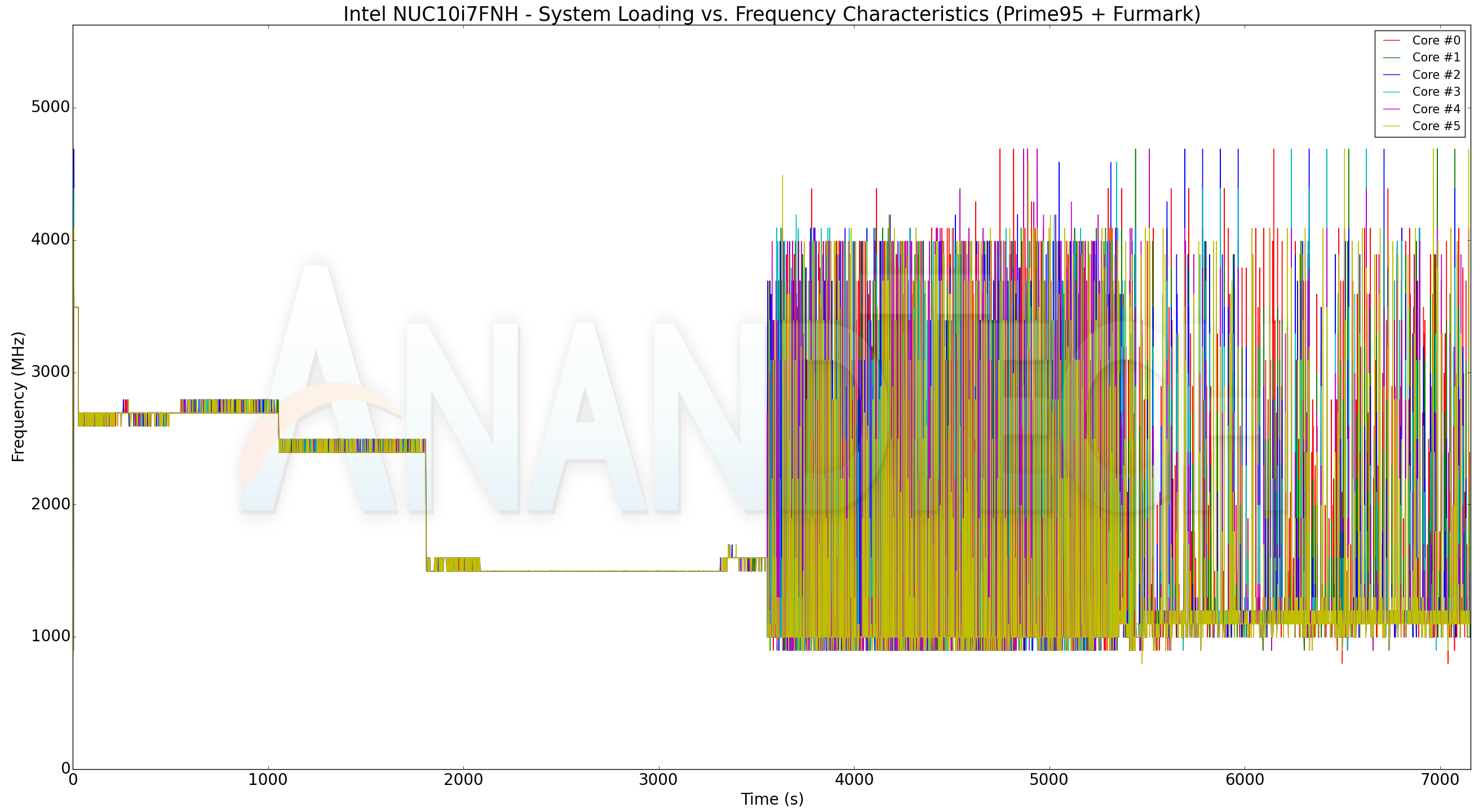 Our custom stress test with Prime95 and Furmark shows similar characteristics. Frequencies get adjusted to maintain a 30W package power, and the package temperature does not cross 85C. Furmark loads the GPU more than the AIDA stress component, and hence, we see the CPU frequency drop down to around 1.5 GHz in this case.