Basic Features
The P5AD2 has one of the most complete selections of BIOS adjustments and board features that you will find on a Socket 775 motherboard. Therefore, Asus had no real need to include additional features on the P5AD2-E. The changes that were made are generally enhancements to existing options, like extending the chipset voltages and memory voltages and providing finer adjustments.
 Asus P5AD2 Premium Motherboard Specifications
CPU Interface
Socket 775 Pentium 4 (Prescott)
Chipset
Intel 925XE/ICH6R
FSB Speeds
1066, 800
Clock Speeds
100MHz to 400MHz (in 1MHz increments)
PCI Speeds
To CPU, 33.33, Auto
DDR2 Speeds
Auto, 400, 533, 711
Core Voltage
1.4375V to 1.6125V in 0.0125V increments
DRAM Voltage
1.80V to 2.20V in 0.05V increments
Chipset Voltage
Auto, 1.5V to 1.8V in 0.05V increments
FSB Termination Voltage
Auto, 1.2 to 1.5V in 0.05V increments
Memory Slots
Four 240-pin DDR2 Slots
Dual-Channel Unbuffered Memory to 4GB
Expansion Slots
1 PCIe x16 Slot
2 PCIe x1 slot
3 PCI Slots
Onboard SATA/IDE RAID
4 SATA 150 drives by ICH6R
Can be combined in RAID 0, 1, Intel Matrix
PLUS 4 SATA 150 RAID by Sil3114R
RAID 0, 1, 10, 5
Onboard IDE
One Standard ATA100/66 by ICH6R
(2 100/66/33 drives)
Plus One IDE RAID by ITE 8212F
(2 133/100/66, RAID 0, 1, JBOD)
Onboard USB 2.0/IEEE-1394
8 USB 2.0 ports
3 IEEE 1394b FireWire Ports by TI 1394b
Onboard LAN
2 X Gigabit PCIe LAN
Both by Marvel 88E8053
Onboard Audio
CMedia CMI9880 (Intel HD)
8-Channel with SPDIF in/out
Wireless LAN
WiFi 802.11g Included
Tested BIOS
1005 Beta 002
The one surprise in the Asus update to the P5AD2-E is the reduced range of CPU voltages. The original P5AD2 provides a vCore range from 1.4375V to 1.7875V, where the new -E version is just 1.4375V to 1.6125V. That's an adequate range, but it seems the wrong way to be going for top-line options. We hope that Asus will correct this in a BIOS update.

The Asus 925XE/925X boards are Premium boards - clearly top-of-the-line in every way. All of the Asus Proactive AI (Artificial Intelligence) features are included. This includes a special cooling plate on the bottom of the board in the CPU area that Asus calls Stack Cool.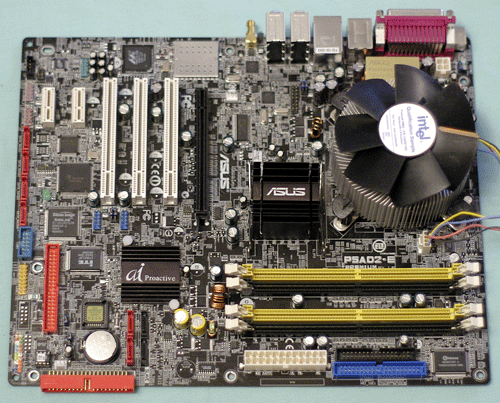 Features are all but identical to the P5AD2, with both LAN ports powered by the new Marvel 88E8053 Ethernet controllers on the faster PCI Express bus. The P5AD2-E includes a complete WiFi setup with embedded (built into the board) 802.11g capabilities and an external antenna. You will also find 3 of the high-speed "b" versions of IEEE 1394 firewire, which promise double the speed of 1394a ports. Speed-step, a new Intel feature that allows the CPU to be downclocked to 14 for FSB/memory overclocking or cooler operation, is another Asus feature.
The premium C-Media CMI9880 codec supports the Intel High-Definition audio, with 8 channels and Dolby Digital Live technology support. The CMI9880 is the only audio solution we've seen that has a built-in Dolby AC3 encoder. The encoder can actually encode your digital audio into Dolby digital streams, which can be output to the SPDIF for Dolby Digital playback. The CMI9880 does this real-time for any digital audio in your system to feed Dolby Digital playback. Asus carries High-Definition (Azalia) audio further on the P5AD2-E and the P5AD2 than any other 925XE/925X board that we have seen.
The storage area is one area where the Asus stands above the crowd. All of the 925X/925XE boards support the ICH6R standard 4 SATA/1 IDE (2drives) configuration. The P5AD2/-E boards add 4 more SATA ports for a total of 8 SATA ports. They go even further by adding an ITE controller for 2 more IDE devices for a total of 4. Asus even includes a slot-mounted external SATA adapter for converting 2 SATA ports into external SATA ports for handling external SATA devices.
Asus is a manufacturer who pays close attention to the layout of their motherboards. We praised the layout of the P5AD2, and the P5AD2-E is exactly the same layout. Floppy and Hard Drive connectors are in the preferred upper right board-edge position, where they usually work best in most case designs. The 24-pin power connector and 4-pin 12V connector are both at board edges where they do not require being snaked across the CPU and restricting air flow. The 8 SATA ports are clustered at the lower right of the board (4 ports) and the bottom edge of the board (4 ports). The additional IDE connector is also near the bottom edge along with the headers for additional SATA and IEEE1384b ports.