The Test and Halflife 2 Performance
We used a test bed configuration similar to our previous M28 review: 3.4GHz P4 Prescott 1GB RAM. Our 6800 Go system this time around was the same but with a speed boost to 3.4GHz as well. We were running the same system clocks as last time as well: 400/400 for the MR X800 and 300/300 for the 6800 Go.
We had to do our testing on site under very rushed conditions, and we were only able to get a couple of Halflife 2 runs in to update our benchmarks from last time. This time around we'll also include Anand's desktop numbers. Unfortunately, he was benching with an Athlon 64 4000+, so the numbers will not be directly comparable. Of course, the only way we could really get directly comparable numbers would be to get PCI Express mounted versions of the mobile GPUs and compare them in a desktop system against our desktop cards. Or if we were to stick to mobile, the modular design of some laptops would allow us to swap out ATI and NVIDIA solutions. But here we will make due. First, we'll take a look at what happens when we run without AA and AF turned on.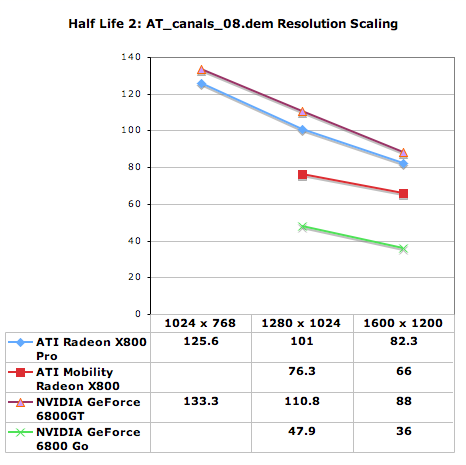 As we would expect from our previous look at the two GPUs, the M28 based chip outperforms the NVIDIA solution at both resolutions we tested. Not only that, but the ATI mobile part puts in a decent showing, only losing to the desktop cards. Again, keep in mind that we are looking at two different platfoms, and that Anand hasn't run down all the caveats of Intel vs. AMD performance numbers under HL2. Even so, these numbers are impressive. Next we take a look at just the mobile parts with 4xAA and 8xAF enabled. Not a setting mobile gamers are used to running.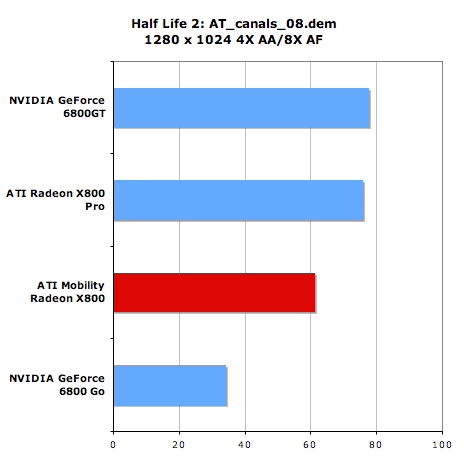 Under Halflife 2 with 4xAA and 8xAF, the MR X800 means the difference between playability and choppy framerates when compared to the 6800 Go. That's a very nice option to have for the gamer on the go, and one that will be hard to turn down for the hard core fan of the notebook DTR.
Again, if you're interested in seeing more extensive benchmarking of this card, check out our
previous article on the subject
. The long and short of it is that the MR X800 seems the more powerful card at initial shipping clock speeds. We will be waiting to get our hands on faster parts to see how these GPUs scale, both in performace, and in power.