ATI Mobile Technology
OK, so all the technology might not be brand new. We've covered the
basic R420 architecture
, delved into the first
mobile AGP R420 solution
, and we've even
already benchmarked the MR X800 against the 6800 Go
. And now it's time to fill in the gaps and tie everything together.
The following table shows the differences between the desktop X800 part, the mobility radeon 9800, and the new improved MR X800, and the lower end MR X300.
Radeon GPU Comparison
 

Radeon X800 Pro

Mobility Radeon 9800

Mobility Radeon X800

Mobility Radeon X300

Fab Process

130nm low-k

130nm low-k

130nm low-k

130nm low-k

Vertex Pipelines

6

4

6

4

Pixel Pipelines

12

8

12

4

Core Clock

475

350

400

350

Memory Clock

450

300

400

300

GDDR3 Mem

YES

NO

YES

NO

Max Mem

256MB

256MB

256MB

64MB

Bus Type

AGP/PCIe

AGP

PCIe

PCIe
DLCS
Even though similarities with previous products abound, ATI won't be without new and interesting technologies to include in their mobile PCI Express launch. Included in their POWERPLAY 5.0 power management system is a very interesting new technology called Dynamic Lane Count Switching (DLCS). DLCS is designed to save GPU and system power when less graphics intensive applications are being run. The idea is that if I'm running OpenOffice.org on my laptop and typing up my next article, I don't really need 16 lanes and 75 Watts of raw graphics power being poured through the PCI Express bus. ATI can dynamically switch between x16 and x1 PCI Express operation. Dropping down to one lane cuts off connections on the GPU, lowers the incoming bandwidth it needs to hand, and physically turns off the rest of the x16 power connections to the part. To enter this mode, the GPU must enter its underclocked power saving state in order to handle the drop in power, and the drop in bandwidth at this underclocked state should have no further impact on system performance.
This functionality to control the PCI Express bus in built into the GPU itself, and the feature can be disabled by the user if so desired. ATI has said that they are exploring the ability to switch between x1, x4, x8, and x16 PCI Express operation depending on the power savings and graphics horsepower needed, but the current limitations are on the Intel system bus side. That may be a very interesting feature for power savings on games where graphics needs are low. In any event, this looks to be the most promising power saving technology of ATI's PCI Express generation of hardware, and we can't wait to get our hands on a notebook for testing of real world impact. ATI has indicated that power savings are up to 30% over "typical usage scenarios," whatever that means.
Business users who might also like to do a little gaming on the side could well benefit from this technology. But again, we'll have to get it into our labs and see what happens when we crank up winstone, sysmark, pcmark, worldbench, or the flavor of the week business benchmark in power saving mode on a shipping notebook to really talk about how useful this feature is.
Continued in this generation are ATI's POWER-ON-DEMAND feature (which allows dynamic voltage and clock frequency control based on power needs), and clock gating. Anand covered clock gating in detail in our 6800 Go article two weeks ago, and in case you missed it in our Mobility Radeon 9800 coverage, the actual block layout of an R4xx based GPU with clock gating follows this basic pattern (adjusted for number of vertex and pixel pipelines of course):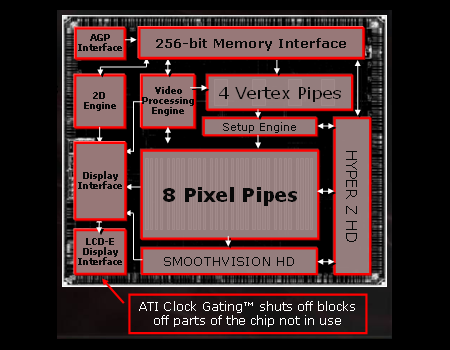 Hypermemory
On the low end, ATI is pushing a discrete, 32MB, and 64MB X300 part. At the same time, in order to make up for the lack of framebuffer, ATI is pushing the high bandwidth advantage of PCI Express.
When a game or application requests more memory than the graphics card has available, ATI will allocate enough system memory to fulfill the task (up to a quarter of system RAM). This is basically just giving a name to the idea of virtualizing memory and allowing the GPU to transparently access RAM off the graphics subsystem. Of course, in the past, using system memory as part of the framebuffer was suicide for framerates, but from the demo we saw, 3dmark 03 doesn't do a bad job of running with part of its framebuffer in system RAM. Hopefully PCI Express will push developers to use the CPU, main memory, and entire computer in ways only game consoles have been exploited before. Of course, we won't hold our breath.
The Future Video on ATI Hardware
Last week, ATI once again reminded us just how important it is to have high quality dedicated video hardware embedded in a GPU. They ingrained in us the fact that all around video quality on current computer systems is sub-par compared to much less expensive consumer electronics devices. Yes, ATI does have blocks dedicated to video functions (iDCT, adaptive de-interlace, etc.), but no has a truly high quality hardware video playback solution integrated into their GPU as of yet. Yes, NVIDIA has hardware, but we haven't been able to get our hands on shipping drivers to enable its functionality as of yet, and even then we'll have to run our own quality tests on it.
Anyway, the point is this: ATI brought up the fact that they have a division dedicated to making hardware specifically for taking a DTV signal, decoding it, and displaying it on a television. They indicated that they plan on leveraging the experience they have in developing the Xillion technology to bring consumer electronics quality to ATI GPUs.
The long and short of that conversation is: why not before now; we're tired of waiting. We know you've got silicon in Sony televisions. We know the technology in the Radeon (and Geforce for that matter) parts falls unbelievably short of it. It's time to fix the problem and show us the solution.