AMD Processors - Athlon 64
PC gaming is one of the areas that drives a very large percentage of hardware purchases. AMD knows this and they currently lead the pack in gaming performance with their Athlon 64 lineup of processors. Even without running a 64-bit operating system or even applications, it's possible to get leading performance in a wide variety of PC game titles from these chips. As soon as Microsoft has Windows XP 64 ready for the public, and hardware vendors create functional drivers for their devices to run in this new environment, it will only help boost the longevity of any Athlon 64 processor purchased today.
The really good news for these high-performance chips is that they are not terribly expensive and are widely available - two facts that don't come together as a mere coincidence.
Socket 754
This week's top pick for an entry-level Athlon 64 goes to the Athlon 64 2800+ (Newcastle/Socket 754), which is available for as low as $120. The actual clock speed of the 2800+ is 1.8GHz and has shown itself to be a great choice as an entry into the 64-bit world as well as for gaming and general desktop usage.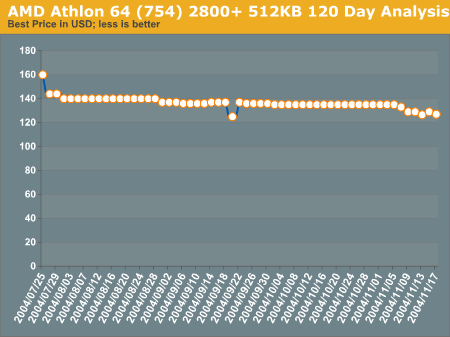 Socket 939
Socket 939 has started to become a bit more attractive lately as prices have been on a downward trend these last few weeks. To top that off, the K8T800 Pro chipset has become more widely available on motherboards while NVIDIA is just starting to bring nForce4 to market. Granted, 939 has always held a bit more leverage, since, unlike socket 754 chips and boards, it isn't going anywhere anytime soon.
To keep things relatively affordable, as well as preventing extreme levels of overkill on both power and price, the AMD Athlon 64 3200+ (Winchester/Socket 939) comes out as the top choice. This chip does a pretty good job of balancing the power to performance scale and throws in the fact that the 939 platform is the one that AMD plans to keep around long enough to realize higher clock speeds. This makes for a stable future upgrade path that should keep you from feeling buyer's remorse a year or so down the road. The 3200+ is already clocked at 2.0GHz and, when paired up with the right motherboard, is capable of some nice overclocks.