MSI Creator TRX40 Conclusion
The MSI Creator TRX40 is an interesting motherboard for a number of reasons. Firstly it's the cheapest flagship model from the major brands, with an MSRP of just $700. Secondly, it keeps high-end feature set with an Aquantia AQC107 10 gigabit Ethernet controller and has the ability to install up to seven PCIe 4.0 x4 M.2 drives out of the box with a bundled Xpander Aero Gen4 PCIe M.2 add-in card in the accessories bundle. It's also one of a trio of TRX40 models in MSI's line-up, with the Creator aimed squarely at content creators and professionals alike with its subtle black and grey aesthetic.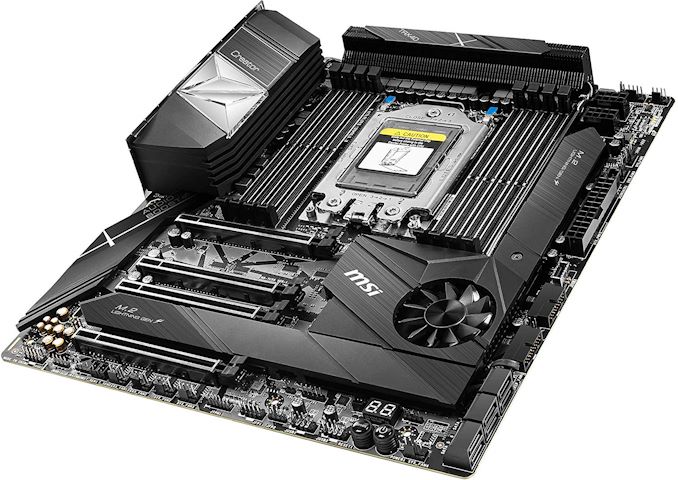 For storage are three hardwired PCIe 4.0 x4 M.2 slots, while an MSI Xpander Aero Gen4 allows users to add four PCIe 4.0 M.2 slots into one of the full-length PCIe 4.0 x16 slots. Also featured are six SATA ports with support for RAID 0, 1, and 10 arrays. Touching more on the PCIe, MSI has included four full-length PCIe 4.0 slots which run at x16/x8/x16/x8 and is a good example of Threadripper's HEDT and TRX40 capabilities in terms of PCIe real estate. On the rear panel is plenty of USB with nine Type-A (5 x USB 3.1 G1, 4 x USB 3.1 G2), and a single USB 3.2 G2 20 Gbps Type-C port, which is impressive. The eight memory slots support up to DDR4-4666, with a maximum capacity of up to 256 GB.
The performance of the MSI Creator TRX40 motherboard is on par with other models and remains competitive in our CPU and gaming-focused tests. It performs middle of the road in our system tests with a decent POST time of 30 seconds. Power consumption in our testing shows the MSI Creator TRX40 to be one of the more efficient TRX40 models so far with consistently lower load values than the ASRock TRX40 Taichi and ASUS ROG Zenith II Extreme. The Creator TRX40 also performs well in our overclock testing and the five of the seven OC Genie 4 profiles come with better than anticipated load CPU VCore voltage than we've seen from the company in previous years. Thermal performance in our VRM testing also shows the efficiency of the true 16-phase power delivery for the CPU with very reasonable temperatures which peaked at 53°C when paired with our testbed AMD Ryzen Threadripper 3970X 32-core processor.
Sales Widget
With an MSRP of $700, the MSI Creator TRX40 looks great value for money when compared to its competing models, the ASUS ROG Zenith II Extreme ($850), and the GIGABYTE TRX40 Aorus Xtreme ($850) which both have their own merits and reasons for the extra cost. The MSI Creator TRX40 is a no-frills option which ticks a lot of boxes in terms of specifications, features, and performance, but in a modest black and grey aesthetic with everything but the kitchen sink included.
With its highly efficient and powerful 16-phase power delivery, it's one of the best from MSI in a long time, and for the unlocked nature of AMD's Threadripper 3000 series including the 3990X 64-core model, users looking to overclock extra performance at the expense of insane power consumption and heat output, the MSI Creator TRX40 is a good foundation for it.