Introduction

Abit has just unleashed their first "Fatal1ty" motherboard. For those who don't know, Fatal1ty is the name used by 19-year old Jonathan Wendel, one of the most respected gamers in the world.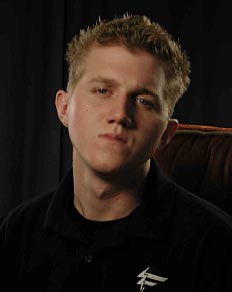 Early in his gaming career, Fatal1ty became the number 1 ranked Quake 3 player in the world. This was followed by wins 3 years in a row at CPL competing in Quake 3, Alien vs. Predator 2, and Unreal Tournament 2003. Fatal1ty also won Quakecon 2002 and became the world's first Doom 3 champion at Quakecon 2004.
Abit has partnered with Fatal1ty "to develop PC gaming hardware with no equal". The Fatal1ty boards and graphics cards are "Built to Kill" according to Abit - they are designed to be the "best of the best" for gaming. There is no doubt that Abit knows enthusiasts, gaming, and overclocking as they are the brand most mentioned when computer users are asked to name a good board for overclocking. Over their years of catering to the Enthusiast, Abit has also been an innovator in overclocking, introducing features like Soft Menu that became the standard for the industry. Abit understands this market, so the launch of the Fatal1ty series seems an ideal fit with Abit strengths.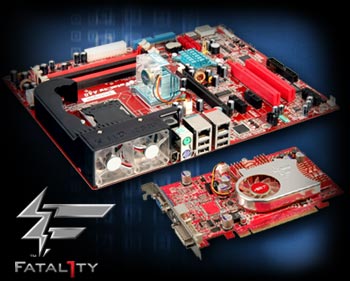 The Fatal1ty AA8XE is built with the just released Intel 925XE chipset, which sports a 1066FSB, DDR2 memory, and a PCI Express x16 slot for a graphics card. There is no doubt - in the look of Fatal1ty or in the specifications - that Abit has thrown all their best Enthusiast features at Fatality. The list of Abit Engineered features include:
ABIT uGuruTM Technology (ABIT OC Guru/ABIT EQ/ABIT Flash Menu/ABIT Black Box)
ABIT ThermalGuardTM Technology
ABIT TweakGuardTM Technology
ABIT Dual OTESTM cooling Technology (Enhanced Version)
ABIT OC strip Technology
ABIT PWM cooling Technology
ABIT Aero OTES Technology
ABIT Audio Purification Technology for Dolby Digital Live
ABIT MB LED back-light
ABIT MB color management system for easy installation
In addition, Abit emphasizes that the Fatal1ty series was built for rock-solid stability, both at stock speed and in overclocking.
Our own recent tests of the 925XE/3.46EE
have shown the AMD Athlon 64 to be a much better gaming platform than Intel at the present time. However, there is no doubt that Fatal1ty and Abit have the gaming credentials to put together the best gaming platform available. We will reserve judgment until we have had a chance to compare the Fatal1ty AA8XE benchmarks to other gaming rigs.