Doom 3 Performance
This benchmark requires no introduction - currently the most stressful game on today's GPUs, Doom 3 performance is the perfect area to look at the benefits of SLI.
Starting at 1024 x 768 we see that despite the low resolution, the GeForce 6800GT got a nice 46% performance boost from SLI. The performance improvement is much greater on the slower 6600GT as it is more GPU limited at 1024 x 768 than the 6800GT, weighing in at just under 72%.
Here the performance of two 6600GTs is equivalent of a single GeForce 6800GT.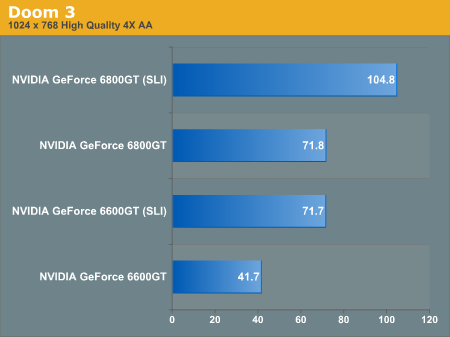 As the resolution goes up so does the performance benefit from SLI. The 6800GT moved up to a 68% performance improvement, while the 6600GT only inched up to a 78.2% gain. The 6800GTs in SLI configuration actually make 1280 x 1024 with 4X AA smooth as butter under Doom 3.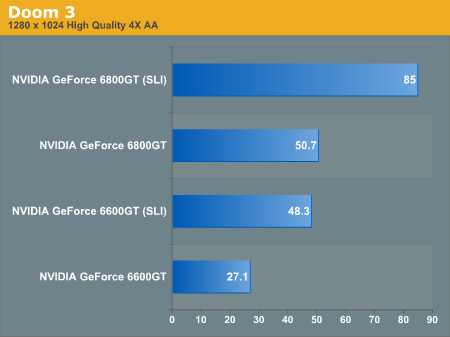 At 1600 x 1200 we see some huge performance gains from SLI: 75.3% and 85% from the 6800GT and the 6600GT respectively. It's clear that SLI makes even the highest resolutions with AA enabled quite playable.