Basic Features: Soltek K8TPro-939
 Soltek SL-K8TPro-939 Motherboard Specifications
CPU Interface
Socket 939 Athlon 64
Chipset
VIA K8T800 Pro/VT8237
Bus Speeds
200MHz to 300MHz (in 1MHz increments)
PCI/AGP Speeds
Asynchronous (Fixed) or Float
Core Voltage
0.8V to 1.7V, 0.025V increments to 1.5V, 0.05V increments 1.5V to 1.7V
DRAM Voltage
Default, 2.6V to 2.8V in 0.1V increments
AGP Voltage
Default, 1.5V-1.8V in 0.1V increments
2.5V (VDD) Voltage
Default, 2.5V-2.8V in 0.1V increments
Hyper Transport Ratios
1x to 5x in 1X increments
CPU Ratios
Auto, 4x to 20x in 1X increments
DRAM Speeds
Auto, 100, 133, 166, 200
Memory Command Rate
Auto, 1T, 2T
Memory Slots
Four 184-pin DDR Dual-Channel Slots
Unbuffered Non-ECC Memory to 4GB Total
Expansion Slots
1 AGP 8X Slot
5 PCI Slots
Onboard SATA
2-Drive SATA by VIA VT8237 PLUS
2-Drive SATA by PDC20579
Onboard IDE
Two Standard VIA ATA133/100/66 (4 drives)
Promise PDC20579 (2 Drives)
SATA/IDE RAID
2-Drive VIA SATA RAID plus 2-Drive Promise SATA RAID plus 2-Drive Promise IDE RAID. RAID 0, 1, JBOD
Onboard USB 2.0/IEEE-1394
8 USB 2.0 ports supported VIA VT8237
2 1394A FireWire ports by VIA VT6307
Onboard LAN
1 Gigabit Ethernet by VIA VT6122
Onboard Audio
Realtek ALC850 AC'97 2.3 8-Channel with UAJ, SPDIF optical in and out
BIOS
Award K8939FAE Beta 10/26/2004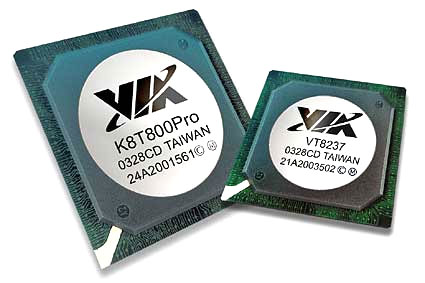 The K8TPro-939 is powered by VIA's dual chip K8T800 Pro North Bridge and the VIA VT8237 South Bridge. For more information on this chipset, you can refer to our launch article for the chipset:
VIA K8T800 PRO: PCI/AGP Lock and 1000 HyperTransport for Athlon 64
The K8T800 Pro is targeted at both Socket 939 and Socket 754, and it provides 1000 HT speed to all current Athlon 64 sockets. This contrasts to nVidia's nForce3-250 family, which has both 800 HT and 1000 HT versions depending on the target board.
The Soltek SL-K8TPro-939 includes:

One round purple IDE cable color-coded to the black Soltek motherboard with purple slots
Two matching purple flat IDE cables
One matching purple flat floppy cable
Four Serial ATA data cables
Two Serial ATA power splitters supporting 4 SATA power connectors
One USB bracket with 2 ports
Quick Start Installation Guide
Manuals for both the Motherboard and System Utilites
Two CDs with Motherboard Drivers and Bonus CD with PC-Cillin 2004, Virtual Drive 7, RestoreIT! 3 Lite, Partition Magic 6.0 SE, and DriveImage 4.0
Promise PDC20579 Driver diskette
I/O shield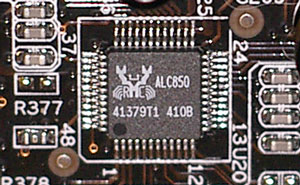 The Realtek ALC850 7.1 audio chip is appearing on many recent motherboards. This 8-channel audio codec is fully AC '97 2.3 compliant and features 16-bit 8-channel audio and auto-jack sensing with support for a full range of analog and digital IO. The ALC850 includes both Optical SPDIF in and out connectors on the rear IO panel.
The ALC850 Codec provides four pairs of stereo outputs, with 5-Bit volume controls and multiple stereo and mono inputs, along with flexible mixing, and gain and mute functions. Two 50mW/20ohm headset audio amplifiers are integrated at Front-Out and Surround-Out, and both amplifiers are selectable for Front-Out, Line-In and Mic-In as a Universal Audio Jack.
The real question here is why Soltek chose the Realtek codec instead of the excellent VIA Envy codec. We suspect that the answer has to do with the cost difference between the VIA and Realtek solutions.
You can find more information on the recently released ALC850 at
Realtek
.

Soltek provides a full selection of rear I/O ports. These include 6 programmable audio mini jacks plus optical SPDIF in and out connectors to support the Realtek ALC850. The back panel also includes PS2 mouse and keyboard, parallel, 1 serial, 1 standard Firewire (IEEE1394a), 4 USB, and a Gigabit Ethernet. There is no rear port for a Parallel Printer, but there is an onboard header for an optional parallel printer add-on cable.
The K8TPro-939 supports two SATA connectors driven by the VIA Southbridge. These 2 ports can be combined in Raid.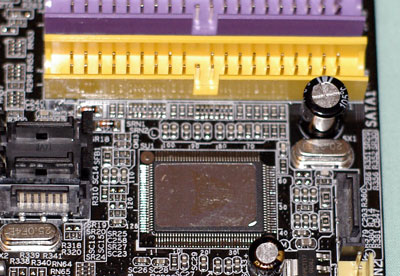 Soltek also supplies a Promise controller that supports two additional SATA drives and 2 more IDE drives. Drives can be configured as RAID on the Promise, but they cannot be combined in a RAID with the VIA drives.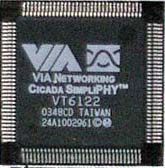 Gigabit LAN is provided by the VIA VT6122. While the LAN is specified as 1 Gigabit, it is controlled by the PCI bus, which can limit throughput severely in some situations. Internet users will not see a slow-down, and generally, this will not make much (if any) difference in real-world performance. However, file transfers and gaming over a 1 Gigabit LAN will likely be slower on a Gigabit LAN on the PCI bus.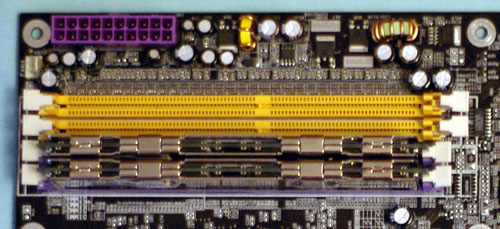 Four DIMM slots support up to 4GB of up to DDR400 memory in a Dual-Channel memory configuration. Dual-Channel 1 is DIMMs 1 and 2, and Dual-Channel 2 is DIMMs 3 and 4. Soltek also states that a single DIMM in slots 2 or 4, or a pair of DIMMs in 2+4 are non-bootable memory configurations.