Soltek is a company best known for excellent value in its motherboards. Value means delivering more than you might expect at a given price, and we have seen Soltek motherboards in the past, like the SL-75FRN2-RL, that deliver excellent features and great overclocking performance at a reasonable price. In fact, this nForce2 Ultra 400 board is still considered by some to be the best value available among Socket A motherboards.
With this value history, we were very interested in taking the new Socket 939 SL-K8TPro-939 for a spin. There is not exactly a deluge of 939 boards on the market, though that is improving. So, the prospect of a new 939 board from a company that delivers outstanding value seems like a good thing. While Soltek has been handicapped in the US by the lack of a US distributor, it certainly looks like their relationship with NewEgg has made up for this problem. You can't find Soltek motherboards widely distributed, but you can find them at the largest on-line reseller. We suspect that this generates enough US volume that Soltek must wonder what the real value of a US distributor would be.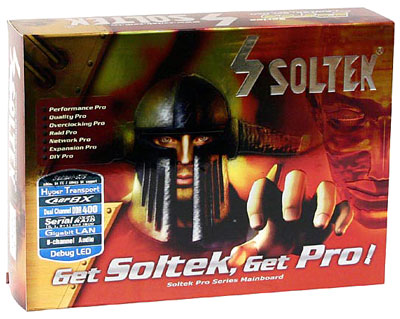 While Soltek is best known for low-cost boards, the K8TPro-939 is part of their higher-end PRO series. It is as full-featured as any VIA K8T800 Pro board that you will find for Socket 939 Athlon 64, but pricing falls to the low end of the full-featured boards. In fact, the current price of $114 might make you think that you are looking at a more stripped 939 board. That is not the case, as you will find the Soltek loaded with features.