The Problem with Intel's Approach
The major issue with Intel's approach to dual core designs is that the dual cores must contest with one another for bandwidth across Intel's 64-bit NetBurst FSB. To make matters worse, the x-series line of dual core CPUs are currently only slated for use with an 800MHz FSB, instead of Intel's soon to be announced 1066MHz FSB. The reduction in bandwidth will hurt performance scalability and we continue to wonder why Intel is reluctant to transition more of their CPUs to the 1066MHz FSB, especially the dual core chips that definitely need it.
With only a 64-bit FSB running at 800MHz, a single x40 processor will only have 6.4GB/s of bandwidth to the rest of the system. Now that 6.4GB/s is fine for a single CPU, but an x40 with two cores the bandwidth requirements go up significantly.
AMD's Strategy
While Intel's current roadmap appears to place dual core on the desktop before it makes its way to the enterprise (other than with Itanium), AMD's strategy is reversed - with dual core appearing in workstations and on servers before making a splash on the desktop.
Overall, AMD's approach simply makes more sense, since the overall performance benefit to dual core on the desktop will be minimal at best but strong in very specific applications and usage patterns. With most desktop applications continuing to be single threaded, dual core will still have to wait until there is more application support before truly being useful on the desktop. Heavy multitaskers and those running workstation applications will appreciate the benefits of dual core, but gamers and most other users will find higher clocked single core chips to be better suited for their needs.
The scenario is exactly the opposite in the workstation and server space, with the applications already seeing huge benefits from going to multiple processors thanks to their multithreaded nature.
When AMD mentions that their K8 architecture was designed for multicore operation from the start, they weren't lying. Each Socket-939 or Socket-940 K8 chip, whether it's an Athlon 64, Athlon 64 FX or Opteron, features three Hyper Transport links (whether they are all operational is another question). In order to create a dual core version of a K8 based chip, you simply remove a single pair of Hyper Transport PHYs, one from each chip, and fuse the two Hyper Transport links together - thus creating a direct path of communication between the two cores, capable of transmitting data at up to 8GB/s (at 1GHz) between the two chips. Update: There is some debate as to how AMD implements dual core in their K8 architecture. The above description was provided by AMD from an earlier discussion but many readers have emailed to point out that the two cores are connected at the SRQ level. We are awaiting official confirmation from AMD as to exactly how their dual core technology is implemented. Update 2:While AMD never got back to us with an official response, unofficially they did confirm that the two cores on a single dual core Opteron die do communicate at full speed and are not connected at the HT level. We apologize for the error.
AMD's performance limitation here will be memory bandwidth, with the two K8 cores sharing the 128-bit DDR memory bus. While we currently don't see a huge performance increase from going to a 128-bit memory bus from a single channel 64-bit interface, the move to dual core will definitely make greater use of memory bandwidth.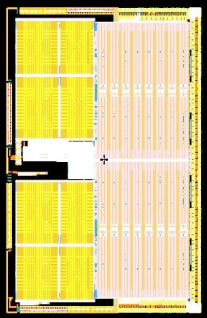 AMD continues to list the second half of 2005 as the introduction timeframe for their dual core CPUs, with Opteron coming first and then Athlon 64 FX. Once again, as with all release dates, nothing is set in stone, but right now it looks like that both AMD and Intel are planning on having dual core on the desktop in the same general timeframe.
AMD has yet to reveal what the official specifications of their upcoming dual core desktop products are, but based on roadmaps and what we've seen, it would seem that the first dual core desktop parts will be based on two 90nm Athlon 64 FX cores with a shared memory controller. Interally AMD is referring to this CPU as "Toledo" as we've already published.