Dual Core Mobility
A while ago I asked Pat Gelsinger what was in store for the future of Pentium M with regards to threading, and he responded with multi-core. Thus it's no surprise to finally see Intel giving more details about Yonah (or Jonah depending on what part of the world you're from), the 65nm dual core successor to Dothan.
Yonah's dual core setup will be much more power optimized than what Smithfield will bring to the desktop, and in an effect, much more efficient. There's little information available about Yonah, other than it will most likely have a power and thermal balancing dual core setup, with the individual cores powering down when they're not needed. The idea here is to switch between cores not based on performance needs, but based on thermal and power needs. If one core happens to be running too hot, it can be powered down and the active workload shifted to a different thread running on the remaining core, thus reducing the problem of thermal density by effectively spreading the thermal load across two cores.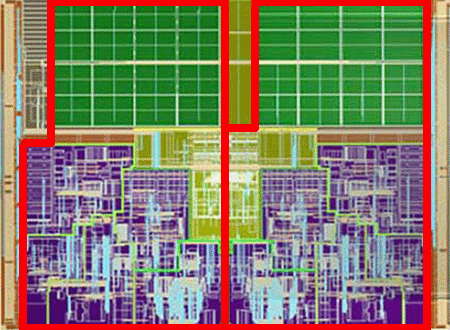 While Dothan was more of a small set of fixes and updates to Banias, Yonah is going to be a significant set of improvements to what we've seen in the past. Yonah has already taped out and Intel is slated to release the chip in 2006. Yonah will begin sampling by the end of 2005 and Intel expects it to ramp up to 50% of the performance notebook segment by the end of 2006.
Yonah's platform is codenamed Napa, which brings support for DDR-2 667 as well as the 667MHz FSB to help keep the dual core Yonah fed with data. Given that Dothan will ramp to 2.26GHz by the end of 2005, we can expect Yonah's clock speeds to be around there upon its launch.
Dual Core Servers
Most recently Intel announced that their only multi core enterprise product shipping in 2005 would be Montecito, the dual core version of Itanium 2. This is where the rumor of Intel not shipping any dual core chips until 2006 came from, as it seems that the first dual core Xeons won't ship until Q1 2006. Now as long as Intel's desktop chips don't face any further delays, there will still be dual core desktop CPUs based on Smithfield available by the end of 2005. Given Intel's track record lately, it would not be surprising to see these chips slip into 2006 as well though.
The first dual core Xeons appear to be nothing more than Xeon versions of Smithfield, but Intel does list that more power efficient versions of the first dual core Xeons will appear in the second half of 2006 - potentially including some of the power management features that will be included in Yonah.
An interesting inclusion on Intel's dual core Enterprise roadmaps is the mention of a Dual Independent Bus. The term Dual Independent Bus hasn't been used since the days of the Pentium III to indicate the separation of the internal L2 cache bus from the external Front Side Bus. However, we wonder if the dual core Xeon's Dual Independent Bus may in fact be individual 64-bit datapaths to each socket on a dual socket server. This way a pair of dual core Xeons would have just as much FSB bandwidth per pair of cores as the present day dual processor Xeons, which will end up improving performance tremendously.
The platforms that will enable dual core Xeon support will be Blackford and Greencreek for 2S (two Socket) systems, and the next generation Twincastle for 4S systems.