Video Creation/Photo Editing
Adobe Photoshop 7.0.1
With the later releases of the Athlon XP, AMD began to offer fairly solid performance in Photoshop but with the Athlon 64 AMD managed to seal their fate - making AMD the platform of choice for Photoshop users.
The Top four spots in WorldBench's Photoshop 7 test are won by AMD, first by the 2.6GHz FX-55 and then by the three chips at 2.4GHz. As we've seen in the past, image editing doesn't benefit all that much from high bandwidth memory subsystems, so there's little benefit from a larger cache (0.3%) or from a dual channel memory setup (2.7%).
Despite its higher clock speed, the Pentium 4 560 takes a back seat to the Extreme Edition, justifying the EE's continued presence for a little while longer. Though with plans for a Pentium 4 4GHz scrapped, it seems like we'll be seeing a lot more of the Extreme Edition.
Athlon XP owners will find little reason to upgrade to an entry-level Athlon 64 for Photoshop use, as the two 3200+s manage to perform very similarly despite architecture and clock speed differences.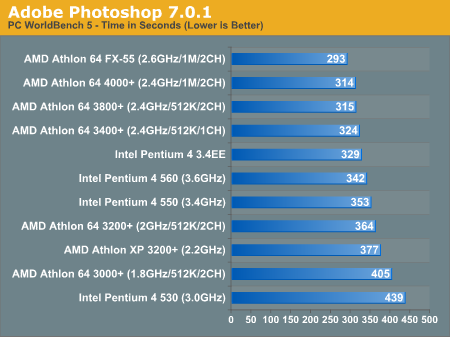 Adobe Premier 6.5
Prescott seems to do quite a bit for Intel here, with the 560 and 550 easily offering better performance than the 3.4EE, despite smaller caches. That being said, even the top of the line Pentium 4 560 can't outperform even the Athlon XP 3200+ in this test. While WorldBench does use an older version of Premier, it is one that is still widely used, making these results quite pertinent.
Once again we see very little need for the larger cache of the Athlon 64 4000+, but more of a tangible benefit from the move to Socket-939 from Socket-754 (6.7%).
AMD simply dominates this test; Premier users should know what platform is right for their needs.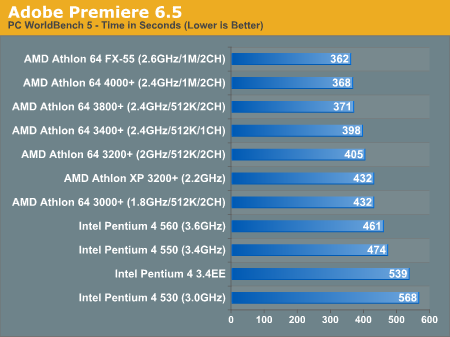 Roxio VideoWave Movie Creator 1.5
While Premier is a wonderful professional application, consumers will prefer something a little easier to use. Enter: Roxio's VideoWave Movie Creator, a fairly full featured yet consumer level video editing package.
Intel has worked very closely with Roxio in the past, thus it's no surprise to see Movie Creator take advantage of the Prescott core as best as possible. The Extreme Edition still takes the crown, but the 560 and 550 manage to keep AMD's best at bay.
The Athlon 64 FX-55 is still within striking distance of the 3.4EE at only a 5% deficit, but the gap grows as we look at cheaper AMD solutions. Intel wins here with AMD in a close second.