Wolfenstein: Enemy Territory
An oldie but a goodie, Enemy Territory is still played quite a bit and makes for a great CPU test as today's GPUs can easily handle the rendering load of the Quake 3 based game.
We continue to see dominance from AMD, this time only the top three spots go to AMD chips. The Pentium 4 3.4EE and the Pentium 4 560 both manage to outperform the Athlon 64 3400+ thanks to its single channel memory configuration. ET also shows us a situation where the move to dual channel actually helps the Athlon 64 more than the 7% we've been seeing thus far, here an 11% boost is what we see - although there's barely any performance improvement from the larger cache of the 4000+.
Prescott does reasonably well here, but just not good enough to compete with AMD.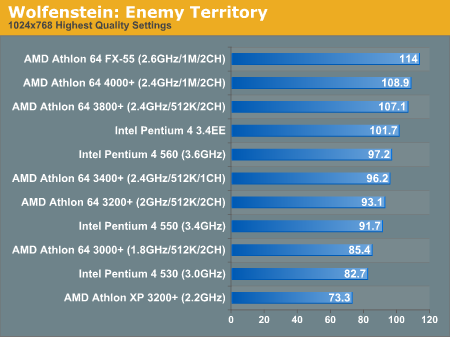 The Sims 2
While a clear departure from our usual game tests, The Sims 2 is more popular than any of the other games we've featured here in certain crowds - it is effectively the Doom 3 of those who prefer life-simulation to first person shooters. And interestingly enough, it makes for a very impressive CPU benchmark.
So who wins the hearts and performance of The Sims? AMD of course, with the top five performers in this test being Athlon 64 processors. Coming in 6th place is the Pentium 4 3.4EE, which is a whopping 21% slower than the Athlon 64 FX-55.
Granted most Sims players will not be shelling out $1,000 for a CPU, but given that the Athlon 64 3200+ can outperform the 3.4EE, they won't have to. Things are back to normal here with a 6% boost from Socket-939 and a minor 2% improvement when the Athlon 64 is given a full megabyte of cache.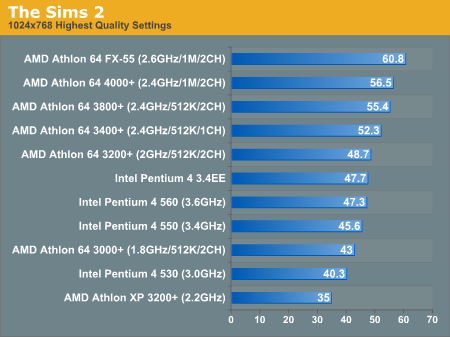 Far Cry
Performance under Far Cry echoes what we've already seen, AMD takes the top four spots without much struggle from Intel. While there is some debate about which is the faster content creation chip, there's no debate that the Athlon 64 is the faster gaming chip.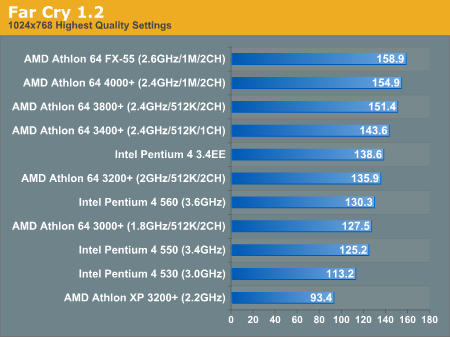 Warcraft III
Although AMD comes out on top here, the performance lead is nothing to cheer about; with the exception of the Athlon XP 3200+, all of the contenders here are GPU bound and all play the game very well (including the Athlon XP).