The nForce4 Family
The nVidia Reference Board was shipped with the nForce4 Ultra chipset. The features of the nForce4 chipset family should be very familiar to nForce3-250 users, since it builds upon the feature set of the nForce3-250 family that was introduced in April. All of the new nForce4 chipsets support 20-lane PCI Express, native Gigabit Ethernet (on-chip), full nVidia RAID features, 10 USB 2.0 ports, nVidia Firewall 2.0, and the new nTune Performance utility. From there, however, the 3 members in the new nForce4 family differ a bit in features depending on the target market for the chipset.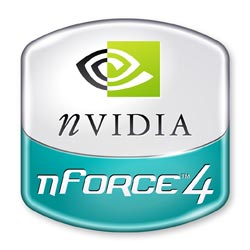 nForce4
- the basic value chipset for 939 and754. This is the chipset that you will likely find in Socket 754 and low-end Socket 939 boards selling for less than $100. The nF4 is targeted at value boards, but it still includes on-chip gigabit Ethernet capabilities, support for 10 USB, full nVidia "any drive" Raid capabilities, support for nVidia Firewall 2.0, and support for the nTune Performance Utility. Four SATA drives are supported at current 1.5GB/s speeds plus four PATA (IDE) devices. The big disadvantage of the vanilla nF4 chipset is that it only supports 800 Hyper Transport. In addition, the HT bus is locked on the basic nF4 to prevent overclocking of the Hyper Transport. This means that the basic nForce4 is not a good choice for the enthusiast, who is better served by the Ultra and SLI chipsets.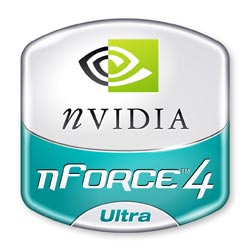 nForce4 Ultra
- the mainstream nF4 designed for boards that will sell in the $100 to $150 price range. In addition to nF4 features, you will find full support for an unlocked 1000 Hyper Transport, support for 3Gb/s SATA drives, and nVidia's secure networking engine, which is called ActiveArmor.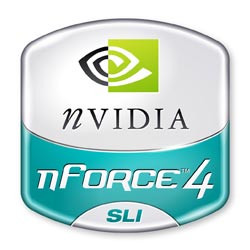 nForce4 SLI
- the high-end version of the nF4 is designed for boards that will sell at $150 or more. The nF4 SLI is the only version to support programmable PCI Express lanes, which allows the use of either a single or dual Video Card. A single GPU is supported by an x16 PCIe slot, which can be reprogrammed to two x8 PCIe slots to support two video cards in SLI mode. All features are, otherwise, the same as nForce4 Ultra.