GIGABYTE TRX40 Aorus Xtreme
To bolster the release of AMD's Threadripper 3000 series, GIGABYTE has unveiled the largest stack of all the vendors with a total of four new models. Three of GIGABYTE's TRX40 product stack flies the Aorus flag which is its gaming brand, with one model aimed more towards the professional user and content creators.
Starting with GIGABYTE's flagship TRX40 model, the GIGABYTE TRX40 Aorus Xtreme, it shows the potential of what to expect from AMD's new TRX40 chipset. The core feature set is impressive with an Intel X550-AT2 10 GbE dual-port Ethernet controller, an Intel AX200 Wi-Fi 6 wireless interface, and a total of four PCIe 4.0 x4 M.2 slots designed for super-fast NVMe PCIe 4.0 storage devices. Also bundled with the TRX40 Aorus Xtreme is an Aorus Gen4 AIC adaptor card which supports up to four 2 TB M.2 SSDs while benefiting from the bandwidth of PCIe 4.0.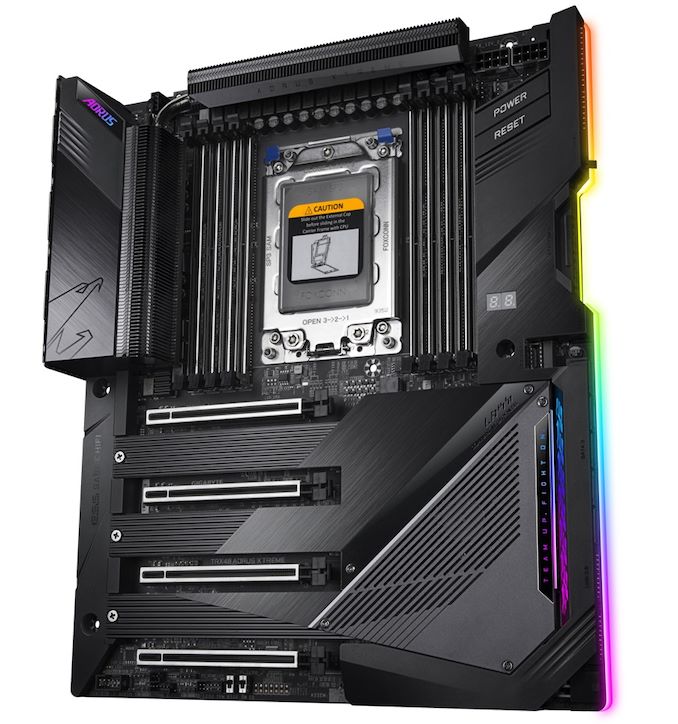 The GIGABYTE TRX40 Aorus Xtreme is an XL-ATX motherboard and has a very unique and distinct look to it with a full coating of black metallic thermal reactive armor which covers the majority of the PCB. Integrated into the design is RGB LED lighting which is incorporated into the top of the rear panel cover, the right-hand side of the TRX40 chipset which features active cooling, and along the right edge of the board. A two-digit LED debug is moulded into the armor to the right of the memory slots, while a power and reset switch is placed just above. Focusing on memory support, the GIGABYTE TRX40 Aorus Xtreme has eight slots which are capable of supporting DDR4-4400 and up to 256 GB in quad-channel mode.
Underneath the rear panel cover and the large heatsink is the monolithic 16-phase power delivery which is controlled by the high-end Infineon XDPE132G5C true 16-phase PWM controller, with sixteen Infineon TDA21472 70 A power stages. This is similar to the design that we saw on the GIGABYTE X570 Aorus Xtreme model and in our testing, it proved to be one of the best and most efficient designs so far. The TRX40 Aorus Xtreme also has four full-length PCIe 4.0 slots which operate at x16/x8/x16/x8. For storage, there are four PCIe 4.0 x4 M.2 slots with its own M.2 heatsink, and a total of ten SATA ports; eight from the TRX40 chipset with RAID 0, 1, 10 support, and two SATA ports from an ASMedia SATA controller.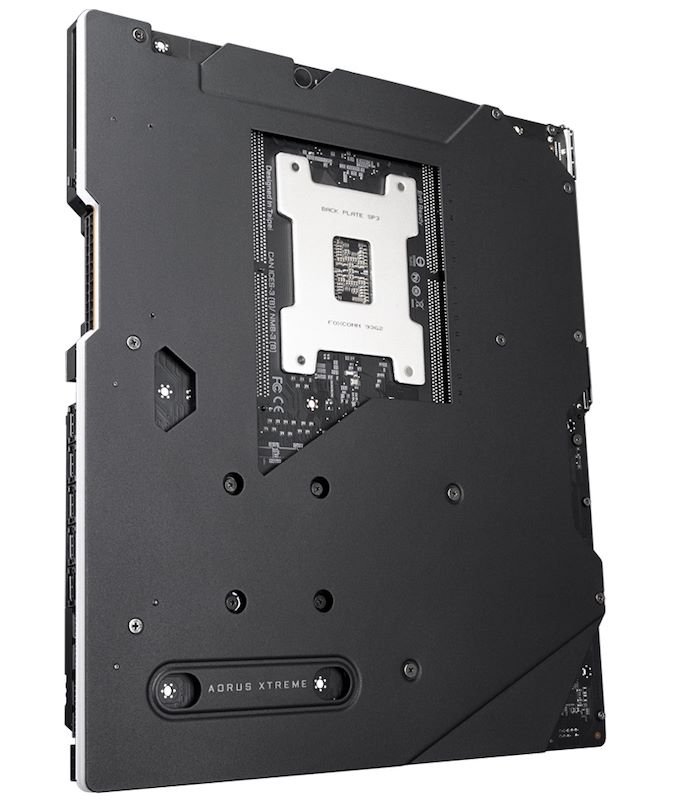 On the rear of the XL-ATX PCB is a full cover backplate which not only adds extra structural reinforcement to the rear but it also undoubtedly adds extra weight to the motherboard itself. Looking at the board from the rear allows us to see the right-angled 24-pin ATX motherboard power input, which is designed to make cable management look even cleaner. The GIGABYTE TRX40 Aorus Xtreme also includes an OC PEG power connector, an Aorus Gen4 AIC adaptor, and temperature sensor headers for the more extreme users. For cooling, there are seven 4-pin headers in total with one for a CPU fan, one for a water pump, and five for chassis fans.

On the rear panel is seven USB 3.1 G2 Type-A, and one USB 3.1 G2 Type-C port, which is a marked improvement on USB connectivity over the previous TR3 X399 models. To the left is a Clear CMOS button with a Q-Flash Plus button, with a pair of Intel AX200 Wi-Fi 6 antenna connectors and two 10 GbE ports powered by an Intel X550-AT2 10 GbE controller. For the onboard audio, there are two Realtek ALC4050H HD audio codecs with one paired up with a Realtek ALC1220 which powers the five 3.5 mm audio jacks and S/PDIF optical output on the rear, and another for the front panel audio which includes an ESS Sabre 9218 DAC.
The GIGABYTE TRX40 Aorus Xtreme is undoubtedly one of the flagship models on AMD's new Threadripper 3000 sTRX4 socket with a very high-end feature set, and very competent true 16-phase power delivery for the CPU. It's blend premium componentry and elegant stylings aren't going to come without a heavy hit to the wallet, with the GIGABYTE TRX40 Aorus Xtreme expected to cost $849.