Display Measurement
The display of the Mate 30 Pro is its most important feature (isn't it for most phones?), and Huawei did some odd choices in terms of both design as well as hardware this year. I've covered the design choices in the introduction and fair to say I'm not too big a fan of the side curved display as it doesn't work well ergonomically nor does it look well with Huawei's choice of display panel. Although we weren't able to confirm if the display is an LG or BOE panel, it's definitely not a Samsung panel as it has issues in regards to colour shift on off-axis viewing angles.
Huawei this year also opted to downgrade the screen resolution from 1440p of the Mate 20 Pro to 1080p (well, 1176p), which does come with a notable reduction in screen sharpness, which is a pity given the device's price tag.
In terms of colour calibration and modes, we have the usual selection of a choice between a "Normal" sRGB target and a "Vivid" P3 gamut target, with three colour temperature presets which are fully customisable through a colour palette selector. Unfortunately, I didn't see colour management working at all on the Mate 30 Pro, so Huawei is definitely behind other vendors this year (Android as a whole is quite far behind Apple to be honest).
We move on to the display calibration and fundamental display measurements of the Mate 30 Pro screen. As always, we thank X-Rite and SpecraCal, as our measurements are performed with an X-Rite i1Pro 2 spectrophotometer, with the exception of black levels which are measured with an i1Display Pro colorimeter. Data is collected and examined using Portrait Display's CalMAN software.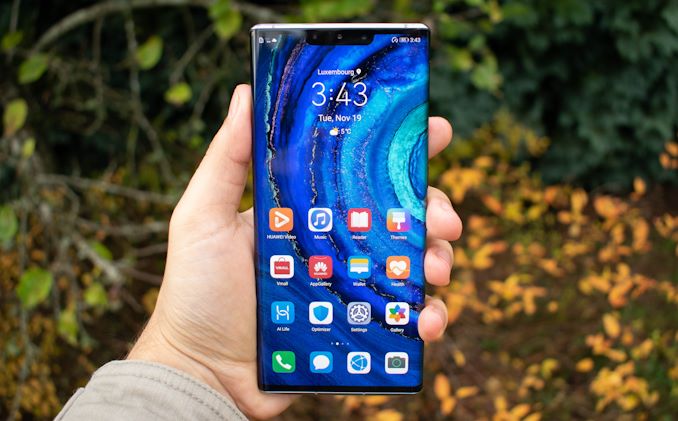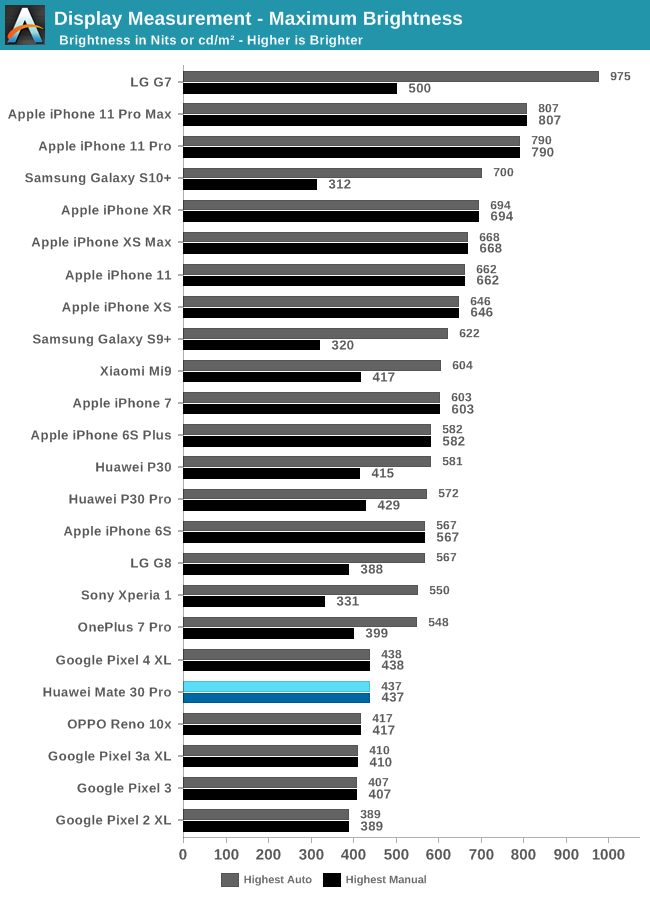 In terms of maximum brightness, the Mate 30 Pro is quite conservative and we don't see brightness levels exceeding 437 nits. Unlike the Samsung panels in the P30 series, the Mate 30 Pro doesn't look like it has any brightness boost mode when under adaptive brightness as the maximum doesn't change no matter the ambient light.
Greyscale accuracy of the Mate 30 Pro isn't too bad. Gamma is generally ok, with an ever so slight shift with too high gamma at the medium intensity levels, meaning shades are slightly darker. Colour temperature is a bit too warm on our unit, and this error actually increases the higher the brightness setting, with 6281K at 200nits and a low 6099K at maximum brightness. This results in the screen appearing to have a red tint.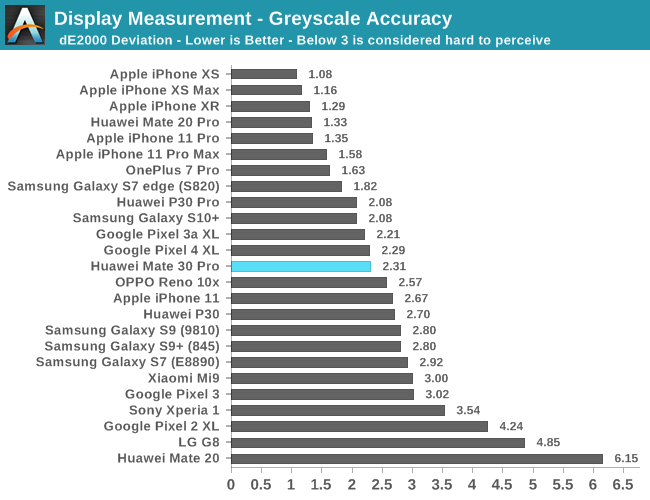 The dE2000 results end up middle of the pack; the phone unfortunately ends up being quite worse than the Mate 20 Pro as well as slightly worse than the P30 Pro in terms of accuracy.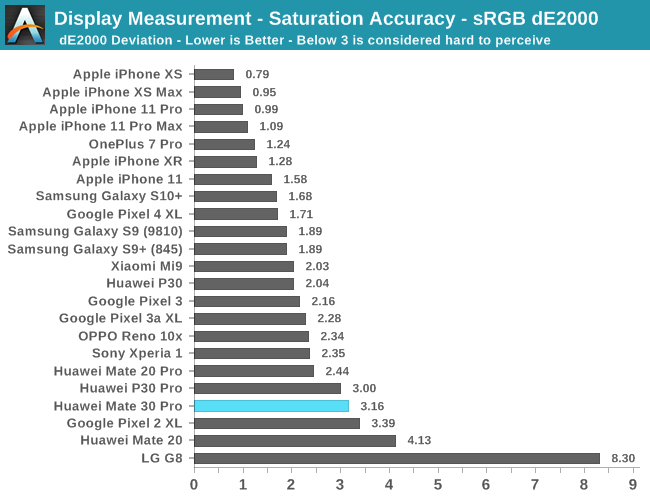 sRGB accuracy in the "Normal" mode isn't very good. We're seeing noticeable hue shits in the spectrum, especially in greens. The saturation and luminosity is also off-target as tones are too bright / undersaturated. The resulting dE2000 is quite bad, which sadly enough is in line with what we saw on the P30 Pro as well as the Mate 20's.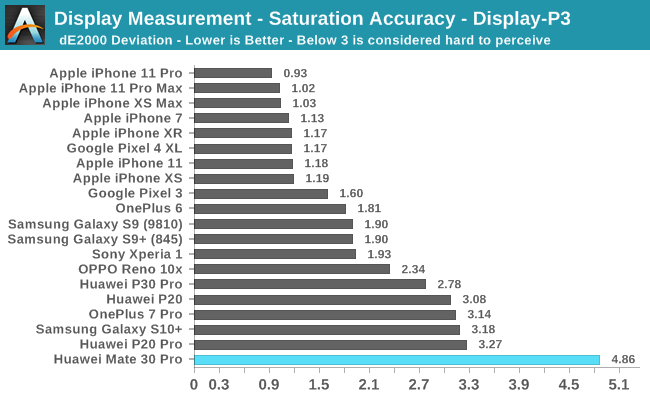 While the score of the Mate 30 Pro is really bad in the P3 measurements, most of the errors here is due to the wildly blue default colour temperature. Hues in this mode are actually more accurate than the sRGB mode, once of course you customize the colour temperature to more accurate levels.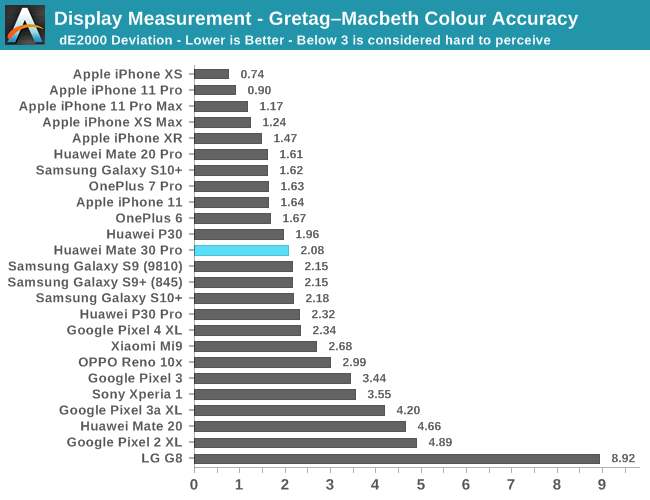 In the GMB test in the Normal mode again the biggest errors are exhibited in the chromacity and hue of some tones, being a bit undersaturated as well as having hue issues in the green tones. The overall result is still acceptable and useable.
Screen Conclusion – Very Mediocre For a 1100€ Phone
The worse than usual viewing angles of the display, lower than expected resolution, low peak brightness, lower colour accuracy, no colour management all make this an extremely mediocre display for what is supposed to be a flagship device from Huawei. Unfortunately, we've seen the issue repeated again and again and frankly I don't understand why vendors would opt to chose second-rate panels from LG or BOE in their flagship devices. If you're going to build a 1100€ phone like the Mate 30 Pro, you should at least go all the way and source the highest quality panels you can get, as otherwise you'll end up with a deal-breaker scenario for your product. The Mate 30 Pro's screen is very underwhelming and given the phone's price, is a deal breaker for me.