Display Analysis
Dell offers two display options. The review unit arrived with the first option: a 1920x1200 sRGB display, offering pen and touch support. Dell also offers a 3840x2400 P3-D65 panel, which delivers a higher resolution image with a wider color gamut, but as we've seen time and time again, will come with a stiff hit to battery life. Both feature bonded Corning Gorilla Glass 5 as well, for added durability. In addition, the displays feature a good anti-reflective coating, which is rated at 0.65% reflectivity. This means more viewing of what's on the display, and less viewing of what's in the room.
The move back to a taller screen provides a lot of benefits in the laptop space, where doing work often involves the vertical axis. Scrolling spreadsheets or webpages are two basic examples of an added benefit of more vertical pixels, and while it may not seem like a big change to go from 16:9 like most laptops to 16:10, in use it is a very welcome change. It also eliminates the large chin found on the bottom of most laptop displays, and Dell has stretched out the 13.3-inch on the outgoing XPS 13 to a slightly larger 13.4 in the same footprint, without increasing the size of the laptop itself.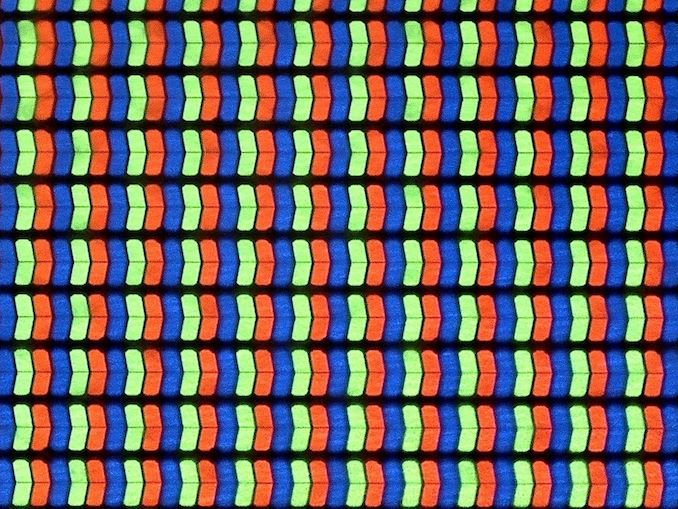 The base display offers 169 pixels-per-inch (PPI) pixel density, which, while still well above the standard 92 PPI of old, doesn't match the Surface Laptop 3, as an example. But it still offers plenty of resolution for most tasks, and with the added benefit of offering better battery life. But if you do want lots of PPI the 4K option will of course double the PPI to 338, at the cost of money and battery life.
Dell also offers Dolby Vision on both panels, but Dolby Vision on laptops is not what you may think. It will support Dolby Vision video playback in Netflix, but it doesn't transform the display into an HDR offering. It just works to provide the best picture it can with the hardware available. On the 4K panel though, Dell is offering P3-D65 gamut support as well as HDR 400 certification. It should be a fantastic display in certain scenarios, but be warned that Windows is fairly hamstrung on support for HDR, and especially wide-gamut displays, since its color management is fairly limited.
To see how the display performed, we tested it with Portrait Display's SpectraCal software with a custom workflow. Brightness and contrast were measured with the X-Rite i1Display Pro colorimeter, and color accuracy was tested with the X-Rite i1Pro2 spectrophotometer.
Brightness and Contrast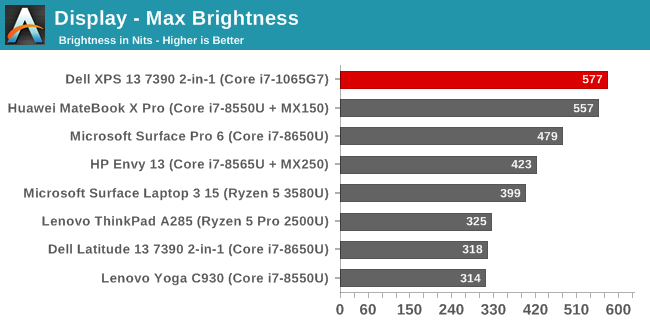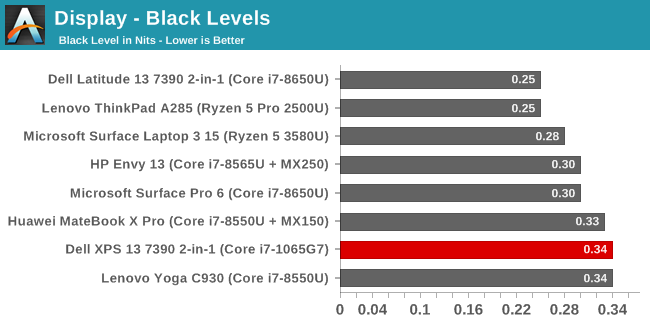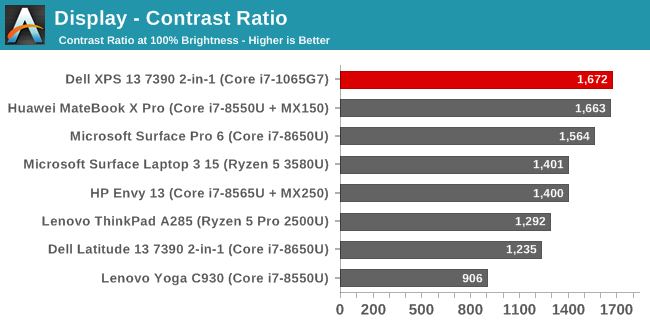 The XPS 13 can get exceptionally bright, closing in on 600 nits, while at the same time offering almost 1700:1 contrast ratio. These are fantastic results for a laptop, and especially one that is this portable since it should work well even under bright conditions. If it had a downside, it would be that the display only dims to 27 nits (white), which is far too bright to use as a tablet in bed.
Grayscale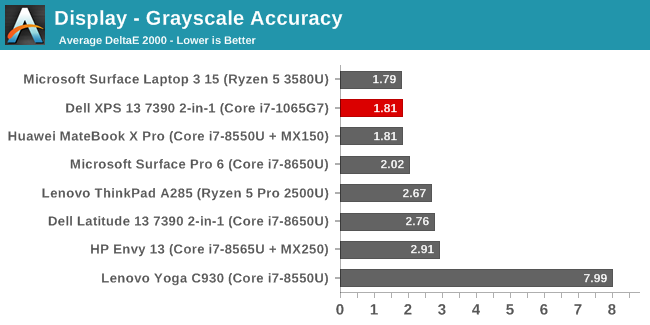 Dell has upped their game significantly with the XPS 13 7390. Clearly they've employed some color calibration, since the display's grayscale accuracy is almost perfect, with no error levels over 3.0, and a gamma that closely matches the 2.2 target. The display is slightly cool in its white point, but overall it is a great result.
Gamut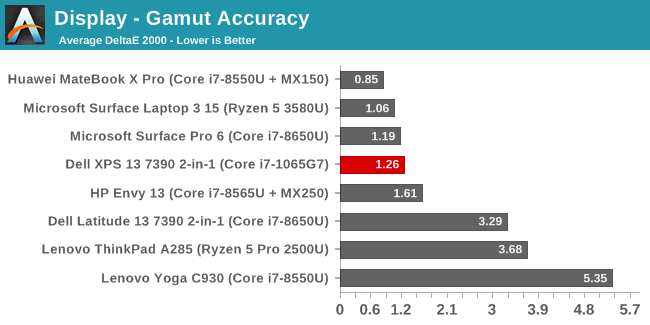 Testing the display at 100% levels for the primary and secondary colors shows that Dell has taken their color seriously on this laptop. It pretty much perfectly matches the sRGB color gamut, with great accuracy on all of the colors. All of the results are well under the 3.0 level we consider to be accurate, and most are under the 1.0 level we'd consider imperceptible.
Saturation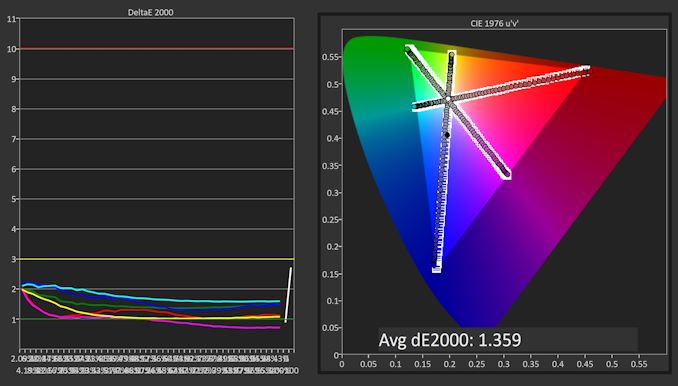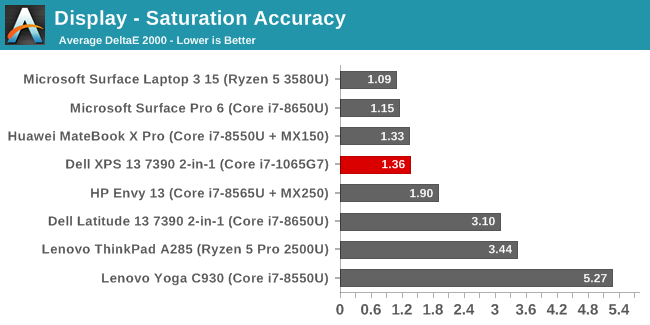 The saturation sweeps run all of the primary and secondary colors in 4-bit steps from 0% to 100% brightness. The results are nearly perfect, and well under the 3.0 level across the entire range on all six colors.
Gretag Macbeth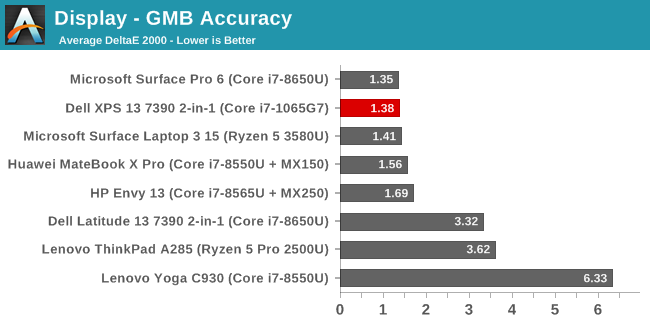 Our final test is the Gretag Macbeth, with tests a variety of colors outside of the primary and secondary axis, and including the important skin tones. None of the tested color points were really even over the 2.0 error level. This is a great result.
Colorchecker
This shows the relative error level with the target color on the bottom, and the displayed color on the top. Overall the results are near-perfect.
Display Conclusion
The XPS 13 offers one of the best displays on any notebook we've tested. The move back to the taller 16:10 aspect ratio is most welcome, and it's been refreshing to see some manufacturers utilize taller displays such as the 3:2 and 16:10 when it used to be almost impossible to find anything that was not 16:9. The aspect is even more important when you consider this is a convertible laptop, and 16:9 does not work very well as a tablet.
Dell also offers an excellent anti-reflective coating, which will hopefully spur on their competitors to follow suit. This is something Apple's iPad range has excelled at for some time, but many PCs still have either a matte coating to scatter the light, which also reduces the sharpness of the image, or very reflective glass coatings which are sharp but hard to use outside. The XPS 13 7390 offers both a very bright, and a low reflectivity coating, meaning it should excel in bright environments.
Finally, Dell has calibrated the display, meaning the colors on the XPS 13 are almost perfect.
This combination is a big win for the XPS 13, and provides it yet another area where it excels over its competition.