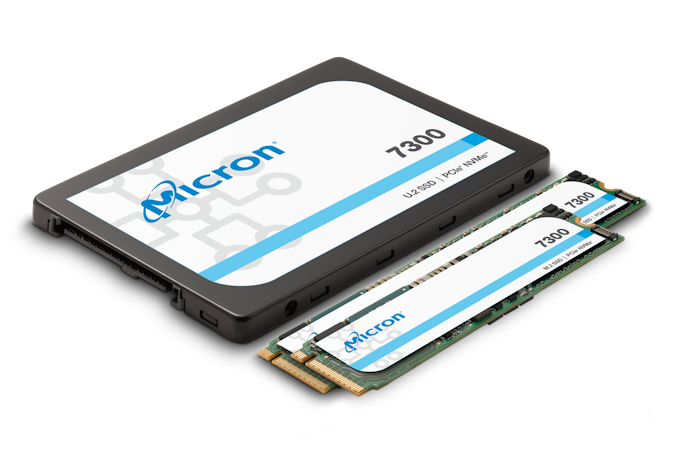 Among several announcements today, Micron is updating two families of enterprise/datacenter SSDs to use their latest 96-layer 3D TLC NAND flash memory.
SATA Update
The new 5300 series SATA drives are a replacement for the 5200 series that uses 64L 3D TLC. Micron has made a few changes to capacity and form factor options, increasing the maximum capacity available in the highest endurance tier and bringing back the M.2 options that were available with the 5100 series but missing from the 5200 series. Starting at the high end, the 5300 MAX family is the replacement for the 5200 MAX, still with a 5 DWPD endurance rating and similar performance. The 5300 MAX also adds a new 3.84TB model, but this one is only rated for 3.5 DWPD and has significantly lower random write performance.
Moving down to the PRO tier, the 5300 generation expands the capacity range to now include sizes from 240GB all the way up to 7.68TB, where the 5200 PRO only offered 960GB through 3.84TB options. The endurance ratings are a bit more consistent with the 5300 PRO series, with most models being rated for 1.5 DWPD while the 3.84TB model is rated for 1.2 DWPD and the 7.68TB model is rated for 0.6 DWPD. For comparison, the 5200 PRO series had endurance ratings from 1.3 to 2.5 DWPD depending on capacity. The 5300 PRO adds M.2 2280 models for capacities up to 1.92TB.
Micron 5300 Series Specifications Comparison
5300 Boot
5300 PRO
5300 MAX
Form Factor
M.2 2280
2.5" and M.2 2280
2.5"
Capacities
240 GB
240 GB
480 GB
960 GB
1.92 TB
3.84 TB (2.5" only)
7.68 TB (2.5" only)
240 GB
480 GB
960 GB
1.92 TB
3.84 TB
Interface
SATA 6Gb/s
NAND
Micron 96-layer 3D TLC
Sequential Read
540 MB/s
Sequential Write
220 MB/s
310–520 MB/s
380–520 MB/s
4KB Random Read
50k IOPS
67k–95k IOPS
82k–95k IOPS
4KB Random Write
12k IOPS
11k–40k IOPS
34k–75k IOPS
Write Endurance
1.0 DWPD
0.6–1.5 DWPD
3.5–5.0 DWPD
Warranty
5 years
There isn't (yet?) a 5300 ECO tier to serve as a direct replacement for the 5200 ECO drives (~1 DWPD), but the 5300 PRO tier is now broad enough to mostly cover this market with slightly higher endurance ratings. The 5300 series does add a new Micron 5300 Boot model rated for 1 DWPD, available only with 240GB capacity and only in the M.2 form factor. No replacement for the 5210 ION QLC-based SATA drives has been announced yet.
Low-power NVMe is back
Micron is bringing back their low-power NVMe product family with the new 7300 series, successor to the 7100 series introduced in 2016 and abandoned in their transition to 3D NAND. The 7300 family includes 2.5"/7mm U.2 drives and M.2 drives in both 80mm and 110mm lengths. The U.2 drives offer higher capacities, and higher performance due to their 12W power limit compared to 8.25W for the M.2 drives. The high-endurance 7300 MAX series offers capacities from 400GB to 6.4TB and endurance ratings of 3.0-4.2 DWPD. The 7300 PRO series uses less overprovisioning to offer capacities from 480GB to 7.68TB with endurance ratings of 1.1-1.6 DWPD.
Micron 7300 Series Specifications Comparison
7300 PRO
7300 MAX
Form Factor
2.5" 7mm U.2
M.2 2280 or
M.2 22100
2.5" 7mm U.2
M.2 2280
Capacities

960 GB
1.92 TB
3.84 TB
7.68 TB
480 GB (80mm)
960 GB (80mm)
1.92 TB (110mm)
3.84 TB (110mm)

800 GB
1.6 TB
3.2 TB
6.4 TB
400 GB
800 GB
Interface
NVMe, PCIe 3 x4 (dual-port x2+x2 capable)
NAND
Micron 96-layer 3D TLC
Sequential Read
2.4–3.0 GB/s
1.3–3.0 GB/s
2.4–3.0 GB/s
1.3–2.4 GB/s
Sequential Write
700–1800 MB/s
400–1000 MB/s
700–1900 MB/s
400–700 MB/s
4KB Random Read
220k–520k IOPS
50k–396k IOPS
220k–520k IOPS
90k–220k IOPS
4KB Random Write
30k–85k IOPS
15k–70k IOPS
60k–140k IOPS
30k–60k IOPS
Write Endurance
1.1–1.6 DWPD
1.1–1.4 DWPD
3.1–4.2 DWPD
3.0–3.1 DWPD
Warranty
5 years
The Micron 7300 series is an alternative to the 9300 series NVMe drives that were introduced earlier this year. The 9300 series offers higher capacities and higher performance, but uses the thicker 15mm U.2 form factor, draws significantly more power (21W max vs 12W max for the 7300), and the 9300 series is still on 64L TLC rather than 96L TLC.