Perfect Multi-tasking
So far, I've described OS X's multi-tasking as very similar to what is currently available under Windows, but where OS X sets itself apart is in a little feature called Exposé (note that typing an accented "e" is extremely easy under OS X - ALT-e followed by the "e" key or any vowel will do just that).
By default, Exposé is activated by one of three function keys - F9, F10 or F11. Each function key serves a different purpose, each of which is a feature of Exposé. The theory behind Exposé is simple: it is a way of getting to a specific window on your desktop as fast as possible.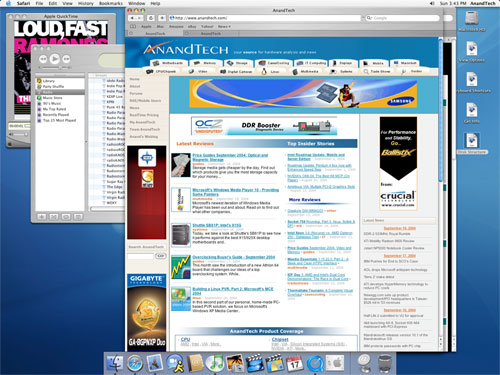 We start with our cluttered desktop...
Click to enlarge.
Hitting F9, for example, will cause Exposé to zoom out all of your active visible (unhidden) windows and essentially, tile them across your desktop. Then, using either the keyboard or the mouse, you can select the window that you want and everything goes back to normal, with the window that you have selected appearing in the foreground. The rest of the windows are untouched and are all in their original positions. The window that you selected is also in its original position; it is simply moved to the front so that you can see it.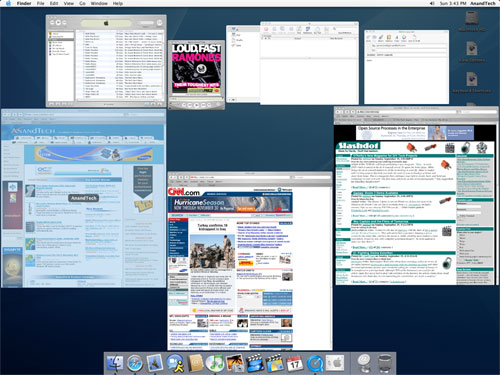 Hitting F9 activates Exposé across all applications.
Click to enlarge.
If you don't want to Exposé all windows, you can just Exposé the windows within a particular application (F10 by default), which is extremely handy for dealing with tons of images in Photoshop for example.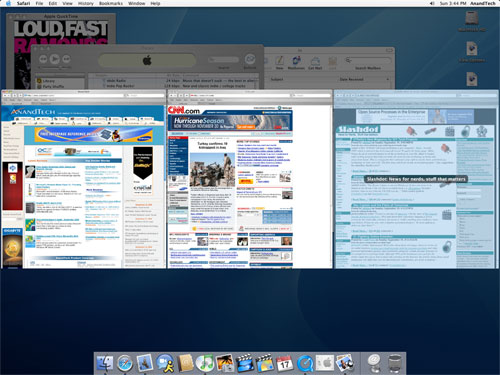 Hitting F10 activates Exposé across only a single application's windows.
Click to enlarge.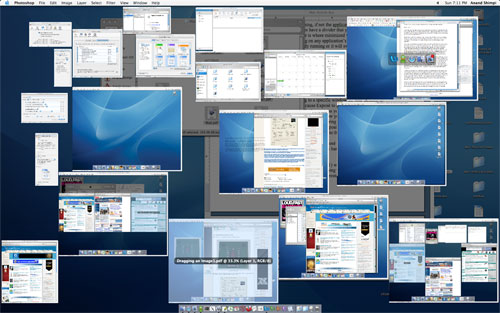 Another example of Exposé's usefulness in editing all of the images for this article in Photoshop.
Click to enlarge.
The final Exposé function lets you view your desktop (F11), which, to me, was like a more polished version of Windows-D, since after I was done doing whatever it is I needed to do on the desktop, Exposé deactivated and my screen was restored to its original state.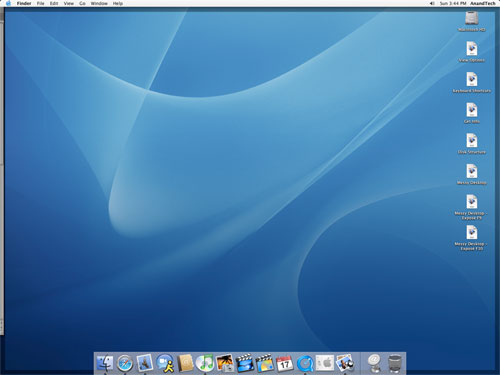 Hitting F11 reveals the desktop.
Click to enlarge.
The beauty of Exposé is difficult to convey in text alone. Honestly, the best way to evaluate it and understand its potential is to use it - luckily, there are Apple stores for this very purpose. Keep in mind that Exposé is very customizable as well and the three function keys that I mentioned above, although the defaults, are not the only ways that you can configure OS X to activate Exposé.
The benefits of Exposé are numerous. If you ever feel overwhelmed by having too many windows open, Exposé definitely alleviates that feeling as you don't have to tab through multiple applications to finally get to the window that you want. While Exposé does make having only a single display better, heavy multi-taskers will still enjoy the benefits of a dual display setup.
Since the OS X desktop environment is completely OpenGL accelerated, the performance of features like Exposé are not CPU limited - instead, they are GPU limited. Luckily, using Exposé with many windows open is not very stressful on even a Radeon 9600, but you do run out of video memory very quickly - in which case, your system ends up swapping to main memory over the AGP bus, making the Exposé animation considerably choppy. It seems that the sweet spot for more than a handful of windows open is around 128MB of video memory, with 256MB being perfect - needless to say, I found the mere 64MB that came on the Radeon 9600 which shipped with the system to be too little. There is no detriment to functionality if you don't have enough video memory; the Exposé animation simply becomes more choppy (which can be annoying on a $3000 system).