Mail.app
While email is usually discounted as a light use for a computer, anyone who has a considerable amount of email to deal with would hardly agree. For me, an email client must be robust as well as stable. I've had experiences with losing an entire mailbox in the past and it's never fun.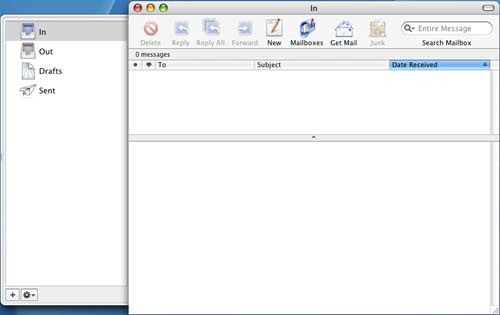 Mail comes with OS X, but instead of being a lightweight solution like Outlook Express, Mail is best compared to the likes of Outlook under Windows.
From a functionality standpoint, Mail has all of the features of Outlook as an email tool (Address book and Calendar support are provided through separate applications). The biggest changes that I had to get used to were, you guessed it, keyboard shortcuts to perform the tasks that I was used to under Outlook. The shortcuts did take a bit of getting used to for me, but in the end, it wasn't too difficult; to send a message after you've composed it, the shortcut is Command-Shift-D; replying is Command-R; forwarding is Command-Shift-F (Command-F opens up the Find dialog box); and Command-Shift-N gets new mail.
The application itself is lightning-fast; start up time is much faster than Outlook 2003 and a bit faster than Outlook 2004. The one aspect of Mail that is absolutely an improvement over Outlook is in its searching abilities. If you have any appreciable number of messages under Outlook, you know that searching for a particular message: 1) takes forever, and 2) leaves you with a noticeably slower machine with your hard drive crunching constantly. The search function in Mail is significantly quicker than Outlook and you get noticeably fewer disk accesses to find the email that you're searching for than under Outlook. Obviously, without knowing the architecture behind how Outlook searches vs. how Mail searches, I can't say exactly why Mail is faster, but I'd venture to say that it's either OS X doing some incredible caching, or it's just a much better indexed database with a faster search algorithm. Regardless of why, the reality is that it is significantly faster on a single 160GB SATA drive than I've ever had an Outlook search be on anything from a regular IDE drive to a 10K Raptor.
The overall interface and interaction with Mail is significantly faster than Outlook, regardless of how fast of a Windows PC I compare it to. The application has no problem handling tens of thousands of emails (the most that I've had in it at one time was a little over 23,000) and after a little experimenting, I finally found out that Option-Command-Delete would permanently delete an email instead of first sending it to the Trash folder. What's also nice to know is that copying or deleting a lot of emails doesn't slow down the program significantly; it's very easy to multi-task in Mail. While it could be attributed to the fact that all desktop G5s are now dual processor systems, the application is far less prone to slowdowns than any of the dual Opteron boxes on which I'd ever used Outlook. Now, it may be possible that Mail is more multi-threaded than Outlook or it may just be a case of better caching at work in the application. Needless to say, whatever it is - it works.
Mail has a built-in spam filter and the same filtering/rules capabilities of Outlook 2004. I've found that the spam filter in Mail is at least on par with that of Outlook 2004, if not a bit better. So far, I've been pretty pleased with it; although, there have been a few false positives that I've encountered when the filter is set to the most aggressive settings.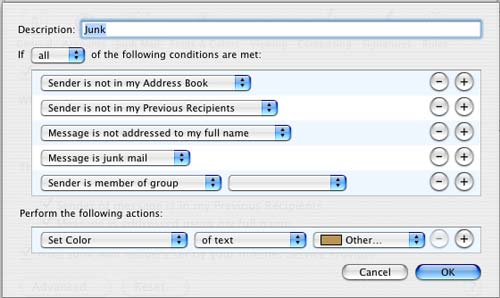 It's very easy to get a good set of rules set up and running in Mail - the process is even simpler than Outlook and it's quite easy to prioritize rules as well as have certain rules stop processing other rules after they've completed. Overall, I'd say the application is just as powerful as Outlook as an email client, but noticeably faster.
Most importantly, all of the little things that I appreciated about Outlook were also present in Mail. Start typing someone's name/email address to which you've sent email in the past or whose name already appears in your address book and autocomplete will bring up a list of addresses that match what you've already typed. While this feature has been in Outlook for a while, what's important here is that I didn't find any of the little gems of Outlook to be absent in Mail, which means a lot for a die-hard Windows user in order to feel comfortable under OS X.
The one issue that I had with Mail when I first started using it was that there was no way to directly import an Outlook
pst
file into the application. There are ways around this, such as exporting your Outlook mail to another format, then importing them into another client supported by Mail, and then exporting again before finally importing into Mail. But, I decided to not deal with that and just started my mailbox over from scratch. It took me a while to get enough emails accumulated in the application before I could truly pass judgment on it, but now that I have, it gets my stamp of approval.
Stability is another aspect of Mail that I have been pleased with, but the application isn't totally rock solid. Out of all of the apps on OS X, I've probably had Mail crash on me more times than the rest, but considering that I haven't had too many crashes under OS X in general, that's not too bad. None of the crashes have ever been detrimental to any of my mailboxes; all of my data always remained intact, but just as is the case with any crash, they've always been annoying. I would say the number of times that Mail has crashed on me would be similar to the number of times that Outlook 2004 crashed on me, maybe a little less.
In the end, I'd say the best way to summarize Mail is that it's nice to see a good, fast, robust email client finally included with the OS for free.