Index
Product Samples provided by Newegg.com.
These days, many people are searching for the perfect ultra-compact digital camera. At the same time, camera companies are continually finding ways to increase the pixel output while decreasing camera size. This leads to a vast array of small cameras that are becoming more and more affordable. Today, we take a look at three recently released ultra-compact cameras: Canon PowerShot S410, Casio Exilim Ex-Z40, and Pentax Optio S40. They share a similar size along with a 3x optical zoom and 4 megapixel output.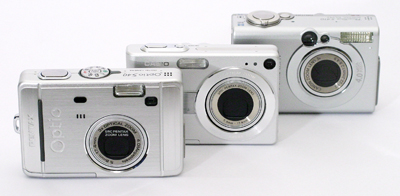 All three of these cameras are popular choices for small camera enthusiasts. In our roundup, we are going to take some of the guesswork out of your hunt for the best ultra-compact camera.