Deep Impact
The ASUS ROG Crosshair VIII Impact costs $430. There's no getting away from it - this is by far the most expensive small form factor motherboard at present on the X570 chipset. There ASUS ROG Crosshair VIII Impact also throws up an interesting question for SFF systems, with its slightly larger mini-DTX form factor. The Impact is effectively in a class of its own at the price point and with the unique DTX form factor. That being said, while the primary target market of the Impact is enthusiasts looking to build a smaller form factor, the truth is that the mini-DTX size does cancel out any mini-ITX chassis designs, causing the user to look at micro-ATX cases.
Its core feature set comes also comes from its use of the SO-DIMM.2 slot which allows users to add two PCIe 4.0 x4 M.2 drives in with both NVMe and SATA support included. Outside of this is four SATA slots, with two straight-angled, and two right-angled ports with RAID 0, 1, and 10 support out of the box. The provided networking support of Intel's I211-AT Gigabit Ethernet controller raises questions as to why a model costing $430 is still reliant on a single gigabit Ethernet port, but the inclusion of an Intel AX200 Wi-Fi 6 wireless interface which adds BT 5.0 connectivity does offer some credence to the price tag.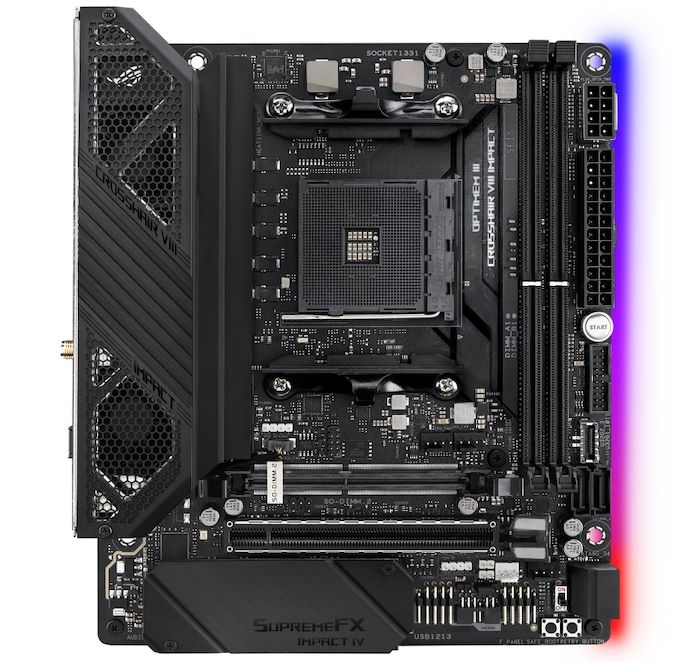 Another interesting feature is how the SupremeFX S1220 HD audio codec and assisting ESS ES9023P DAC has been implemented to save even more space on the ROG Crosshair VIII Impact; through an M.2 B-key slot located just below the full-length PCIe 4.0 x16 slot. The S1220 HD codec itself comes with EMI shielding and plenty of gold Japanese audio capacitors, and as from most onboard audio solutions, is well isolated from the rest of the board's componentry. This is covered by a ROG themed black metal fascia which fits in with the rest of the Impact's neutrally black color scheme.
The overall design of the ROG Crosshair VIII Impact is clean, concise and for what it has in integrated RGB along the right-hand side of the board, it looks good and not overpowering. Users can expand on this with two ARGB connectors, one on the PCB itself and one on the SO-DIMM.2 add-on card. The SO-DIMM.2 also adds two 4-pin fan headers in addition to the three 4-pin headers located on the board; one for a CPU fan, one for a water pump, and another designated as a chassis fan header. This further adds to the Impact as both a premium model and one that's suitable for water cooling.
Looking at connectivity, on the rear panel is plenty of USB support which consists of five USB 3.1 G2 Type-A, one USB 3.1 G2 Type-C, and two USB 3.1 G1 Type-A ports. Unlike most conventional models, ASUS includes its LED Debugger on the rear panel and for good measure, also include a reset switch, a clear CMOS button, and a USB BIOS Flashback button. There are just three 3.5 mm audio jacks on the rear panel so users looking to use surround sound or speaker setups with more than three outputs will need to use the front panel audio header also featured on the M.2 B-key audio card; there's also a single S/PDIF optical output. The ASUS ROG Crosshair VIII Impact doesn't feature any video outputs but for a model to this standard and caliber, it would be expected that users will use a discrete graphics card.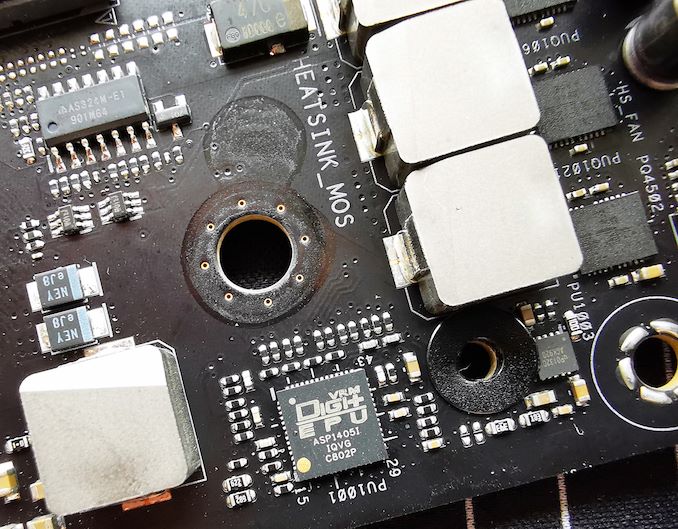 The ASP1405I 8-phase PWM controller on the ASUS ROG Crosshair VIII Impact
The ASUS ROG Crosshair VIII Impact also performs very competitively with other X570 models on testing, with fast non-UEFI POST times, consistent power consumption and good computational performance. Couple that in with the impressive power delivery thermal performance which is underpinned by the 30 mm cooling fan directly over the heatsink is something all premium models should consider implementing. ASUS takes this further with a backplate that has a heatpipe in which is useful as the 2-phase SoC section is mounted on the rear of the board. The 8-phase CPU power delivery is teamed and performs very well in our overclocking testing with good VDroop for better efficiency, and has plenty of support for overclockers looking to take Ryzen 3000 under more extreme cooling methods such as LN2 with its own LN2 mode. At default settings, ASUS is known for its solid out of the box optimizations, but for overclocking, the Impact is the Dirty Harry of the small form factor X570 offerings.
It's hard to compare a $430 model such as the ASUS ROG Crosshair VIII Impact to other models which it dwarves in price. The next best model in terms of size is the ASRock X570 Phantom Gaming-ITX/TB3 ($240) which is mini-ITX and has Thunderbolt 3 support. While the ASUS ROG Crosshair VIII Impact is a solid board and looks to provide a very rigid platform to build on, the price really does take it out of the market for all but the extreme systems.