What is a Portable Media Center?
Much to Microsoft's intent, the name "Portable Media Center" is designed to draw a parallel between the new devices and Microsoft's recently released Windows XP Media Center Edition OS. The basic premise is that you have a PC at home that is, effectively, a "center of media" and a Portable Media Center allows you to take that media on the go with you.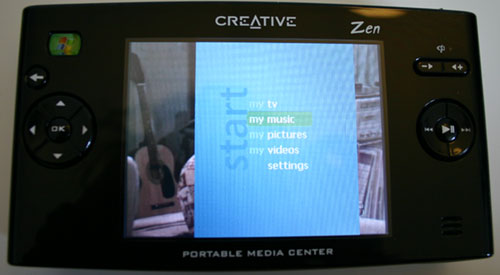 The Portable Media Center (PMC) basically allows for the storage and playback of three major types of "media": Pictures, Music and Videos. The music aspect of it is very similar to an MP3 player, which is what garnered Microsoft all of the direct comparisons to Apple's iPod that their marketing team must have loved debunking. It is the pictures and video support that set the device apart from what the PC and consumer electronics industries have seen in the past, not to mention Microsoft's PMC interface.
The premise to the PMC is this - Microsoft provides the basic hardware specification and the OS for the Portable Media Center devices, while manufacturers such as Creative and Samsung will actually produce the devices. It's the closest thing that Microsoft's business model will let them get to being their own PC/hardware manufacturer.
The PMC itself is a hard drive-based device. Currently, all PMCs feature a 20GB hard drive, but there is constant talk about future 40GB models. The device also features a colored screen and a set of playback and navigation buttons for getting around the OS and actually viewing your media. The devices are all battery powered and currently only interface to Windows XP. Microsoft wasn't foolish enough to make the devices require MCE and they don't even work any better with MCE than they would with XP and any other PVR software. The PMC devices don't actually have their own special interface to XP either; all synchronization and content management occurs using Windows Media Player 10 - an unlisted system requirement for getting PMC to work properly.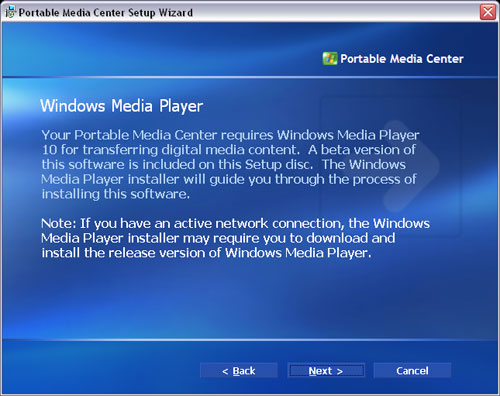 Windows Media Player 10 is required in order to synchronize content with your Portable Media Center.