A Short Detour on Mobile CPUs
For our readers that focus purely on the desktop space, I want to dive a bit into what happens with mobile SoCs and how turbo comes into effect there.
Most Arm based SoCs use a mechanism called EAS (Energy-Aware Scheduling) to manage how it implements both turbo but also which cores are active within a mobile CPU. A mobile CPU has one other aspect to deal with: not all cores are the same. A mobile CPU has both low power/low performance cores, and high power/high performance cores. Ideally the cores should have a crossover point where it makes sense to move the workload onto the big cores and spend more power to get them done faster. A workload in this instance will often start on the smaller low performance cores until it hits a utilization threshold and then be moved onto a large core, should one be available.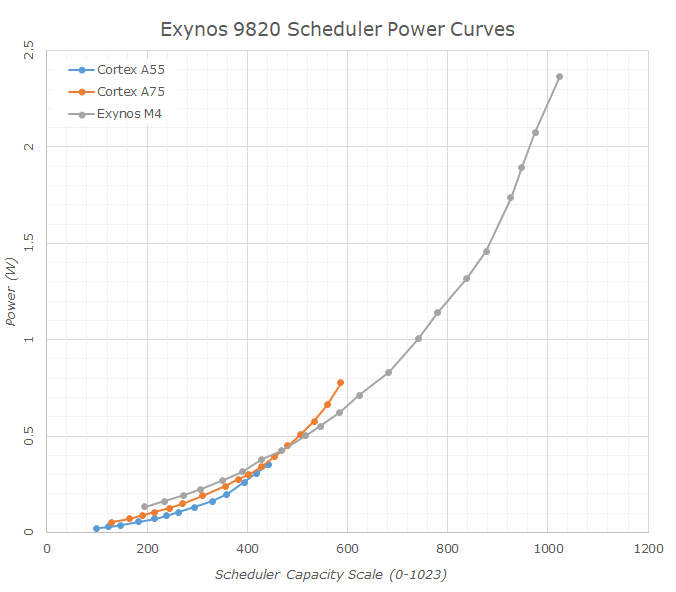 For example, here's Samsung's Exynos 9820, which has three types of cores: A55, A75, and M4. Each core is configured to a different performance/power window, with some overlap.
Peak Turbo on these CPUs is defined in the same way as Intel does on its desktop processors, but without the Turbo tables. Both the small CPUs and the big CPUs will have defined idle and maximum frequencies, but they will conform to a chip-to-chip defined voltage/frequency curve with points along that curve. When the utilization of a big core is high, the system will react and offer it the highest voltage/frequency up that curve as is possible. This means that the strongest workloads get the strongest frequency.
However, in Energy Aware Scheduling, because the devices that these chips go into are small and often have thermal limitations, the power can be limited by battery or thermals. There is no point for the chip to stay at maximum frequency only to burn in the hand. So the system will apply an Energy Aware algorithm, combined with the thermal probes inside the device, to ensure that the turbo and workload tend towards a peak skin temperature of the device (assuming a consistent, heavy workload). This power is balanced across the CPU, the GPU, and any additional accelerators within the system, and the proportion of that balance can be configured by the device manufacturer to respond to what proportion of CPU/GPU/NPU instructions are being fed to the chip.
As a result, when we see a mobile processor that advertises '2.96 GHz', it will likely hit that frequency but the design of the device (and the binning of the chip) will determine how long before thermal limits kick in.