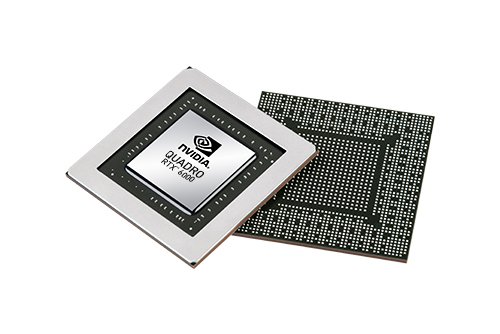 Today NVIDIA is announcing some big updates to their mobile Quadro lineup, and the Santa Clara company has announced new products, new reference designs, and a wide-range of upcoming products from NVIDIA's partners to showcase all of the design effort put in.
NVIDIA's Turing architecture was unveiled roughly a year ago bringing the addition of real-time ray tracing support to the company's already strong GPU lineup. Since then, we've seen the transition to GeForce RTX cards in laptops as well. The missing piece was the Quadro RTX for laptops, which is a piece that is no longer missing. The top of the product stack will be the Quadro RTX 6000, featuring a massive 24 GB of memory, and as is typical of NVIDIA's laptop cards starting with Pascal, these are the full desktop counterparts, meaning the RTX 6000 offers the same 4608 CUDA cores, and 384-bit memory interface. This is the TU102 GPU, which is the same chip that powers the GeForce RTX 2080 Ti, and has previously only been available in a desktop form factor.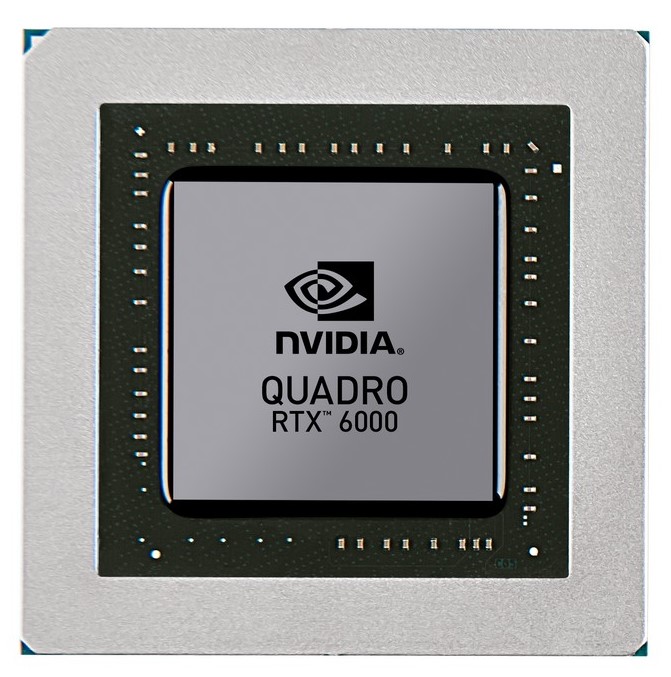 For those that perhaps don't quite need that much performance and memory, NVIDIA is also announcing the RTX 5000, which drops down to a mere 16 GB of GDDR6, and 3072 CUDA cores. Considering the MSRP difference of the two desktop version of the cards is about $4000, you can expect the laptop MSRPs to also be very far apart.
But what good is all of that GPU in a thin and light form factor. Laptops are notorious for struggling to keep up with cooling required for even a 200-Watt RTX 2080. Asking them to deal with up to 50% more heat is a big ask.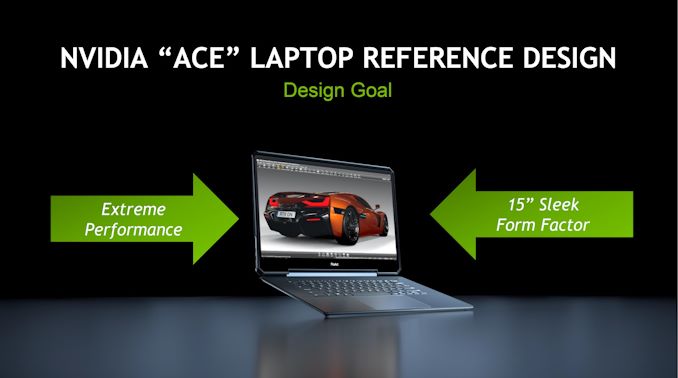 This is where NVIDIA's other big announcement comes into play. NVIDIA is announcing the ACE Reference Design for mobile workstation, and their goal is to pack all of this compute into just a 15.6-inch laptop chassis. Their solution to the intense power demands is a new cooling solution featuring titanium vapor chambers, which NVIDIA has designed to dissipate the 300-Watt cooling requirement in just a 25 mm thick laptop. This will keep the laptop thin and light enough to be easily portable, but still able to cope with the extreme amount of power a Quadro RTX 6000 will consume. As to the fan noise – that's something to be determined, but there's only so much you can twist the laws of nature, so it's likely to require a significant amount of airflow. NVIDIA is claiming performance within 10% of the equivalent desktop GPUs.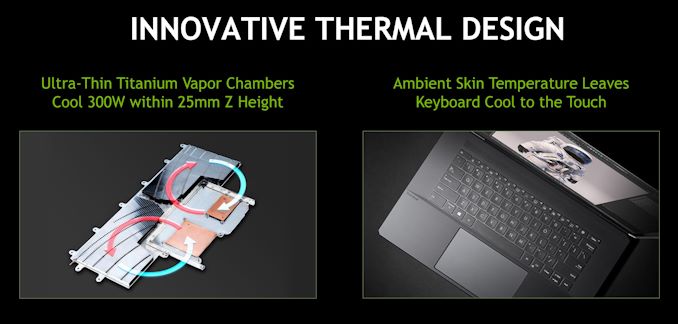 ACE is not just about cooling though. Quadro RTX Studio laptops based on the ACE reference design will also feature UHD 120 Hz displays, factory calibrated to Delta E of less than 1.0, and covering 100% of Adobe RGB and 97% of the P3 gamut. Gamers have been enjoying the benefits of high-refresh rates for several years now in the laptop space, and it's great to see the 120 Hz range coming to premium UHD resolution displays.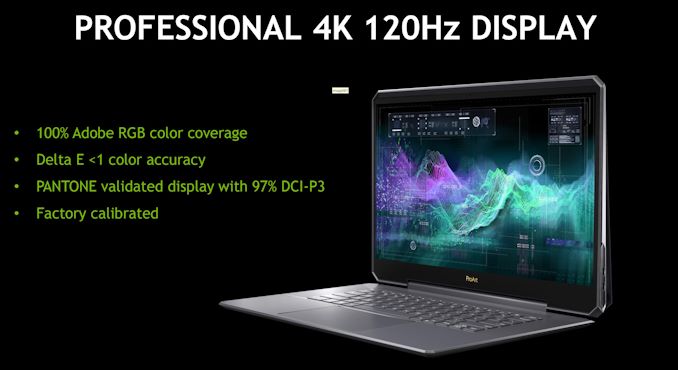 ACE will also feature NVIDIA's Optimus technology, which NVIDIA is dubbing Enhanced Optimus, so the power-hungry GPU will be able to be put to sleep when not needed, dramatically extending the battery life of the mobile workstation, and for charging, NVIDIA has designed a slim 300-Watt adapter for the lineup.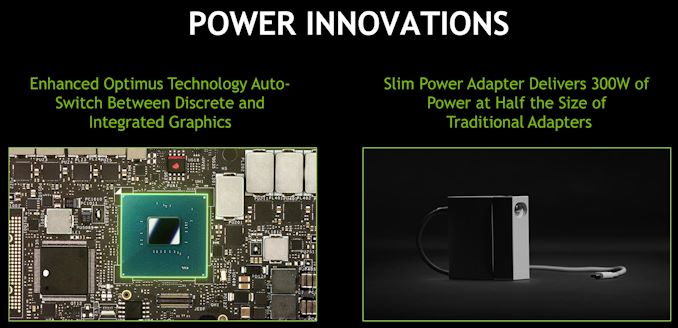 ACE is not just an idea either. NVIDIA has partnered with ASUS and Acer to launch devices, including the ASUS ProArt StudioBook One, highlighting all of the new design requirements of the reference. The ProArt StudioBook One will launch with an Intel Core i9-9980HK processor, 64 GB of DDR4 memory, the UHD 120 Hz panel, a 90-Wh battery, and three Thunderbolt 3 ports.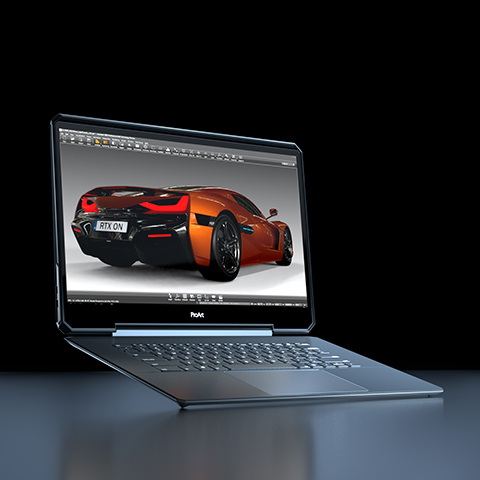 Acer is announcing Quadro RTX laptops as well, with the ConceptD 9 Pro and ConecptD 7 Pro featuring the Quadro RTX 5000, with the ConceptD 9 Pro based off the Acer Predator Triton 900, and featuring the Ezel Aero Hinge, which should be an interesting take on the mobile workstation. Acer also has the ConceptD 5 Pro, featuring a Quadro RTX 3000, and the ConceptD 5, featuring a GeForce RTX 2060.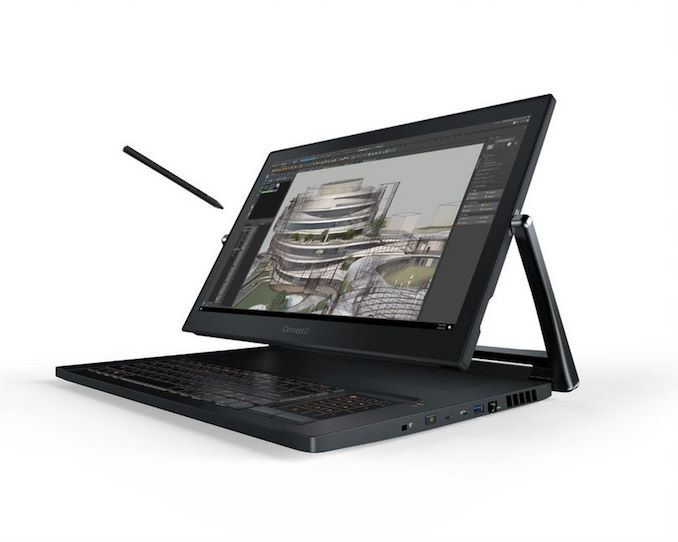 Finally, NVIDIA is extending their Studio branding to also cover select desktop workstations featuring Quadro RTX, with designs from ASUS, Acer, HP and MSI.
NVIDIA somewhat owns the laptop GPU market by default, since AMD hasn't really tried to bring their latest GPUs into the mobile form factor, so NVIDIA is somewhat stuck competing against itself, but even so, the new RTX class of Quadro cards should offer a significant jump in performance, closing the gap between what needs to be done on a desktop and what does not. Laptop form factors are always going to face power delivery and thermal constraints that desktops do not really have to deal with, but even so, the new Quadro RTX 6000 looks to be able to come very close to the performance of its desktop counterpart. With the full 24 GB of GDDR6 on tap, and over 40 RTX-Accelerated professional applications available, the Quadro range offers a compelling argument. The ACE reference design also ensures standards of display quality which will be helpful for buyers, and the addition of the 120 Hz UHD display is a great feature.
Source: NVIDIA