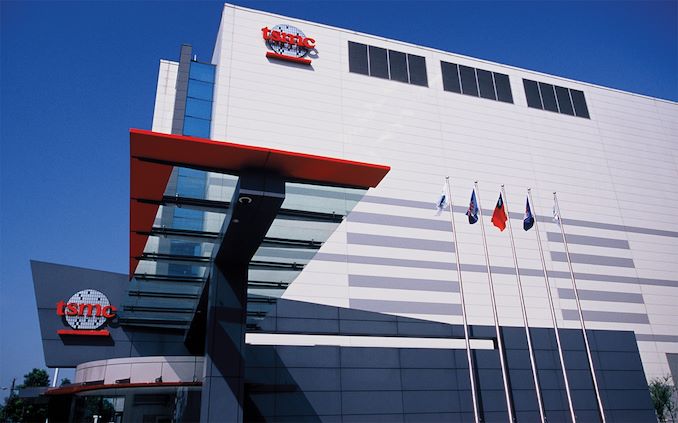 TSMC has responded to GlobalFoundries accusations of patents infringements. The world's largest foundry said that it would defend itself in courts and that it considered allegations as baseless. The contract maker of semiconductors said that throughout its history it was granted 37,000 patents and naturally considers itself one of the leaders in the industry.
On Monday GlobalFoundries said that TSMC, a number of its customers, as well as makers of various products infringed 16 of its patents covering various aspects of chip manufacturing. In particular, GlobalFoundries claims that TSMC's 7 nm, 10 nm, 12 nm, 16 nm, and 28 nm nodes illegally use its intellectual property. Among defendants, the company named Apple, Broadcom, Mediatek, NVIDIA, Qualcomm, Xilinx and many others. GlobalFoundries seeks damages from TSMC and wants courts to ban shipments of products that use infringing semiconductors into the USA and Germany.
GlobalFoundries vs. TSMC et al
Fabless Chip Designers
Consumer Product Manufacturers
Electronic Component Distributors
Apple
Broadcom
Mediatek
NVIDIA
Qualcomm
Xilinx
Arista
ASUS
BLU
Cisco
Google
HiSense
Lenovo
Motorola
TCL
OnePlus
Avnet/EBV
Digi-key
Mouser
Quite naturally, TSMC denies any allegations and claims that it will defend itself in courts. The company stresses that it spends billions of dollars on R&D and has been granted 37,000 patents worldwide. Typically, high-tech companies counter-sue each other in patent infringement cases, so it will not be surprising if TSMC decides to sue GlobalFoundries. In the end, this is what patents are for. Meanwhile, unlike GlobalFoundries, TSMC will unlikely sue fabless designers of semiconductors that use the former's services to a large degree because the vast majority of chip developers are it slients.
The statement by TSMC reads as follows:
TSMC is in the process of reviewing the complaints filed by GlobalFoundries on August 26, but is confident that GlobalFoundries' allegations are baseless. As a leading innovator, TSMC invests billions of dollars each year to independently develop its world-class, leading-edge semiconductor manufacturing technologies. As a result, TSMC has established one of the largest semiconductor portfolios with more than 37,000 patents worldwide and a top 10 ranking for US patent grants for 3 consecutive years since 2016. We are disappointed to see a foundry peer resort to meritless lawsuits instead of competing in the marketplace with technology. TSMC is proud of its technology leadership, manufacturing excellence, and unwavering commitment to customers. We will fight vigorously, using any and all options, to protect our proprietary technologies.
GlobalFoundries vs. TSMC et al, GF's Patents in the Cases
Title
Patent No.
Inventors
Bit Cell With Double Patterned Metal Layer Structures
US 8,823,178
Juhan Kim, Mahbub Rashed
Semiconductor device with transistor local interconnects
US 8,581,348
Mahbub Rashed, Steven Soss, Jongwook Kye, Irene Y. Lin, James Benjamin Gullette, Chinh Nguyen, Jeff Kim, Marc Tarabbia, Yuansheng Ma, Yunfei Deng, Rod Augur, Seung-Hyun Rhee, Scott Johnson, Subramani KengeriSuresh Venkatesan
Semiconductor device with transistor local interconnects
US 9,355,910
Mahbub Rashed, Irene Y. Lin, Steven Soss, Jeff Kim, Chinh Nguyen, Marc Tarabbia, Scott Johnson, Subramani Kengeri, Suresh Venkatesan
Introduction of metal impurity to change workfunction of conductive electrodes
US 7,425,497
Michael P. Chudzik, Bruce B. Doris, Supratik Guha, Rajarao Jammy, Vijay Narayanan, Vamsi K. Paruchuri, Yun Y. Wang,Keith Kwong Hon Wong
Semiconductor device having contact layer providing electrical connections
US 8,598,633
Marc Tarabbia, James B. Gullette, Mahbub RashedDavid S. Doman, Irene Y. Lin, Ingolf Lorenz, Larry Ho, Chinh Nguyen, Jeff Kim, Jongwook Kye, Yuansheng MaYunfei Deng, Rod Augur, Seung-Hyun Rhee, Jason E. Stephens, Scott Johnson, Subramani Kengeri, Suresh Venkatesan
Method of forming a metal or metal nitride interface layer between silicon nitride and copper
US 6,518,167
Lu You, Matthew S. Buynoski, Paul R. Besser, Jeremias D. Romero, Pin-Chin, Connie Wang, Minh Q. Tran
Structures of and methods and tools for forming in-situ metallic/dielectric caps for interconnects
US 8,039,966
Chih-Chao Yang, Chao-Kun Hu
Introduction of metal impurity to change workfunction of conductive electrodes
US 7,750,418
Michael P. Chudzik, Bruce B. Doris, Supratik Guha, Rajarao Jammy, Vijay Narayanan, Vamsi K. Paruchuri, Yun Y. Wang, Keith Kwong Hon Wong
Methods of forming FinFET devices with a shared gate structure
US 8,936,986
Andy C. Wei, Dae Geun Yang
Semiconductor device with stressed fin sections
US 8,912,603
Scott Luning, Frank Scott Johnson
Multiple dielectric FinFET structure and method
US 7,378,357
William F. Clark, Jr., Edward J. Nowak
Bit cell with double patterned metal layer structures
US 9,105,643
Juhan Kim, Mahbub Rashed
Complementary metal oxide semiconductor (CMOS) device having gate structures connected by a metal gate conductor
US 9,082,877
Yue Liang, Dureseti Chidambarrao, Brian J. Greene, William K. Henson, Unoh Kwon, Shreesh Narasimha, and Xiaojun Yu
Hybrid contact structure with low aspect ratio contacts in a semiconductor device
DE 102011002769
Kai Frohberg, Ralf Richter
Complementary transistors comprising high-k metal gate electrode structures and epitaxially formed semiconductor materials in the drain and source areas
DE 102011004320
Gunda Beernink, Markus Lenski
Semiconductor device with transistor local interconnects
DE 102012219375
Mahbub Rashed, Irene Y. Lin, Steven Soss, Jeff Kim, Chinh Nguyen, Marc Tarabbia, Scott Johnson, Subramani Kengeri, Suresh Venkatesan
Related Reading:
Source: TSMC