Shuttle SB81P: Chassis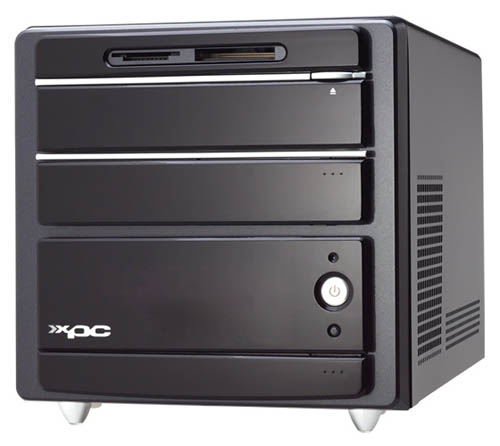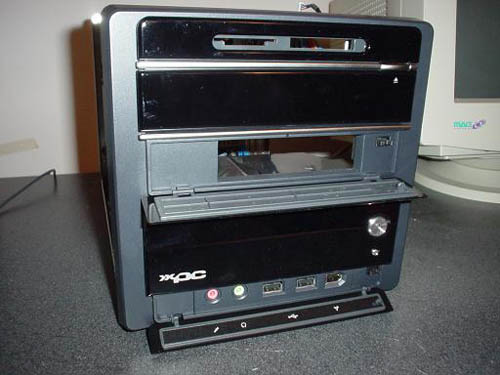 The face of the SB81P carries a pretty standard, but solid, mix of features. Those features include a USB card reader and smart media ports, one optical drive bay, one hard drive bay (two HDDs usable), power and reset switches, an HDD LED, one Mic port, one headphone port, two USB 2.0 ports, and an IEEE1394 FireWire 400 port. A front FireWire port is a very useful addition and is always appreciated with any high end system, so we're definitely pleased with that inclusion. We're also delighted to see that Shuttle has implemented a drop-down face plate for not only the optical drive bay, but for the hard drive bays and I/O ports at the bottom as well. The drop-down face plate for the hard drive bays is an especially nice touch for enthusiasts who tinker around with their storage medium frequently. Additionally, the optical drive face plate prevents the clashing of colors (most optical drives don't blend in well with SFF colors), ensuring a clean and elegant front side. All in all, we couldn't be much happier with the way Shuttle constructed this part of the SB81P case.
One huge factor when considering an SFF is how much room you have for various components and which of those components you can upgrade in the future. Both these issues rely greatly on how the manufacturer arranges cables, wires, fans, and most importantly, the PSU and CPU HSF. We're happy to report that Shuttle continues to make their SFFs a joy to work with; every cable is tied down properly, every wire is routed neatly along the periphery of the case, and pretty much everything else is placed out of the way of your primary hardware. What you get is an extremely organized and highly swappable case infrastructure - you can't ask for much more.
Shuttle continues to utilize their ICE heat-piping technology with the SB81P. However, with this model, the ICE is quite a bit bulkier and noticeably larger. Obviously, this type of cooling is absolutely necessary with a CPU that gets as hot as a Prescott Pentium 4 does. Still, keep in mind that the force being applied to a Socket 775 Prescott CPU isn't coming from the HSF (or ICE, in this case) nearly as much as it used to with Socket 478 Prescotts. The force being applied onto the CPU is coming mostly from the retention clip mechanism on the LGA775 socket itself. In other words, while heat is being dissipated more efficiently with this method, the net amount of heat being produced is still quite large, requiring a more powerful ICE unit.
Anyway, Shuttle's redesigned ICE heatpipe for the P series does an excellent job of dissipating the heat produced by the CPU while still keeping noise levels down to an acceptable volume. Even though there are two fans blowing through the ICE at each end and two exhaust fans at the top of the case, our sound level meter measured case noise from the front at just 45dBA. It got as high as 50dBA during boot-up, but you can always adjust fan speed lower in the BIOS. Overall, compared to many other SFFs that we've tested, these results are pretty good, above average in fact. For more information on how we test sound levels, see this
page
.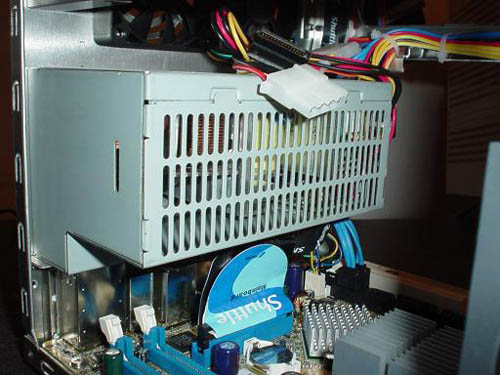 We were very pleased that Shuttle was able to outfit the SB81P with a powerful PSU (power supply unit). The SB81P comes with a 350W PSU that, as far as we were able to tell, was supplying stable voltages to all the various components. A 350W PSU is exceedingly necessary with a processor that gets as ridiculously hot as the 3.6GHz Prescott. Knowing how much power PCI Express 16X graphics cards like the X800 and GeForce 6800 series consume, it's clear that a powerful PSU is absolutely necessary.
Like most good SFFs these days, the Shuttle SB81P left enough room for high end video cards such as the Radeon 9800 Pro and GeForce FX 5900 Ultra. ATI's and NVIDIA's next generation cards and their various iterations have been on the market for about a few months now, and are really starting to hit the mainstream in quantity. Just as with the 9800 Pro, the X800 was easy to install and didn't really take up any space that could interfere with other components in the SB81P. Of course, since both ATI and NVIDIA's flagship cards are the largest and bulkiest of them all, any stripped down version of either company's flagship should fit inside the SB81P without any trouble. For example, we were able to fit in ATI X600 cards (XT revisions) and NVIDIA 6800GT cards (conceptually of course, since GT cards haven't gone PCI-e yet) easily inside the SB81P.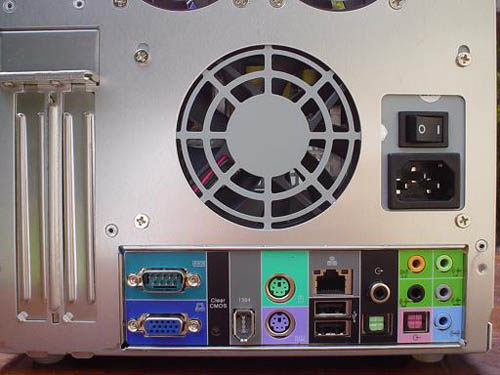 The SB81P's I/O port arrangement was fairly standard, with a few nice touches thrown in. It included two USB 2.0 ports, one IEEE 1394 FireWire port, one VGA port (915G video), GbE 10/100/1000, one serial port, two PS/2 ports, and a large array of audio ports (SPDIF optical/coaxial in/out, line in, 2 line out, mic in, surround out, bass out).