Final Thoughts
There you have it, folks! Our comparison showed in detail what each alternative to set top box PVR's was capable of and we were excited by our results. Each package had the basic TV tuner, video capture/playback, and guide functionality, but each differed in its own way.
Although the DVR-MS codec is certainly capable, it consumes far too much space. Transcoding is clearly something that MCE lacks in comparison to MythTV; fundamentally, MythTV has a more user-friendly model. Issues with legality may crop up in the future for KnoppMyth (due to its DVD Rip plugin), but as of right now, we can declare Myth the friendlier, more powerful recorder. Additional features like commercial skip, background transcoding and multiple tuner input for multiple channel recording only sweeten the deal.
As far as setup and configuration goes, MCE 2004 won this round. To be able to work with anything on Linux, especially a package like MythTV, one needs to know the ins and outs of the OS, which could become a hassle if you have incompatible hardware or buggy software/drivers. Since MCE 2004 is proprietary, there are only so many hardware configurations to deal with and all are supported if they are certified to run on the OS. If or when MCE becomes a retail operating system addition for Joe Consumer, similar install issues that plague Myth may crop up.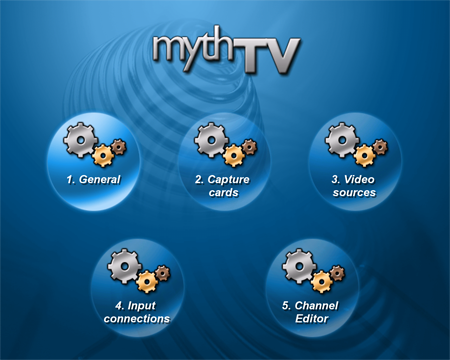 Click to enlarge.
Hold your mouse over to view the MythTV setup screens.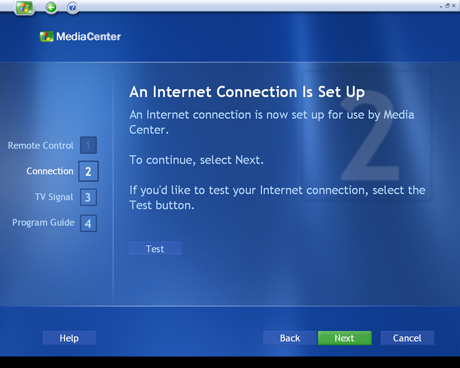 Click to enlarge.
Hold your mouse over to view the MCE 2004 setup screens.
With that, there is the hardware compatibility issue. MCE 2004 requires hardware certified by Microsoft to run successfully. This means that there is a very short, yet slowly growing, list of hardware which the package supports. One piece of hardware is the TV tuner card; MCE requires a hardware-based capture card, like the PVR-250MCE; otherwise, TV functionality will be disabled. MythTV, on the other hand, will accept various hardware as well as software-based TV tuner/capture cards if drivers are provided or even written by the user, hence the open-source status. Hopefully, when MCE2005 debuts next month, we will see even more increasing features and hardware support.
Media Center Edition 2004
MythTV
Hardware
Limited compatibility of hardware. All hardware must be certified by Microsoft to be used in MCE, which means it is guaranteed to work.
Long list of compatible hardware. Hardware and software-based capture cards can be used. Also supports multiple tuners for simultaneous recording of two programs. Sempron 3100+ can handle multiple streams at once (recording, playing, transcoding).
Interface
Clean look with refined style. Full featured program guide that shows feed of current video source. Cannot be skinned.
Fully skinnable. Programming guide lacks live display of current channel/video source.
Codecs
Supports only MPEG2 streams with a proprietary DVR-MS wrapper.
Supports various codecs, namely MPEG4 background transcoding on previously recorded programs.
Recording Quality
High to low quality recordings with single MPEG2 codec.
High to low quality recordings through various codecs.
Playback
Can be played back on software supporting .dvr-ms file extension. Copy-protected media can be played back only on originating MCE PC.
Depending on which codecs are used, programs can be played back on any machine with the right codecs. Multiple tuner support means multiple programs viewable at once.
Other Features
On-Demand programming feature.
Fully implemented Caller ID feature.
Integrated radio support.
Support for extra features can be readily implemented using plug-ins (weather, DVD playback/transcoding, RSS news feeds)
Installation and Settings
Out-of-the-box package. Easy to install and configure. Requires minimal setup.
Open source package. Requires knowledge of Linux and may require additional modification/configuration of drivers and other source code.
We were
extremely
impressed by how much we could do with such relatively weak hardware on the MythTV machine. We were able to capture multiple
software
encodes via the WinTV GO cards
and
transcode our high quality rips down to MPEG1 in the background on very modest hardware.
Our analysis has proved that though Media Center Edition 2004 is a boxed package that is easy to set up and configure, it looks amazingly beautiful, has great features such as On-Demand content, and is fully supported by Microsoft. However, for the enthusiast,
MythTV takes the gold
for its greater support for a variety of hardware and software codecs.
We all know an open source package is not fully supported by a single company that will guarantee compatibility with certified hardware, but Linux enthusiasts are promised a product with no limits regarding features and customization. The sky is the limit for MythTV's use of plug-ins and codecs, and even though it is already an amazing piece of software, we have yet to see its extreme possibilities and ultimate potential.