Memory Subsystem: Bandwidth
As we have reported before, measuring the full bandwidth potential with John McCalpin's Stream bandwidth benchmark has become a matter of extreme tuning, requiring a very deep understanding of the platform.
If we used our previous binaries, both the first and second generation EPYC could not get past 200-210 GB/s. It gave the impression of running into a "bandwidth wall", despite the fact that we now had 8-channel DDR4-3200. So we used the results that Intel and AMD best binaries produce using AVX-512 (Intel) and AVX-2 (AMD).
The results are expressed in gigabytes per second.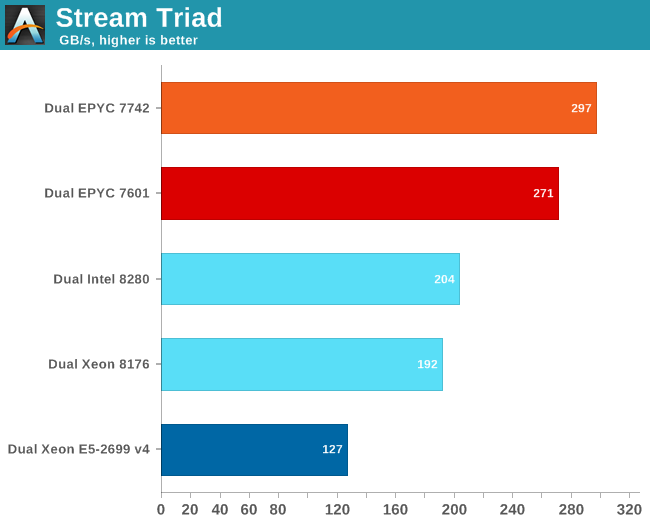 AMD can reach even higher numbers with the setting "number of nodes per socket" (NPS) set to 4. With 4 nodes per socket, AMD reports up to 353 GB/s. NPS4 will cause the CCX to only access the memory controllers with the lowest latency at the central IO Hub chip.
Those numbers only matter to a small niche of carefully AVX(-256/512) optimized HPC applications. AMD claims a 45% advantage compared to the best (28-core) Intel SKUs. We have every reason to believe them but it is only relevant to a niche.
For the rest of the enterprise world (probably 95+%), memory latency has much larger impact than peak bandwidth.