HPC: NAMD
Developed by the Theoretical and Computational Biophysics Group at the University of Illinois Urbana-Champaign, NAMD is a set of parallel molecular dynamics codes for extreme parallelization on thousands of cores. NAMD is also part of SPEC CPU2006 FP. In contrast with previous FP benchmarks, the NAMD binary is compiled with Intel ICC and optimized for AVX and AVX-512.
The NAMD binary is compiled with Intel ICC, optimized for AVX and mostly single preciscion floating point (fp32). For our testing, we used the "NAMD_2.13_Linux-x86_64-multicore" binary. At some point we want to use this test with AOCC or similar AMD optimized binary, but were unable to do so for this review.
We used the most popular benchmark load, apoa1 (Apolipoprotein A1). The results are expressed in simulated nanoseconds per wall-clock day. We measure at 500 steps.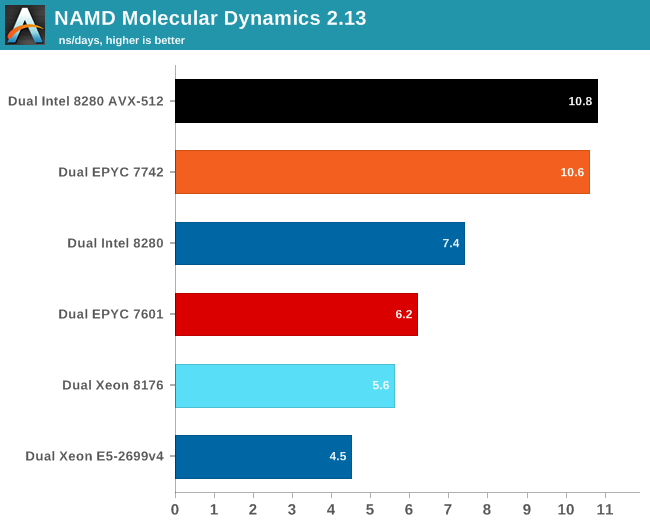 Even without AVX-512 and optimal AVX optimization, the 7742 is already offering the same kind of performance as an ultra optimized Intel binary on top of the top of the line Xeon 8280. When do an apples-to-apples comparison, the EPYC 7742 is no less than 43% faster.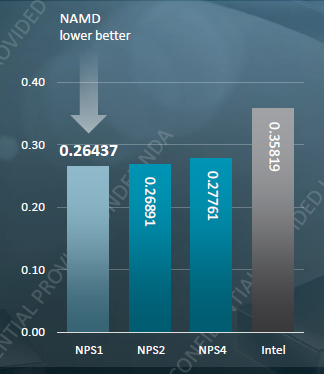 AMD claims a 35% advantage (3.8 ns/days vs 2.8 ns/days) and that seems to confirm our own preliminary benchmarking.