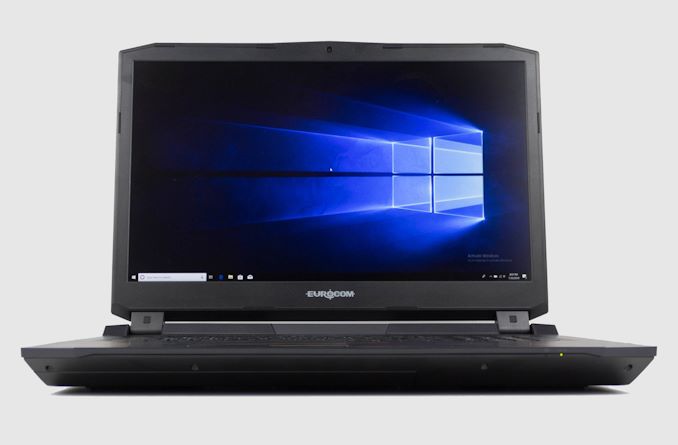 If you are thinking about a gaming laptop, but are tired of the compromises that come with normal "laptop" parts, then a Desktop Replacement laptop might be a better fit for you. Eurocom's Sky X7C, based on the Clevo P775TM1-G chassis, offers more performance than most desktops, but still lets you carry it with you. As is typical of the boutique PC makers, there's plenty of customization available to slot into your budget, and plenty of performance on tap as well, with insane specifications for a mobile computer.
Starting with the processor, and as we've seen in previous Clevo DTR based devices, the entire idea of a laptop class CPU is thrown out the window. Rather than have a soldered-in TDP-limited processor, the Eurocom Sky X7C features socketed desktop class Intel CPUs, from the Core i5-8400 all the way up to what's powering our review unit: the Core i9-9900K. And, if you really love performance and overclocking, Eurocom will delid your processor and apply one of several thermal compounds, depending on what you prefer.
On the GPU side, Eurocom uses MXM3 cards with a variety of choices. Those on a budget can opt for the NVIDIA GTX 1060, and the GTX 1070 and 1080 are available as well. RTX enthusiasts can choose among the RTX 2060, 2070, or 2080, and if you'd prefer a workstation class card, there are also Pascal based versions of Quadro available to choose up to the P5000.

The 17.3-inch display also features plenty of choices, from a 1920x1080 panel with a 60 Hz IPS, 120 Hz TN, or the excellent 144 Hz IPS with G-Sync. If you'd like a bit higher resolution, Eurocom also offers the 2560x1440 TN 120 Hz display, which is what we have in our review unit, or you can opt for a 3840x2160 60 Hz IPS choice as well.
As a DTR, there are an almost infinite number of choices for storage and RAM, with Eurocom offering up to 64 GB of RAM, with various timings depending on your preferences and budget, and an insane amount of storage, with two NVMe drives up to 2 TB each if you opt for the Samsung 970 EVO, and two more 2.5-inch drive slots which can be outfitted with a mind-boggling 8 TB SSD each, meaning this notebook can be outfitted with a total of 4 TB of NVMe storage plus an additional 16 TB of SATA SSD storage.
Eurocom Sky X7C / Clevo P775TM1-G
As Tested: i9-9900K, 32GB (2x16) DDR4-3000
RTX 2080, 2x500GB NVMe, 120Hz QHD, $4205 USD
CPU
Intel Core i5-9500K, 6C/6T, 3.7-4.6 GHz, 9MB Cache, 95W TDP

Intel Core i7-9700K, 8C/8T, 3.6-4.9 GHz, 12MB Cache, 95W TDP

Intel Core i9-9900K, 8C/16T, 3.6-5.0 GHz, 16MB Cache, 95W TDP

8th Gen Core available upon request
GPU
NVIDIA RTX 2060 6GB, 1920 CUDA Cores 80W TDP

NVIDIA RTX 2070 8GB, 2304 CUDA Cores 115W TDP

NVIDIA RTX 2080 8GB, 2994 CUDA Cores 150W TDP

NVIDIA GTX and Quadro available upon request
Memory
4 SODIMM Slots, 64 GB Max, up to 3000 MHz
Display Choices
17.3" 1920x1080 IPS 60Hz
1920x1080 TN 120Hz
1920x1080 IPS 144Hz
2560x1440 TN 120Hz
3840x2160 IPS 60 Hz
All displays matte, G-SYNC Optional on some panels
Storage
2 x 9.5mm 2.5" SATA
2 x m.2 Slot (SATA or 4xPCIE)
I/O
1 x USB-C Thunderbolt 3
2 x mini DP 1.3
1 x HDMI 2.0
3 x USB 3.0
1 x USB 3.0 Powered
SPDIF
Headphone
Microphone
Audio Input
Dimensions
418 x 295 x 39.9 mm
16.72 x 11.81 x 1.6 inches
Weight
3.9 kg / 8.58 lb
Battery
80 Wh, 330W / 780W AC Adapter
Wireless
Intel Dual Band Wireless-AC9260
2x2:2 with Bluetooth 4.1
Killer Wireless-AC 1535
2x2:2 with Bluetooth 4.1
Killer Gigabit Ethernet
Price
$2200 - $5000+
The choices continue with wireless offerings from both Intel with the Wireless-AC 9260, or Killer with the 9260 based Killer Wireless-AC 1535. If you'd prefer a wired connection, the Killer E2500 Gigabit Ethernet adapter comes standard, and if you want to connect anything else, there's Thunderbolt 3 via a USB Type-C connector, an additional USB Type-C with power delivery, four additional USB Type-A ports, two DisplayPort outputs, and an HDMI 2.0 output.
Did I even mention yet you can choose either a 330-Watt AC Adapter, or the bonkers 780-Watt model? The latter enormous power adapter is actually a small form factor desktop PSU, complete with an integrated backlit LCD to let you know all of the statistics, including voltage and current power output.
We've tested Clevo devices before, but Eurocom's rebadged Sky X7C offers perhaps the most customization I have ever seen in a gaming laptop. And although you can certainly spec out the X7C into insane levels of cost, in a normal configuration it can still come in at hundreds of dollars less expensive than one of the bigger gaming brands. Let's see how it holds up against the competition.