System Results (15W)
When testing a laptop system, there are various angles to consider on how to test: either user experience benchmarks, that are mostly single threaded and give a good boost to how systems implement a deal of turbo, or sustained benchmarks that test how the system performs when you push it. Intel has gone out of its way to emphasise the former for the next generation of mobile CPUs: they would prefer that reviewers stick to very user experience-like tests, rather than say, rendering programs. The problem there is that outside a number of canned benchmarks, it can be difficult. Users, and especially creators, that typically spend a lot on a premium device, might actually be doing sustained benchmarks.
Given the time that we had to test, we were actually limited in what we could arrange.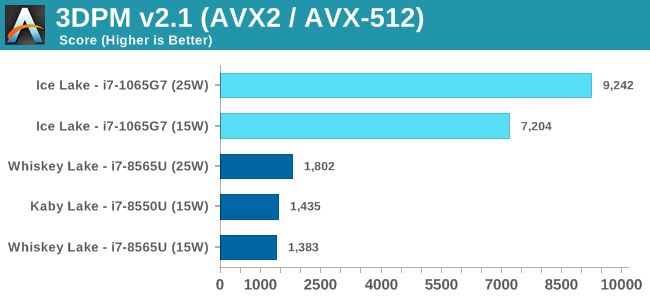 On AVX-512, the Ice Lake part destroys the competition.







These last two tests are typically our more memory sensitive tests, and the LPDDR4X-3733 really does win out over the LPDDR3-2133 in the other systems.