Basic Features: DFI LANParty UT nF3 250Gb
 DFI LANParty UT nF3 250Gb Motherboard Specifications
CPU Interface
Socket 754 Athlon 64
Chipset
nVidia nForce3-250Gb
Bus Speeds
200MHz to 456MHz (in 1MHz increments)
PCI/AGP Speeds
66MHz to 100MHz (in 1MHz increments)
Core Voltage
Auto, 0.8V to 1.55V in .025V increments
plus Vid Special multiplier of 4%, 10%, 13%, 23%, 26%, 33%, 36% - TO 2.1V
DRAM Voltage
Auto, 2.5V to 3.1V in 0.1V increments
(to 3.3V with future BIOS)
AGP Voltage
1.5V-1.9V in 0.1V increments
Chipset Voltage
1.6V-1.9V in 0.1V increments
Hyper Transport Ratios
Auto, 1x, 1.5x, 2x, 2.5x, 3x, 4x, 5x
CPU Ratios
Auto, 4.0x to 20.0x in 0.5X increments
DRAM Speeds
Auto, 100, 120, 133, 140, 150, 166, 180, 200
Memory Slots
Three 184-pin DDR Single-Channel Slots
Unbuffered Non-ECC Memory to 2GB Total
Expansion Slots
1 AGP 8X Slot
5 PCI Slots
Onboard SATA
4-Drive SATA by nF3-250Gb
Onboard IDE
Two Standard nVidia ATA133/100/66 (4 drives)
SATA/IDE RAID
4-Drive SATA Plus 4-Drive IDE can be combined in nVidia RAID 0, 1, 0+1, JBOD
Onboard USB 2.0/IEEE-1394
8 USB 2.0 ports supported by nF3-250Gb
2 1394A FireWire ports by VIA VT6307
Onboard LAN
1Gigabit Ethernet on-chip
by nF3-250GB and Marvel PHY
Onboard Audio
Realtek ALC850 8-Channel with UAJ
SPDIF coaxial in and out
BIOS
Award 8/27/2004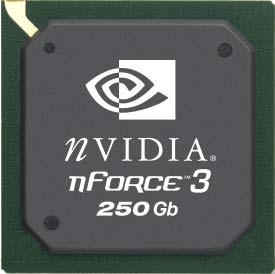 The single chip nVidia nForce3-250Gb is used for DFI LANParty UT. For more information on this chipset, you can refer to our launch articles for the chipset:
nForce3-250 - Part 2: Taking Athlon 64 to the Next Level
nForce3-250 - Part 1: Taking Athlon 64 to the Next Level
DFI has implemented the full feature set of the nVidia nForce3-250Gb, which includes on-chip Gigabit LAN, nVidia Firewall, and the nVidia "any-drive" RAID, which can control both the 4 SATA and IDE drives in a RAID configuration. On a board whose main purpose is to be the best overclocking board on the market, it is refreshing to see that DFI could still implement all of the unique features of the 250Gb chipset.
Since our test board was a production sample, we did not receive a full retail package because the packaging and manuals were still not available. DFI tells us that the shipping retail motherboard package will include:
A user's manual
Two round IDE cables
One round floppy cable
Two Serial ATA data cables
One Serial ATA power cable
One "nVRAID Driver" diskette
One I/O shield
One "Mainboard Utility" CD
The round IDE and floppy cables are dayglow yellow to match the slots on the nF3 250Gb.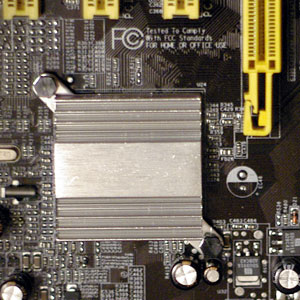 DFI used just a short passive heatsink on the single chip nF3 250GB. The heatsink got very hot after running for a few hours, particularly during overclocking. While this didn't appear to limit our overclocks, the chipset did get hot enough that you should consider replacing the small chipset heatsink with a larger passive heatsink or an active heatsink and fan. DFI uses standard mounting holes for the heatsink, so replacement should be fairly easy. Fortunately, there is also a fan header conveniently located near the chipset. While there were no crashes from the heat and overclocks were still record-setting, we wondered how much higher we might have gone with better chipset cooling.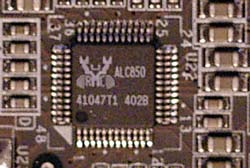 Many of the second generation boards have chosen the Realtek ALC850 7.1 audio chip. DFI also uses the 850 and provides a full implementation of audio jacks and SPDIF connections to fully support the audio chip. This 8-channel audio codec is fully AC '97 2.3 compliant and features 16-bit 8-channel audio and auto-jack sensing with support for a full range of analog and digital IO. A wide range of sound standards are supported including:
EAXTM 1.0 & 2.0 compatible
Direct Sound 3DTM compatible
A3DTM compatible
I3DL2 compatible
HRTF 3D positional audio
SensauraTM 3D Enhancement
The ALC850 CODEC provides four pairs of stereo outputs with 5-Bit volume controls and multiple stereo and mono inputs, along with flexible mixing, and gain and mute functions. Two 50mW/20ohm headset audio amplifiers are integrated at Front-Out and Surround-Out, and both amplifiers are selectable for Front-Out, Line-In and Mic-In as a Universal Audio Jack.
You can find more information on the recently released ALC850 at
Realtek product information
.

DFI supports the ALC850 with 6 audio mini jacks plus both coaxial SPDIF in and out connectors on the back IO panel. Optical audio connections are not supported. IO also includes PS2 mouse and keyboard, parallel, 1 serial, 1 standard Firewire (IEEE1394), 4 USB, and a Gigabit Ethernet.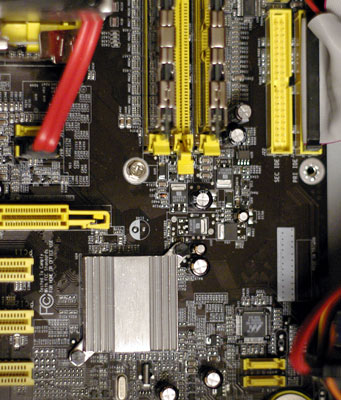 The DFI nF3 250Gb fully supports nVidia "Any Drive" RAID. Any of the standard 4 IDE drives or an additional 4 SATA drives can be combined in a Raid 0 (striping), Raid 1 (Mirroring), or Raid 0+1 array. This is the most flexible RAID arrangement that we have seen built into any chipset.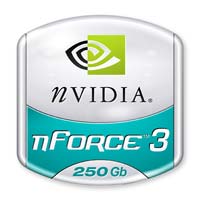 On-chip Gigabit LAN is built-in with the nF3-250Gb and runs completely independently of the PCI bus. The Marvel PHY (Physical Layer) chip provides the interface for direct communication of the LAN to the chipset. This ensures that the LAN is always capable of providing the fastest throughput possible with your LAN connections.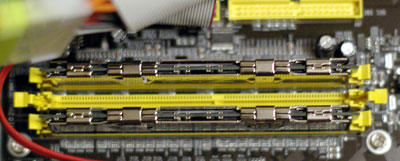 Three DIMM slots support up to 2GB of up to DDR400 memory in a Single-Channel memory configuration.
If you are wondering why this performance board does not use the Socket 939 chipset with Dual-Channel memory, we would have to guess that it is about performance, cost, and availability. First, the Athlon 64 is not as dependent on memory bandwidth as Pentium 4 solutions. The single-channel socket 754 is just as fast as the dual-channel Athlon 64 chips in many applications. Second, the only Athlon 64 chips currently available for Socket 939 are pretty expensive and overclockers always enjoy pushing cheaper parts to their absolute limits. Third, cheaper Socket 754 parts are available all the way from the $120 Sempron 3100+ to the 3700+ 2.4GHz. This covers the full range of speeds available for Athlon 64.
DFI tells us that there will be a Socket 939 board in the LANParty series a bit later, but they believe that the biggest demand for an overclocking board right now is in Socket 754.